Mushroom And Swiss Hamburger Recipe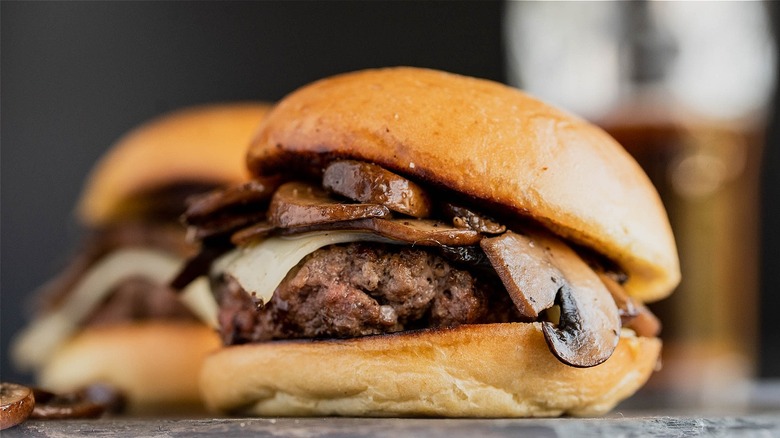 Michelle McGlinn/Mashed
It doesn't get more classic than a mushroom and Swiss hamburger, and nothing proves that better than its decades-long popularity on restaurant menus. Rich, caramelized mushrooms are piled high on top of melty Swiss cheese and a thick, juicy beef patty. There's a reason this particular combo is so appealing: The mild, nutty-sweet cheese is a perfect match for umami-packed, salty mushrooms. Put them on top of a classic beef hamburger patty and you have a meal sure to please every palate.
So what takes this particular recipe over the edge? Well, we caramelize and cook the mushrooms using beer, creating an extra-flavorful, super-soft mushroom topping. In this recipe we will also show you how to mix and grill the perfect pub-style patty for an irresistibly thick and juicy burger. Simmer the mushrooms in lager while shaping and grilling your burger patties, and you'll have dinner ready in under 20 minutes. Restaurant-quality burgers on a weeknight? Yes, please!
Gather your mushroom and Swiss hamburger ingredients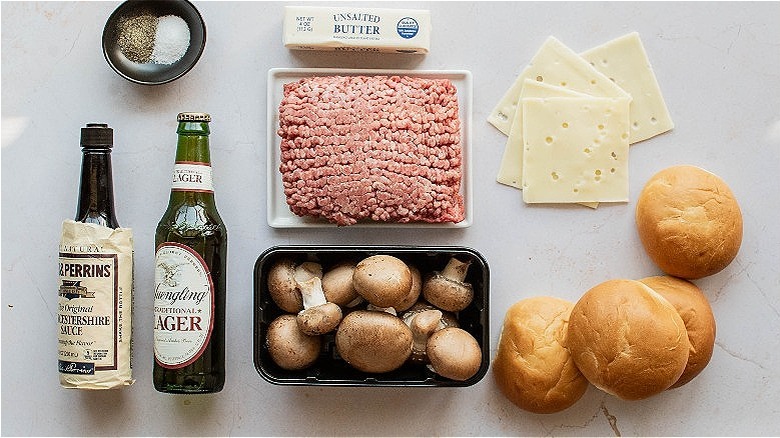 Michelle McGlinn/Mashed
The key to crafting a really delicious burger is simply choosing the right ingredients. If you're like us, you automatically choose the leanest ground beef at the grocery store –- but for burgers, opt for the opposite: higher fat content in your beef will result in a juicier, more flavorful burger. Just add salt, pepper, and a splash of Worcestershire sauce to 70% to 85% lean ground beef, and you'll have the perfect pub-style hamburger.
For a mushroom and Swiss burger, you'll want deeply browned, juicy mushrooms, so in this recipe we caramelize them with a splash of our favorite beer. You can use any light- to medium-bodied ale or lager; we love a lager for its sweet, smooth taste and mild flavor. If it's wintertime, you might even choose a porter for a deeply rich taste. And if you don't drink, or are gluten-free? You can substitute nonalcoholic and gluten-free beers, or use beef broth instead.
Caramelize the mushrooms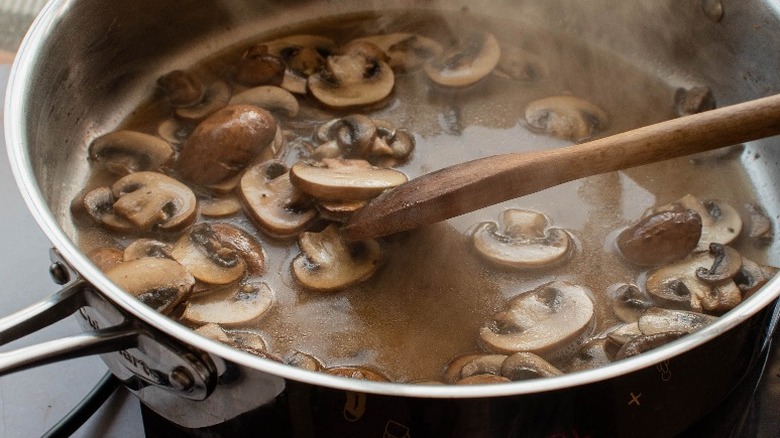 Michelle McGlinn/Mashed
Just like onions, mushrooms can be caramelized if cooked low, slow, and with a little bit of butter and sugar. In this case, our sugar is in the beer, as is the rich flavor the mushrooms will absorb. Start by cooking the mushrooms as usual, in a skillet with melted butter, then add the beer as the mushrooms darken. Turn the heat to low and cook slowly until all the beer is absorbed and the mushrooms are impossibly soft and buttery.
Form the burger patties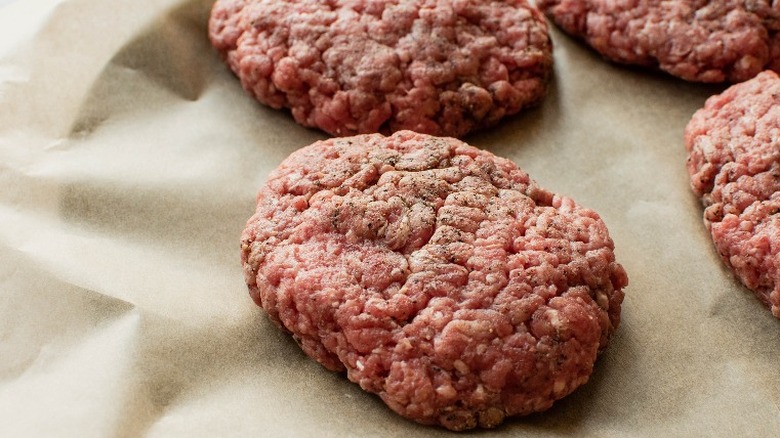 Michelle McGlinn/Mashed
These burger patties are thick, juicy, and simple, and the trick to getting them just right is to form equal portions of beef into oval patties without overworking the meat. Season a pound of beef, split it into four equal portions, then work each into a thick oval until just formed, without any cracks or gaps.
Fire up the grill or get your skillet smoking hot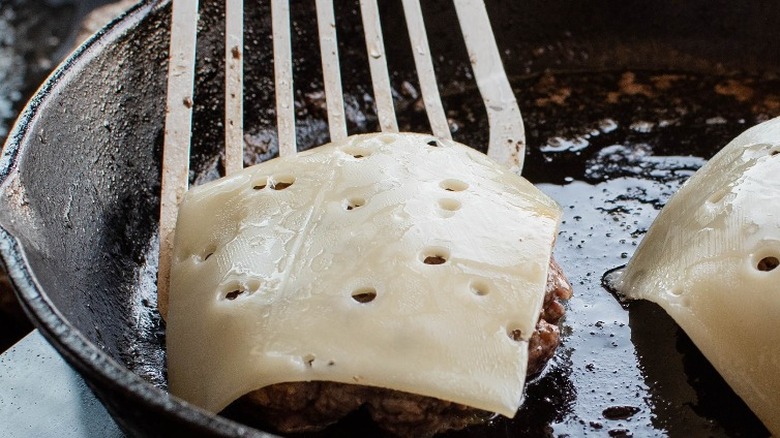 Michelle McGlinn/Mashed
Because burgers cook quickly, you'll want to start with a piping hot grill (or cast-iron skillet) to achieve that crispy crust on the outside of the cooked patty. If using a skillet, heat over medium heat until very hot, then add the patties (working in batches as needed) until seared on either side and browned through. For some pink in the middle, or medium, this will only take 3 to 4 minutes per side. Once flipped, add the Swiss cheese and let it melt.
Build your burger and serve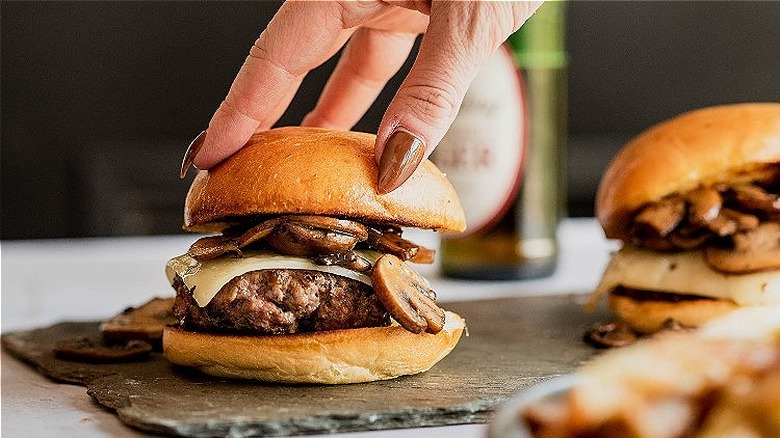 Michelle McGlinn/Mashed
Place your cooked cheeseburger patty onto the bottom bun — brioche is a great burger bun pick here — then pile on the mushrooms, then sandwich the build under the top bun. Serve alongside a classic side of french fries and perhaps a generous portion of roasted garlic aioli. For a lighter side (the burger is pretty extreme, after all), try swapping the french fries for sweet potato fries, or opting for a leafy green salad instead. If keeping leftovers, store cheeseburger patties and mushrooms in an airtight container and reheat in the microwave until warmed through.
Mushroom And Swiss Hamburger Recipe
Something magical happens when you pile rich, caramelized mushrooms atop melty Swiss cheese and a thick, juicy beef patty. Don't believe us? Go on, try it.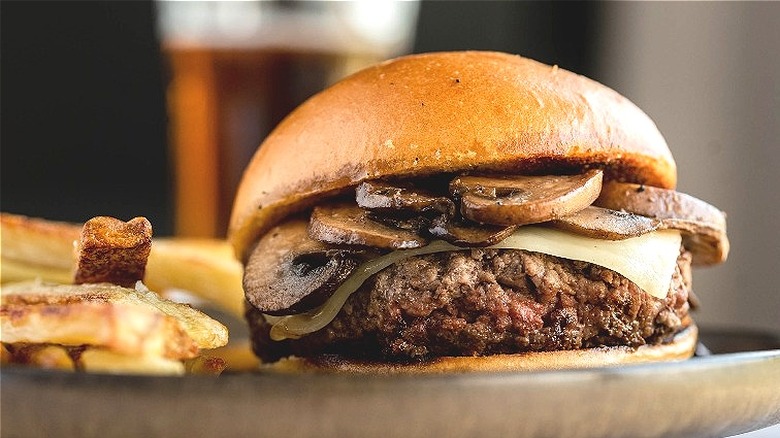 Ingredients
2 tablespoons butter
12 ounces baby bella (cremini) mushrooms, sliced
½ cup lager or ale
1 ½ tablespoons salt, divided
1 ½ tablespoons pepper, divided
1 pound 85% lean ground beef
1 tablespoon Worcestershire sauce
4 hamburger buns
4 slices Swiss cheese
Optional Ingredients
additional butter, if searing the patties
Directions
Melt butter in a skillet over medium heat. Add mushrooms and cook until browned, stirring often, about 3 to 5 minutes.
As mushrooms begin to stick to the skillet, pour in the beer and bring to a simmer. Season with a ½ tablespoon each of salt and pepper, then lower the heat to low. Cook until beer is completely absorbed, about 15 minutes.
While the mushrooms are cooking, form the hamburger patties. Season the ground beef with the remaining tablespoon of salt and pepper, along with the Worcestershire sauce. Work seasonings into the meat until just combined, then divide the beef into four sections and form into oval patties ½ inch thick. Do not overwork the meat.
Heat a cast-iron skillet or grill over medium heat. If using the former, melt additional butter (about 2 tablespoons). Meanwhile, toast the buns.
Add the hamburgers to the grill or buttered skillet. Cook until charred, about 3 to 4 minutes per side for medium and 4 to 5 minutes per side for medium-well. In the final minute before pulling the burgers, place Swiss cheese on each patty allow it to melt, about 30 seconds. Remove patties from the heat.
To build the hamburgers, place cooked cheeseburger patties on toasted buns, then top with ¼ cup mushrooms each.
Nutrition
| | |
| --- | --- |
| Calories per Serving | 559 |
| Total Fat | 32.5 g |
| Saturated Fat | 15.6 g |
| Trans Fat | 1.2 g |
| Cholesterol | 118.1 mg |
| | |
| --- | --- |
| Total Carbohydrates | 28.9 g |
| Dietary Fiber | 2.4 g |
| Total Sugars | 5.2 g |
| Sodium | 725.7 mg |
| Protein | 35.9 g |