Trader Joe's Shoppers Are Freaking Out Over Its New Dessert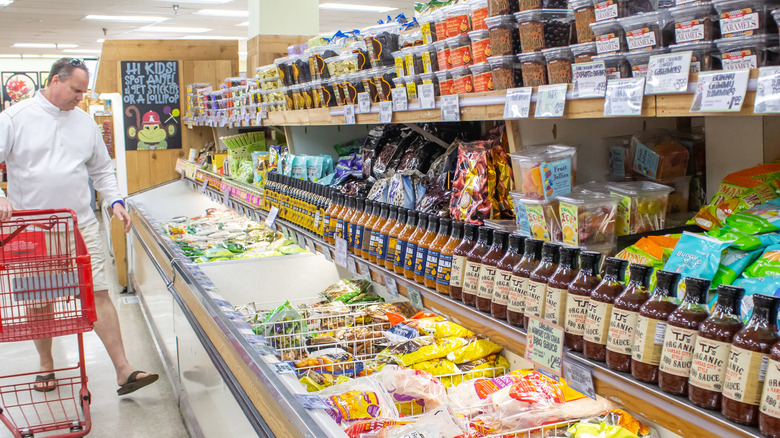 The Image Party/Shutterstock
Summer may be coming to an end, but that doesn't mean the end of celebrations. In fact, millions of people are currently celebrating the return of all things pumpkin spice, and many others are anticipating the return of the holiday season. We are already one week into September and although it seems hard to believe, Thanksgiving is not that far off.
Of course, whenever there's a celebration to be had, there must be delicious food to accompany it, including decadent desserts. Grocery stores know this and have begun stocking shelves with all the desired fall and winter flavored treats. Sam's Club brought back a fan favorite fall dessert in early August and customers didn't complain. Now, Aldi shoppers are cheering over the return of this dessert, and Trader Joe's fans will surely be jumping for joy after finding out about its new sweet release. In fact, some shoppers are already freaking out over it.
Trader Joe's offers a Cinnamon Roll Blondie Bar mix
The popular Instagram account @traderjoeslist posted an alert — a new seasonal dessert has hit the shelves. "Blondie bar swirled with a cinnamon roll-inspired filling & topped with glaze. This is making my mouth water," is the accompanying caption to the photo of the boxed baking mix. Quick to jump in, another well-known review account, mrs_traderjoes, exclaims "I can't wait to review this!!"
It seems other TJs shoppers are excited about the Blondie Bar mix, as 26,700 have already pushed the heart on this post. Those who commented certainly have high hopes for this dessert, with statements like "20 servings probably gone in 1-2 sittings" and "Oh I bet this will be delicious!!"
The OP shares that one box will set you back $3.99, but some shoppers did comment that the new dessert was "not at our's yet...," so we suggest not heading over to Trader Joe's specifically for this item as it may not be available (yet) in your location. If you're craving one of these fall-inspired treats now, try this simple blondie recipe to hold you over.