The Odd Connection Between 'Rick And Morty' And Wendy's Latest Promotion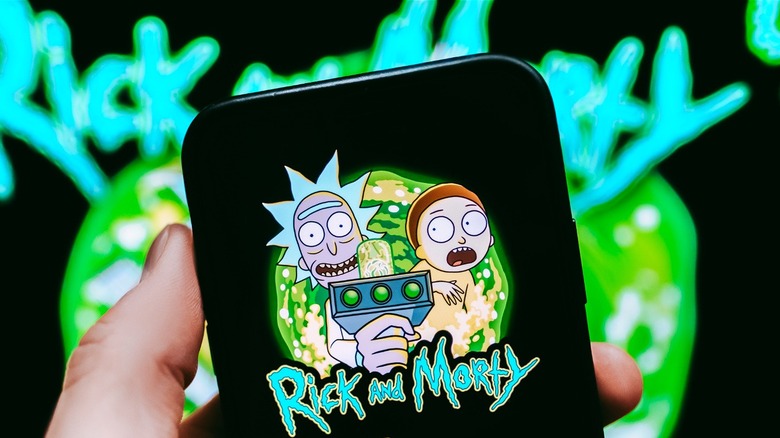 nikkimeel/Shutterstock
The popular Adult Swim program "Rick and Morty" has moved beyond the quirky voyages of one mad scientist and his grandson to enter a new dimension: product promotion. Although the program garnered a cult following after just 11 episodes (via Rolling Stone), "Rick and Morty" started making moves in the fast food world in 2015, starting with a Carl's Jr. commercial (per QSR).
No one could have predicted the outcry from fans after watching Rick travel back in time during Season 3 and order McNuggets with a hefty amount of McDonald's Szechuan sauce (per YouTube). The blurb may or may not have spurred the resale of ancient Szechuan sauce for over $14,000 on eBay, but it did convince McDonald's to bring back the retired condiment for a limited time (per Restaurant Business).
Wendy's also has had some experience promoting its products through the buzzworthy Adult Swim series. Not only did "Rick and Morty" promote the fast food chain's new breakfast items back in 2020 (via YouTube), but just last year, select Wendy's locations offered a limited-time selection of colorful sodas in conjunction with the Season 5 of the show (per CNET). In celebration of Season 6, the show has linked up with Wendy's once again to spread the word on the brand's latest deals.
A new season of 'Rick and Morty' makes room for more Wendy's ads
On the day of the Season 6 premiere of "Rick and Morty," the show tweeted an advertisement for Wendy's Twitter-approved French Toast Sticks with the tagline "Choose wisely, choose Wendy's breakfast." In the ad, Morty is tricked into promoting the fast food chain's new breakfast option after he sees his parents sauntering around dressed as a chicken sandwich and bacon burger. The post received mixed reviews from social media users. While some were in support of the breakfast promotion, others were quick to call the show creators "sellouts" with one harshly tweeting, "All you do is make ads now you suck."
The promotion continued — Wendy's is now offering fans the chance to win "Rick and Morty" merchandise by ordering one of a few limited-time meal options from now until September 11th through UberEats (via QSR). The meals include the Hot Honey NOT Birdperson Combo, or a spicy chicken sandwich with fries, and the Riggity Riggity Wrecked Combo, which includes a bacon cheeseburger with bourbon sauce and fries. Last year's popular Coca-Cola Freestyle Portal Time Lemon Lime soda is also back, as well as a new flavor called Froopyland Froopunch. Fans can win merch such as bucket hats, sweatpants, and hoodies.
In addition to the fast food collaboration, there's a new "Rick and Morty" candy that's arriving just in time for the new season as well.