Rachael Ray's Unconventional Twist On Antipasto Salad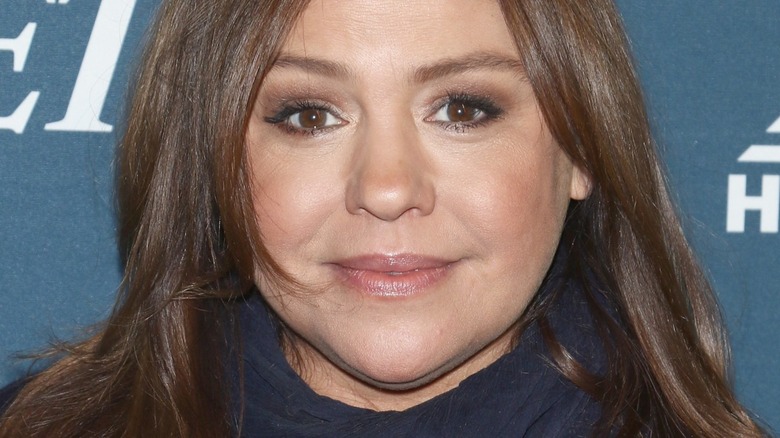 Jim Spellman/Getty
Despite a lack of professional culinary training, Rachael Ray is one of the most prominent celebrity chefs and TV personalities in the food world. She gained the love and trust of her viewers through her "quick and easy" cooking style and her relatability. Her Food Network show "30 Minute Meals" skyrocketed her to stardom, and "The Rachael Ray Show" — along with the plethora of best-selling cookbooks, magazines, her home decor collection, and pet food company — has earned her a net worth of $100 million, per Celebrity Net Worth. 
Ray is known for putting her own spin on dishes to create something uniquely her own, like Green Puttanesca, Tomato-less Pico de Gallo, and Chicken Bulgogi. One of her more recent recipes puts a distinctly Ray twist on the traditional meal of antipasto.
Antipasto, which directly translates to "before meal," is the first dish of an Italian meal. According to Cucina Toscana, it aims to stimulate the appetite and get you ready for the meal ahead. A spread of antipasti is not too dissimilar from charcuterie, but there are subtle key differences in the ingredients used. Cucina Toscana notes that in Italy, antipasti can vary regionally — fresh mozzarella and herbs in Northern Italy, burrata and Caprese with prosciutto in Central Italy, and olives, anchovies, and bruschetta in Southern Italy. But here in the states, you might be most familiar with an antipasto salad filled with a medley of these ingredients — cured meats, cheeses, olives, tomatoes, peppers, and more.
Ray puts the pasta in antipasto
Imagine antipasto salad and pasta had a delicious baby. Consistent with her no-fuss style, Rachael Ray pulls inspiration from antipasti for an unconventional recipe she calls Pasta all'Antipasti.
In this recipe, Ray uses a base of sturdy, bitter greens — specifically escarole and radicchio — to ensure the leaves won't wilt as the "pasta salad" sits. She also chars the greens, mellowing out some of their raw bitter flavor and developing a Maillard reaction to draw out some sweet and nutty flavors. 
To the hot pan, Ray adds three cured meats — fennel salami, hot sopressata, and either the end of prosciutto or meaty pancetta — to briefly render out the lovely fats that they possess. To balance out all that fat, Ray includes several forms of acid — giardiniera (Italian relish of pickled vegetables), cherry pepper rings, and green Cerignola olives — which get added to the hot pan with the meat to release their acidic juices.
Wine and chicken or beef stock get added to the medley to reduce and simmer to create a flavorful sauce. Cooked pasta is then added to the party: Ray suggests a short shape like strozzopretti, gemelli, or penne. For the final touches she adds fresh mozzarella and diced provolone, adds back the greens, and tops with a "fat handful" of parsley. This dish hits on all the flavor and texture profiles: bitter, acidic, salty, creamy, cheesy, umami, bouncy and chewy, fresh and herby. All that's left is to try it for yourself.