Olive Garden's Returning Dessert Has The Internet Drooling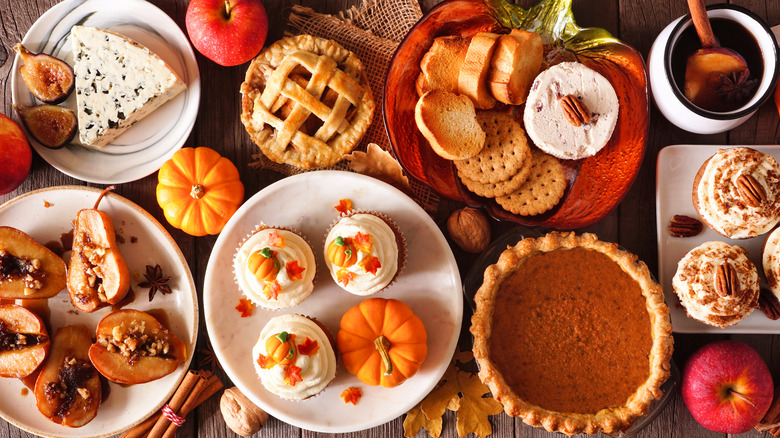 JeniFoto/Shutterstock
If you've been through the bakery aisles of grocery stores or seen restaurant menus recently, you've likely seen the return of pumpkin treats. Although pumpkin pie is a classic dessert in the fall, brands and restaurants are getting a lot more creative about bringing pumpkin into other sweets and baked goods. For example, Trader Joe's fans are running to grab sticky toffee pumpkin cakes, and IHOP's fall menu makes pumpkin spice pancakes one of its stars.
So it's no surprise that when Olive Garden teased an exciting new change to its fall dessert menu on Instagram, customers were quick to guess that it's related to pumpkin. Many comments had high hopes for seeing pumpkin cheesecake return to the menu. Olive Garden's teaser video mentioned classics like the Black Tie Mousse Cake and Brownie Lasagna, but the pumpkin cheesecake has also been a fall staple in past years — leaving many fans to wonder if their seasonal dreams will come true this year.
What fans are saying about Olive Garden's pumpkin cheesecake
Monday, Olive Garden confirmed that the pumpkin cheesecake will return to menus. The cheesecake, topped with a caramel drizzle, left many fans instantly drooling. One person commented, "reasons why i go to olive garden every week." While the pumpkin cheesecake might be a fan-favorite, this doesn't mean the other cakes and desserts aren't worth trying out, as another fan pointed out the cheesecake was as "Perfect as the other Olive Garden desserts."
Instagram fans aren't the only ones buzzing with excitement over the return of Olive Garden's Pumpkin Cheesecake. In the comments section of the brand's Twitter announcement, fans are raving about the seasonal dessert. One person left a bunch of heart-eyed emojis, and pumpkin cheesecake fan said, "Yessss! It's amazing!"
Have all of these positive reviews convinced you to give Olive Garden's fall cheesecake a try? If so, you'll need to hurry as the pumpkin cheesecake will only be around for a limited time (per Olive Garden's website). And if you can't make it to your nearest location tonight, you can still enjoy your favorite Olive Garden flavors at home with these copycat recipes.