Redditors Are Enamored With This Taco Bell Burrito Hack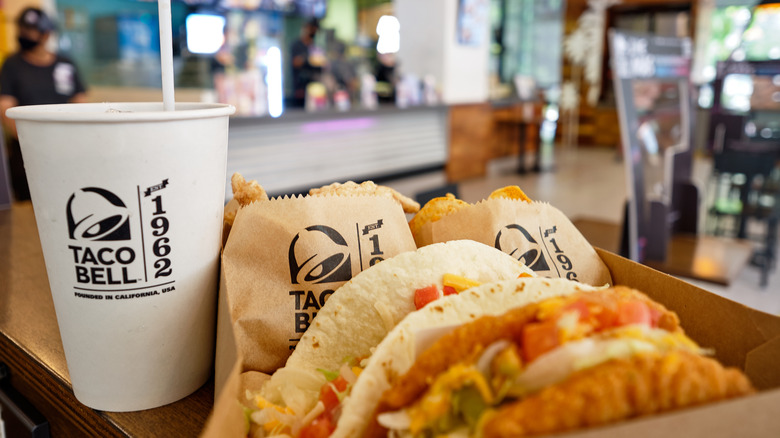 KULLAPONG PARCHERAT/Shutterstock
Reasons for loving Taco Bell can be endless. In fact, every time they launch a new menu item, one new reason is added to the list — take Doritos Locos Tacos, for example. This American chain inspired by Mexican flavors has proven fast food can be tasty and affordable. People praise how easy is to customize any product, adding nacho cheese sauce to anything, from crunchy tacos, to burritos and quesadillas. Vegetarians can even enjoy substituting any meat with beans, and combining it with rice and potatoes. There's a taco for everyone! 
The Internet also loves Taco Bell. On Instagram, users are celebrating the Mexican flavor pizza comeback, and there are a bunch of copycat Taco Bell recipes to replicate at home. The Taco Bell subreddit is an active one. It's a place where everyone shares their wins, their losses, their favorite Freeze flavor, and thankfully, great hacks. If you think someone can get bored of ordering the same cheesy bean and rice burrito over and over it again, one Redditor shared a $2 hack that enamored many users — Grill it! 
Order a grilled burrito at Taco Bell
A Taco Bell Reddit post shows how the cheesy bean and rice burrito, with nacho cheese sauce and creamy jalapeño sauce inside, gets grilled. It just gets under a griller for a few seconds, and the burrito gets smoked on the sides. Some users were excited about the flavor just by watching the video. "What is the majestic food you speak of!" exclaimed one, while another described this burrito as "out of this world." A vegetarian user was happy, saying this burrito, with potatoes in it, is their "go-to order as a vegetarian taco bell enthusiast," and others said they have tasted the grilled burrito and claim that it's "fire"!
But, be careful, especially while ordering online. Some Reddit users shared their problems with the Taco Bell app. They complained about having ordered this feature before, but once received the order, the burrito was not grilled. A Taco Bell employee explained the app may have some technical difficulties sometimes, which are still being improved — so be patient or leave a comment highlighting your request. Also, keep in mind that the price might vary from state to state, depending on taxes, but, none of the commenters mentioned a price over $5. Enjoy your favorite Taco Bell burrito with this smoked upgrade, and never go back to your regular order.