This Might Be When Shake Shack's Christmas Cookie Shake Will Return In 2022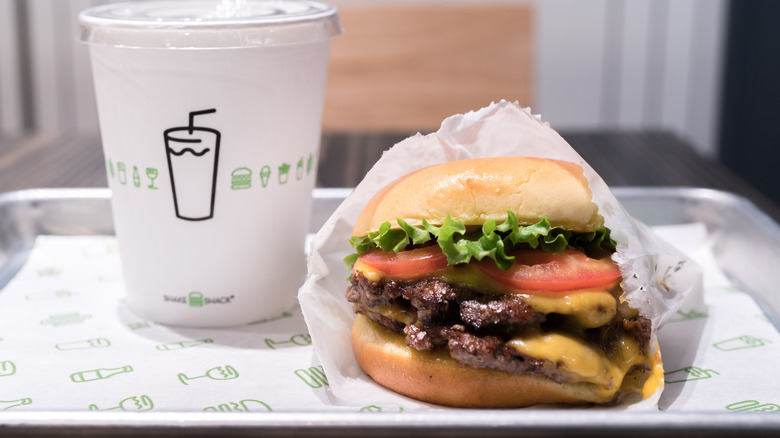 YAO23/Shutterstock
Although pumpkin is still on seasonal menus across coffee shops and other fast food chains, winter items and holiday treats will be available soon. While some brands haven't been announcing menus just yet, Starbucks' winter menu may have been leaked on Instagram. We expect to see lots of hot chocolate drinks and more, and one staple of holiday menus is Shake Shack's Christmas Cookie Shake.
Over the past few years, Shake Shack has come up with new milkshakes for its winter limited-edition menu, but the Christmas Cookie Shake has been a constant for some time, and the company's 2020 press release called this drink a "fan-favorite" and describes the shake as being made with "Sugar cookie frozen custard topped with whipped cream, crumbled shortbread, and holiday sprinkles." Last year, all of Shake Shack's milkshakes were inspired by popular holiday cookies, and if you're counting down the days until you can enjoy the Christmas Cookie Shake again, then mark your calendars for early November for a possible launch date.
Shake Shack's Christmas Cookie Shake will likely arrive in early November
Although Christmas is still more than two months away, you probably won't have to wait that long to start sipping on Shake Shack's Christmas Cookie Shake. While the chain hasn't announced a release date for the milkshake or any other holiday products yet, we expect to see the cookie milkshake come back to the menu in about a month.
Historically, Shake Shack has rolled out its holiday milkshakes in the first two weeks of November. In 2018, the Christmas Cookie Shake came out on November 13, and in 2019, the milkshake also rejoined the seasonal menu on November 13. The past two years, the Christmas Cookie Shake has returned even earlier. Shake Shack announced the return of this particular drink on November 9 in 2020, and customers were able to buy the milkshake on November 6 in 2021.
If Shake Shack chooses to bring back the fan-favorite milkshake on the first Saturday in November like last year, you can expect to be sipping on a Christmas Cookie Shake on November 5. Based on previous years, it's nearly certain you'll be able to purchase seasonal milkshakes before Thanksgiving. In the meantime, if you're looking for a taste of the holidays, try out this pumpkin pie milkshake recipe or follow the steps to make a gingerbread milkshake.