The Unexpected Ingredient Rachael Ray Adds To Grilled Cheese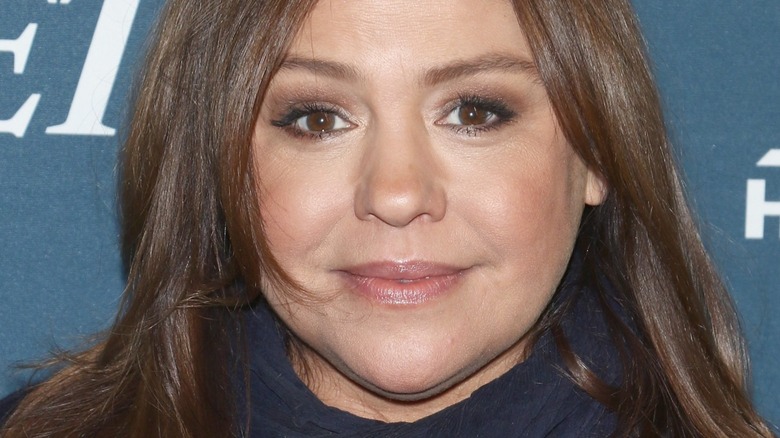 Jim Spellman/Getty
If you're looking for a quick and comforting meal, there's nothing like a grilled cheese sandwich, especially when paired with tomato soup. At its simplest, all you need to make grilled cheese is bread, butter, and cheese, but there are many ways to take this simple dish to the next level. For a sweet and salty treat, try this recipe for fig grilled cheese or lean into the savory route and add salt and crunch with this bacon-wrapped grilled cheese.
Want ideas for grilled cheese that have been vetted by professional chefs? Rachael Ray has a grown-up spin on grilled cheese and tomato soup that involves harissa in the soup and cilantro and jalapeños in the grilled cheese. But if you just want the sandwich or don't want any spice, Ray has other grilled cheese recipes for fans. For example, one of her grilled cheese recipes has plenty of fresh flavors from the fruit. What makes this particular sandwich special is the addition of macerated blackberries.
Rachael Ray's grilled cheese with blackberries, balsamic, and basil
To make her grilled cheese really shine, Ray adds a mash to her sandwich that includes blackberries, balsamic, and basil. You can find Ray's exact recipe on her website, and although this grilled cheese sounds fancy, it's actually fairly simple to make. All you need to do is chop up your basil leaves finely, add the basil to a bowl of blackberries, then drizzle your balsamic vinegar on top, and mash it up with a fork.
Although Ray uses thick and syrupy aged balsamic vinegar in this mixture, she explains that you can also make this by adding some brown sugar to balsamic vinegar and heating it up on the stove. You should always have balsamic vinegar in the kitchen because of its versatility, and this is just one example of how it can come in handy. Once this blackberry mixture has come together, Ray adds it to her bread with Fontina cheese to make this grilled cheese.
Wondering what other celebrity chefs add to their grilled cheese sandwiches? The unusual ingredients Bobby Flay adds to his grilled cheese include lots of salt and pepper for extra flavor.