Aldi Has The Perfect Hot Beverages For A Chilly Halloween Night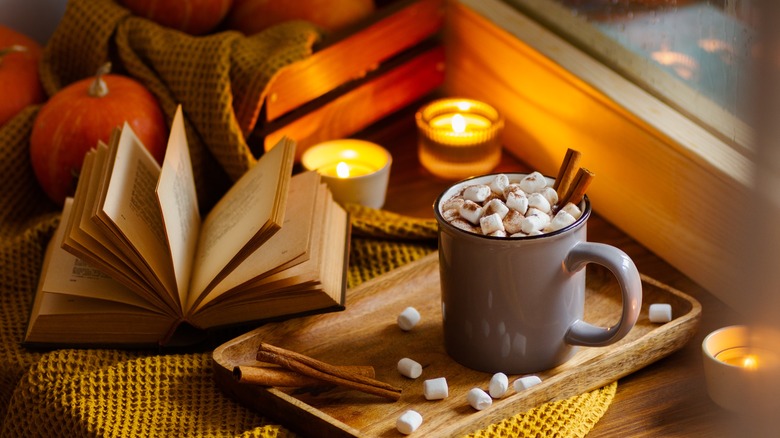 Cloudlet/Shutterstock
Not everyone may be thrilled about saying goodbye to the warm weather for chillier temperatures, but let's admit it, the prospect of fall and winter festivities is enough to liven even the most sullen of spirits. The holiday season has almost begun! Don't believe it? Take a stroll through your nearest supermarket store. Pumpkin pies and winter squash abound, Halloween candies and Thanksgiving-themed snacks are back, and advent calendars are already making the rounds at some stores. Plus, Aldi's latest releases indicate that the grocery chain is fully on top of its seasonal releases.
Between autumnal ice cream sandwiches containing pumpkin spice ice cream and a new Mama Cozzi's Harvest Pizza that's getting rave reviews, Aldi's freezer section is fully fall-ready. However, that doesn't mean the chain has forgotten about Halloween. So far this month, fans have eyed a haunted house cookie decorating kit and even a Halloween-themed red wine resembling blood. As temperatures continue to drop, Aldi has brought back another popular item that combines two seasonal flavors: pumpkin spice and hot chocolate.
Cozy beverage season is here
A glimpse at Aldi's most recent selection of Aldi Finds shows that the store is steaming ahead into the season of chilly fall evenings. To name a few, there are caramel apple chips, cinnamon churros, and pumpkin spice waffles for those breakfast-for-dinner nights. Also on this week's Aldi Finds are two items that are the very definition of a cozy fall evening: pumpkin spice hot cocoa and pumpkin spice cappuccinos (via Aldi).
The Beaumont-brand pumpkin spice drinks are meant for Keurig machines, and each 18-serving box retails for $5.79. Instagram account @aldifavoritefinds has already spotted these K-cups, along with another Halloween-themed ground coffee blend, sitting on Aldi's shelves. Considering the fact that a Mashed survey found hot chocolate to be the reigning drink of fall, beating the likes of apple ciders and pumpkin spice lattes that came a distant second and third, it seems like Aldi's pumpkin spice hot cocoa would be poised to be a winner.
However, while some fans can't wait to get their hands on these hot drinks, those who have tried them have a complaint or two to make. "Hot cocoa cups are very meh..even brewing a small cup they're watery," wrote one shopper. Another complained that the K-cups didn't fit in the Keurig machine that they owned. It seems like fans will just have to make a trip to Aldi to find out where they stand on the store's pumpkin spice cappuccinos and hot cocoa.