What To Expect From GBBO's First-Ever Halloween Special
The feel-good show of the fall, "The Great British Bake Off," might air during the spooky season but has largely stayed away from scares and instead focused on making viewers feel at home. Although some episodes are more feel-good than others, the recently-aired "Mexican Week" episode terrified those who have at least a little familiarity with Mexican cuisine. The theme was a missed opportunity to delve beyond stereotypes and instead, both the contestants and judges butchered the pronunciation of basic ingredients (via Bon Appétit). Even though the episode wasn't meant to be scary, the Mexican Week episode will likely go down as one of the most infamous episodes of the show's history.
While the Mexican Week episode unintentionally frightened viewers with sights like Carole's avocado peeling technique, this week, "GBBO" is intentionally producing a few scares. Indeed, the popular baking show is going all in with a special dose of spooky this season: their first-ever Halloween episode.
Gravity defying showstoppers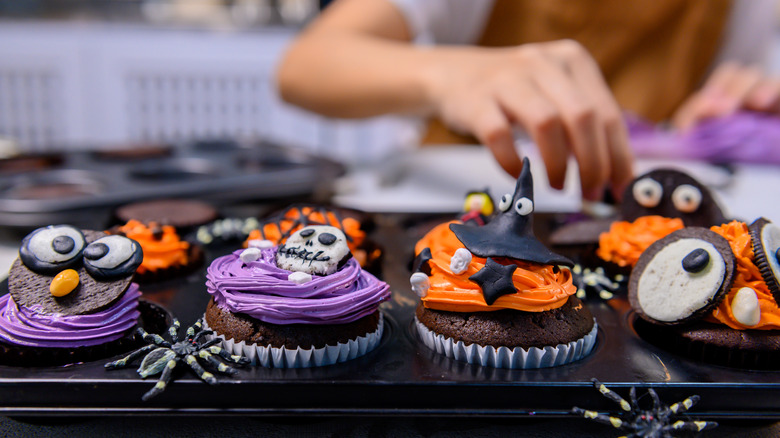 Theera Disayarat/Shutterstock
In a tweet posted by the official "Great British Bake Off" account, host Noel Fielding narrated a preview of what scares are to be expected next episode. "Be afraid, dear viewer. Be VERY afraid," the caption warned. The clips show the remaining contestants creating spooky treats in a Halloween-decorated tent. 
In the short 30-second clip, we spot Janusz Domagala put the finishing touches on a jack-o-lantern cauldron, what seems like a s'more-themed technical that Fielding calls "terrifying," and gravity-defying showstoppers that Fielding promises will leave one contestant "digging their own grave." If we had to guess, that probably means a showstopper or two might fall. According to Birmingham Live, the cliffhanger preview has fans excited for a crossover between their favorite fall comfort zone and the scary holiday. The spooky "GBBO" episode airs next Tuesday, October 18. However, if you're watching on Netflix, the episode will be uploaded that Friday.
Already an eventful season, and there are still many episodes to go until Prue Leith and Paul Hollywood decide on a champion. Although an algorithm has decided "GBBO's" 2022 winner, we'll have to wait and see just how accurate that prediction was.