Dunkin's Spooktacular Items Are Officially Back For Halloween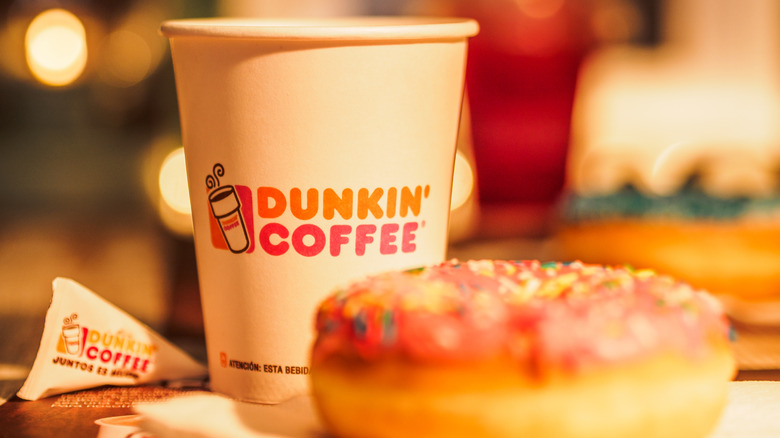 Pere Rubi/Shutterstock
Halloween is just around the corner, which means it's officially socially acceptable to consume ungodly amounts of sugar. While Halloween candy may be the first thing that comes to people's minds this season, you can get your sugary indulgences in the form of drinks, desserts, and even breakfast pastries. 
Luckily, Dunkin' Donuts has us covered on the breakfast front, serving its regular donuts and coffee, while enticing us with its seasonal favorites each year. According to the Dunkin' website, the coffee giant offers the typical seasonal coffee flavors seen in the fall and winter like maple and peppermint. It also offers chocolate strawberry coffee to celebrate Valentine's Day and blueberry for springtime.
Even though Dunkin's holiday menu has already leaked on Tiktok, the winter holiday drinks are not yet available. Of course, Dunkin' is no stranger to celebrating the changing seasons, as it releases special items each year to ring in autumn. In 2020, Dunkin' released a Halloween DIY donut kit, and in 2021, the restaurant released its pumpkin cream cold brew (per PR Newswire). This year, some popular Halloween-themed items are due to come back from the grave.
Grab the treats before they disappear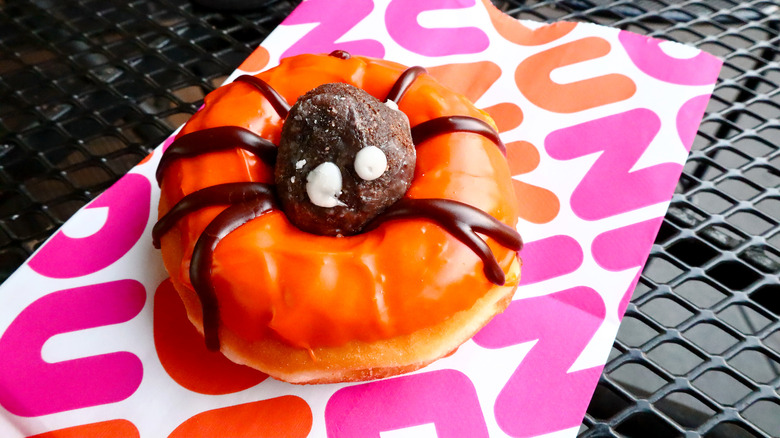 Walter Cicchetti/Shutterstock
Business Wire announced that the Dunk-o-Lantern Donut, Spider Donut, and Peanut Butter Cup Macchiato will make their triumphant returns this month. The spider donut is a spooky take on Dunkin's regular yeast donut, with a festive orange glaze and a chocolate munchkin donut hole stuffed in the center. Chocolate-drizzled legs make the spider come alive, complete with white chocolate drizzle for the eyes. 
One time-honored Halloween tradition is to make and display jack-o-lanterns. While Dunkin' isn't serving up carved pumpkins, they are also releasing a vanilla butter creme-filled donut frosted to look like a smiling jack-o-lantern. Unsurprisingly, these aren't the only festive treats that the company plans to offer at restaurant locations this year.
Chocolate and peanut butter are a match made in heaven, and it's no surprise then that Reese's Peanut Butter Cups are the nation's favorite Halloween candy (per ABC 7). In 2021, Dunkin' combined these flavors with their espresso to make a Peanut Butter Cup Macchiato. The frosty orange drink was so popular that it's being re-released for the fall season. If you want to fully embrace the spooky season, you can enjoy your drink in Dunkin's glow-in-the-dark tumblers.