Crumbl Cookies Fans Are Not Impressed With Its Candy Ridden Weekly Lineup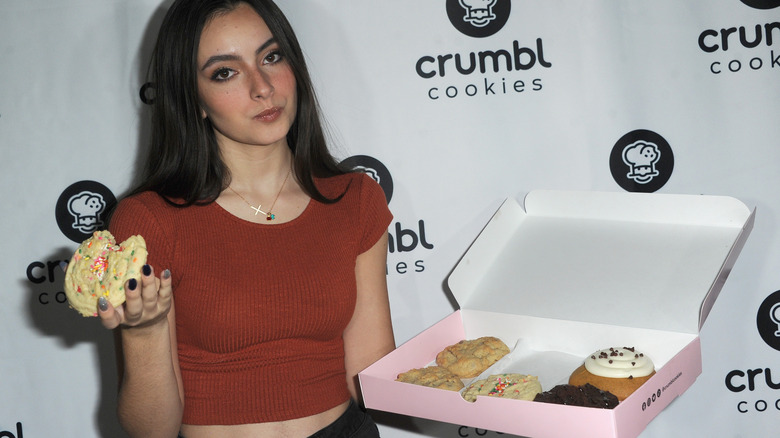 Albert L. Ortega/Getty Images
There was a time when it felt like Subway was the only quick-service restaurant where on-the-go customers could buy a warm cookie (it might sound unusual, but there are even die-hard Subway cookie fans out there). However, these days, there are actually a plethora of cookie chains from which you can purchase a warm, scrumptious, and splendidly sugar-coated treat. 
Just as easy as going to a drive-thru and ordering a burger, people can now walk into a cookie bakery and get a box of warm, fresh cookies in just minutes. Now that's innovation. Of course, of all the various establishments now in business, Crumbl Cookies has certainly made the most of our collective love for the delicacies. The rapidly-expanding business bakes its cookies inside each location, and every week it switches out its lineup, so customers always have something new to look forward to. 
Crumbl Cookies' fast-paced approach to the cookie business has produced a number of hits. For example, in September, Instagram was pumped for Crumbl Cookies' new milk-inspired flavor, and it will sometimes re-release fan-favorite classic cookie flavors with a twist. But not every cookie lineup is a hit with fans, and people on Instagram seem pretty upset by the chain's Halloween week offerings.
Crumbl's Halloween lineup scares fans
Halloween may have historical and spiritual origins, but these days, it's pretty much all about scary movies and trick-or-treating. Ask any kid or adult what Halloween means, and you'll more than likely get a one-word answer: candy.
As a result, it only makes sense that Crumbl Cookies' Halloween lineup might include some cookie-candy fusion. But folks on Instagram seem to think that the brand missed the mark this year. On the menu, customers will find Strawberry Limeade cookies with Nerds, a Classic Rice Krispies bar, Chocolate Malt cookies with Tootsie Rolls, M&M Cookies, Peanut Butter Crisp Cookies with Butterfinger pieces, the chain's classic Milk Chocolate Chip cookies, and a Mystery Cookie.
"NGL this week isn't good," shared one naysayer on Crumbl's Instagram post. Unfortunately, this person wasn't the only user to express a sense of dismay at the new offerings. "Yo y'all been disappointing me," said another. And people really seemed to be upset at the return of the Rice Krispies bar. "I can't believe y'all did the Rice Krispies again. What a failure," someone else wrote. 
Another customer on Reddit had this to say during a previous week when the Rice Krispies cookies were available: "I like Rice Krispies but this cookie tasted worse than what I could make at home myself with marshmallows and cereal." There's good news for the haters, however. Thanks to Crumbl's rotating weekly menu, fans won't have to suffer through this week's Halloween candy-inspired flavors for long.