Ina Garten's Cooking Philosophy Is Perfectly On Brand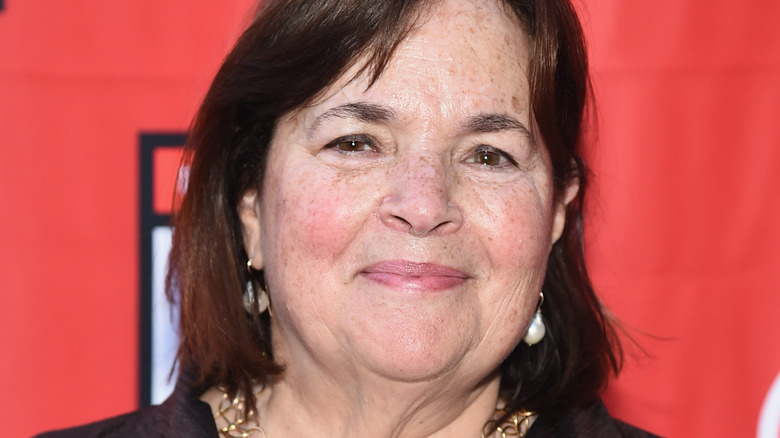 Michael Loccisano/Getty Images
While promoting her newest cookbook, "Go-To Dinners," Ina Garten has been discussing her cooking style and reminding Americans why they love this chef so much. Known as the "Barefoot Contessa," viewers have fallen in love with Garten and her laid-back approach to entertaining, perhaps since she's so relatable – once you overcome her swoon-worthy Hampton home.
Unlike other celebrity chefs like Bobby Flay, who has professional experience in a kitchen and a culinary school education, Garten is a home cook just like the rest of us. Working her way through Julia Child's groundbreaking cookbook "Mastering the Art of French Cooking," Garten was self-taught, fueled by the challenge. On a whim, she purchased the gourmet market, The Barefoot Contessa, to combat the boredom in her life and pursue a fun career (per Barefoot Contessa).
Garten is incredibly accessible, sharing her life at home with her husband Jeffrey and giving fans of her show, "Be My Guest," a glimpse into how she entertains. Using the lessons she learned as a business owner, Garten focuses on the comfort foods people want to enjoy at home, but elevates them. And with social media to connect with fans, Garten is open about how the pandemic affected her life. Her 13th cookbook is the product of her experiences over the last few years. Sitting down with "60 Minutes," Garten shared her cooking philosophy, making her all the more relatable.
Ina just says, 'You can do whatever'
Sitting down with Sharyn Alfonsi of "60 Minutes," Ina Garten shared how much work goes into the easy, breezy charm the celebrity chef exudes on camera (per CBS News). Contributing her success to her deliberate approach to business, Garten tackles recipes the same way. Viewers may have noticed how the chef measures every ingredient to an eighth of a teaspoon of salt; after all, Garten has tested each recipe up to two dozen times, so she doesn't leave anything to chance and follows recipes, even her own.
Surprisingly insecure in the kitchen, Garten fears each dish will be a disaster, preventing her from improvising, according to her "60 Minutes" interview. She tests recipes several times before daring to serve a guest, yet finds the experience exciting and still loves to cook and entertain — and it shows. According to Garten, cooking is fun, "otherwise, what's the point?"
Garten shares how she cooks, entertains, and gardens — even what she listens to while enjoying those things — but resists telling others what to do, saying, "This is what I do. You can do whatever the f**k you want to do. And I'm just having fun here" (via CBS News). Her conscientious and carefully written recipes and cookbooks are meant to be a roadmap. Nonetheless, Garten has painstakingly researched every detail, so you don't have to.