We Tried Entenmann's New Cake Truffles. No Fork Needed For These Bite-Sized Treats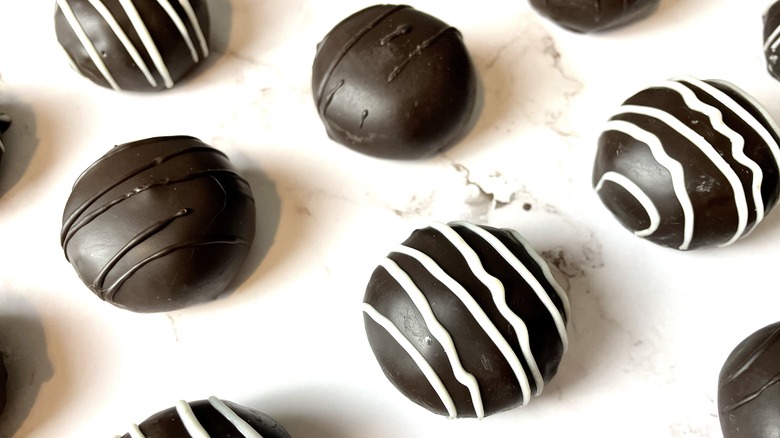 Jenny Kellerhals/Mashed
Every time we pass the Entenmann's display at the grocery store, the urge to pile half a dozen chocolate crème filled cupcake boxes into the cart and top them off with a few bags of powdered doughnuts strikes hard. So when we heard Entenmann's was releasing an entirely new product, we could hardly wait to see what the brand had baked up.
Following in the footsteps of the popular dessert pioneers over at Milk Bar, Entenmann's has released its very own line of cake truffles, available in two flavors, including Chocolate Delight and Cookies & Crème. The cake truffles are geared towards those looking to treat themselves to a slightly more luxurious snack, claiming to be both decadent and rich. Naturally, we had to find out for ourselves.
Entenmann's sent us a box of both cake truffle flavors to taste first-hand. We also found out what's in them, how much they cost, and where you can find the truffles. So if your sweet tooth is already aching to know more, here's everything you need to know about the new cake truffles from Entenmann's.
What are the cake truffles made of?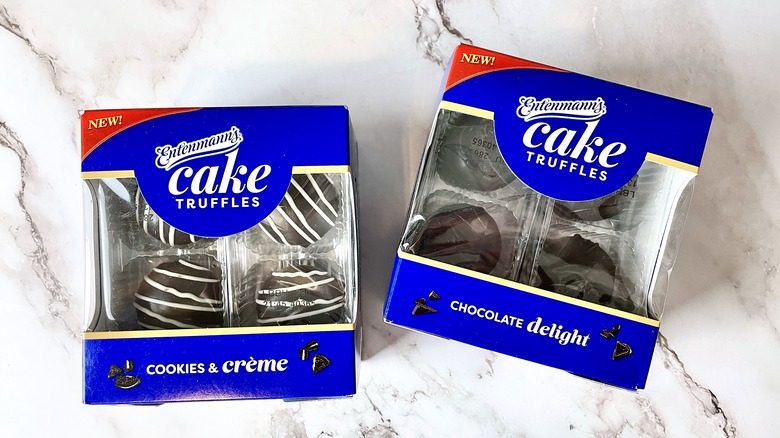 Jenny Kellerhals/Mashed
On the off chance that you aren't familiar with cake truffles, they're essentially cake pops without the stick. They're a play on classic chocolate truffle bonbons, that are traditionally made with chocolate ganache before getting dipped in a hard chocolate shell. But instead of ganache, these are made of cake that's been crumbled up and formed into a ball, before getting dipped in chocolate.
Each box of cake truffles comes with eight pieces, wrapped in pairs for a total of four servings per box. There isn't a great deal of variety between the flavors, given that both of the cake truffles are chocolate-flavored, and dipped in a chocolate shell. While most of the ingredients between the two truffles are similar, the Cookies & Creme cake truffles include small white chocolate chips in the truffle filling, and are drizzled with white chocolate on top to differentiate them from the Chocolate Delight truffles. Both flavors of the truffles contain weat, soy, milk, and eggs. The packaging also says that the truffles were made in a bakery that handles tree nuts, so anyone with sensitive allergies might want to read the ingredients extra carefully.
How can you get your hands on the new cake truffles?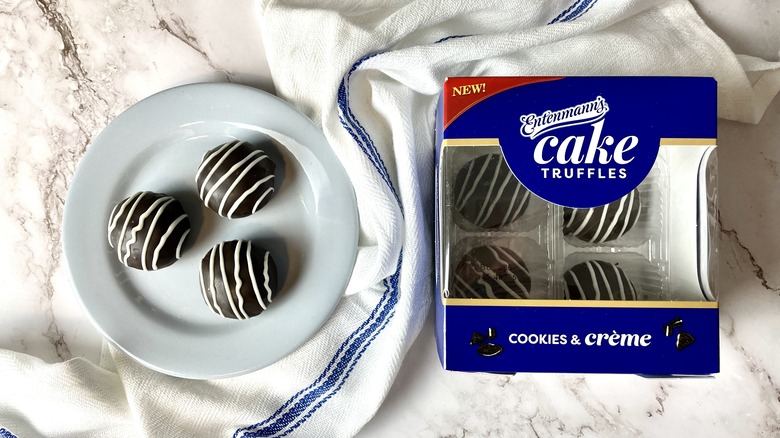 Jenny Kellerhals/Mashed
Before you run out to the closest store in search of Entenmann's new cake truffles, we should probably warn you that it might take a little while for them to make it to your particular grocery store, depending on where you're located. Currently, the cake truffles are hitting stores in select locations in the Northeast, although Entenmann's hasn't further specified which locations that is. The company was originally founded in Brooklyn, NYC, but is now based in Horsham, Pennsylvania — so our best guess would be that the closest surrounding areas (likely Pennsylvania, New Jersey, and New York) will see the truffles first.
There are two ways you can see if a store near you is carrying the treats. First, go to the cake truffles page on Entenmann's website, scroll down to the store locator area and enter your zip code to see if any local store pop up. We didn't have much luck with the store locator on the bakery's website, but we did find a few locations carrying the cake truffles through Instacart. Larger grocery store chains like Stop & Shop, Fairway, and Acme were listed as having the new truffles in stock. The new cake truffles aren't advertised as limited edition or seasonal, so we think they're probably here to stay, so long as people enjoy them.
The cost of a little bit of luxury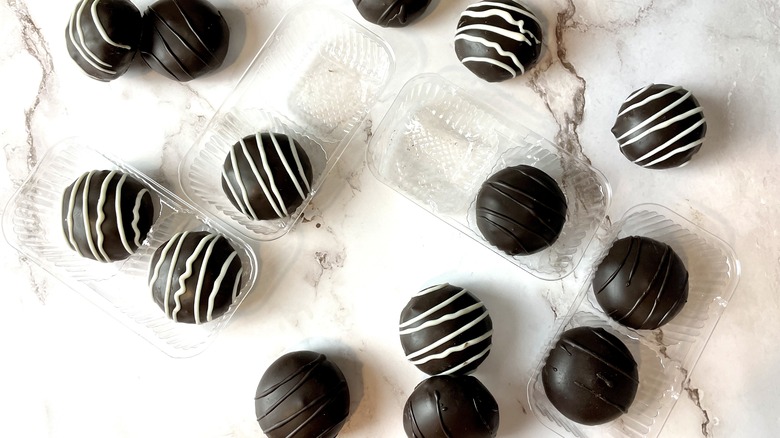 Jenny Kellerhals/Mashed
The original manufacturer's suggested retail price for a box of Entenmann's cake truffles was originally set at $6.89. When the truffles make it to shelves in larger nationwide stores like CVS and Target, there's a good chance that the MSRP will be the sticker price, but stores will still be able to set their own prices for the treats. When we found the truffles in stores in the NYC-area, we found them for several different prices. We found the Cookies & Creme cake truffles for $7.59 and $7.99 at two different stores, and the Chocolate Delight truffles at a completely different store for $5.29.
If you manage to find the cake truffles online, or get a box of them delivered, the price is likely to be radically different than the suggested price. You'll also want to consider taxes and shipping fees when you're ready to check out.
In comparison, a box of Entenmann's Chocolate Creme Filled Cupcakes costs about the same per box, for eight cupcakes. So you're getting a little more bang for your buck with the cupcakes, but a slightly more luxurious experience with the cake truffles.
What's the nutrition information for the Entenmann's Cake Truffles?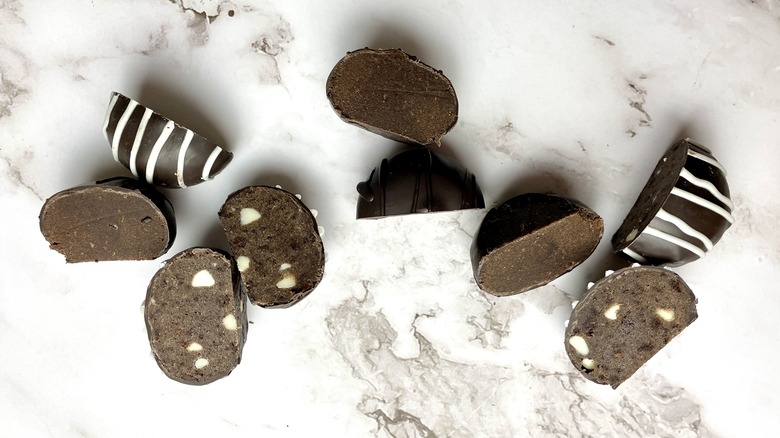 Jenny Kellerhals/Mashed
Keep in mind that the entire point of this particular treat is to indulge yourself. And that you will, as these cake truffles pack a bit of a caloric punch. One serving is two pieces of cake truffles, which are pre-packaged together making it easy to grab a single serving without measuring anything out. The Chocolate Delight cake truffles run 260 calories per serving, and the Cookies & Creme truffles are 290 calories per serving. The total fat is similar in both, running 12 grams and 11 grams respectively, and there are 3 grams of protein per serving in both truffle flavors.
The nutritional differences start to become more pronounced with the carbohydrate count. The Chocolate Delight truffles have 34 grams of carbs, whereas the Cookies & Creme have 39 grams. The Cookies & Creme have 230 mg of sodium, whereas the others have 140 mg, but the Chocolate Delight truffles have 30 mg of cholesterol, which is double the amount of the Cookies & Creme.
Ultimately, as long we're enjoying our treats, we tend not to worry too much about the details and ruin the experience. But knowing the nutrition information helps us decide if we're prepared to eat the entire box in one sitting, or to space it out a little.
How do the cake truffles compare to other snacks?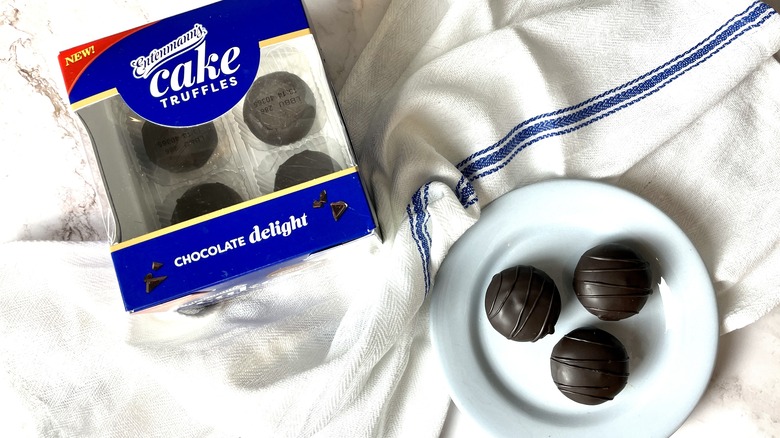 Jenny Kellerhals/Mashed
You'll find a lot of similar products on the market across the big baked snack goods brands. Whether you're loyal to Entenmann's or you're more a fan of Hostess or Little Debbie, you're likely to find powdered doughnuts, cake rolls, and muffins. But to its credit, this is the first major established brand to carry cake truffles. Milk Bar is a big name, but still more of a boutique brand, and otherwise you'll have to make cake truffles on your own, or find them at one of your local bakeries. That leads us to believe that the dessert is making enough waves for Entenmann's to take such a big risk on a new product.
If you're not sold on the cake truffles yet, our first and favorite suggestion would be to stick to the chocolate creme-filled cupcakes. But Entenmann's also offers several iced cakes, loaf cakes, crumb cakes (a favorite of Frank Sinatra), and crunch cakes (which are sort of like angel food cakes with a crunchy, sweet icing coating). That doesn't even being to cover the company's doughnuts, cookies, pies, muffins, pastries, and brownies. What we're saying is, even if cake truffles aren't your thing, there are plenty of other ways to satisfy your sweet tooth with the Entenmann's lineup.
Our verdict: The easiest treat to reach for to satisfy chocolate cravings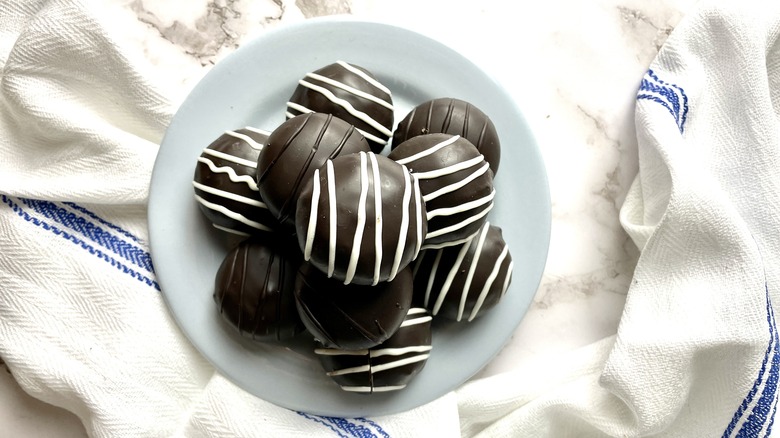 Jenny Kellerhals/Tasting Table
The first thing we noticed is how quickly we managed to eat these cake truffles. One truffle is about two bites' worth, making a single package disappear rather quickly when that chocolate craving hit. The truffles are dense, with more of a thick brownie texture than tender cake. The flavor is rich, but in a dark chocolate kind of way, which isn't overly sweet. The truffles were a nice compliment to a crisp glass of rosé, which is certainly a perk.
But the Chocolate Delight cake truffles were a little one-note (with chocolate being that single note) both flavor-wise and in texture. The Cookies & Creme cake truffles provide a little more in the way of texture with the inclusion of the slightly crunchy white chocolate chips sprinkled throughout the filling. The chips also provide a few little pops of extra sweetness against the dark chocolate cake truffle filling, which we enjoyed.
What we like about these cake truffles is that they require absolutely no effort to make, and even less effort to eat. Given that they're individually-sized and packaged, we didn't feel obligated to share, making it clear why Entenmann's suggests them as a way to treat yourself. But they'd also be nice as dessert snacks when you're entertaining. We're more likely to reach for the Cookies & Creme cake truffles but since they're so similar, whichever you can lay your hands on are worth trying.