Amanda Freitag Is Dropping Some New Cocktails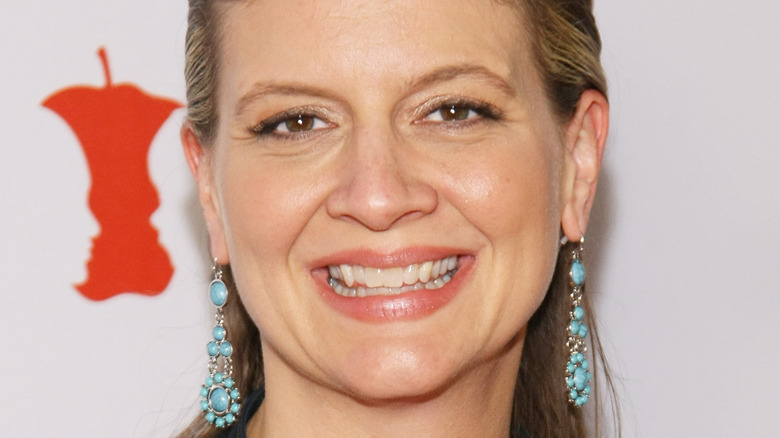 Neilson Barnard/Getty Images
Amanda Freitag is known for being a fiercely competitive chef and a staple judge on Food Network's "Chopped." On Instagram, she's also well-regarded by social media users for her "Easy AF" cooking show. In her online series, Freitag shows viewers how to make upscale but entirely accessible recipes like Chica adobo fish stew and simple hummus. Freitag normally demonstrates the recipes while sharing personal anecdotes, tips, and tricks. 
While many of her posts focus on ingredients and cooking, Freitag's love of cocktails is also abundantly documented. She has several posts of her celebrating "Freitag," aka Friday with a glass of wine or her classic AF margarita. For example, she welcomed summer's arrival by combining two of the sweetest and most refreshing cocktails to create the ultimate summer cocktail mashup. She made the special drink by taking elements of white sangria, like white wine, and combining it with Aperol and Prosecco. 
To celebrate the Wimbledon tennis championship, Freitag showed viewers how to make the "official unofficial cocktail of Wimbledon, the Pimm's Cup (per Instagram). In the past, the celebrity chef has relied on using a variety of alcohols and mixers to make her cocktails special, but now she's pivoting into the pre-made cocktail space.
Just add ice for the perfect cocktail
Amanda Freitag announced to her fans via Twitter that her new line of pre-made cocktails is ready to launch. On November 1, Freitag is dropping a limited release of only 500 batches of each one of her signature bottled cocktails, complete with her signature "Easy AF" tags. The cocktails she'll launch with are Negroni, Margarita, and Manhattan. Freitag tweeted, "I worked so hard to make sure these were delicious and BoozyAF — just pour over ice and enjoy!"
Fans were quick to celebrate the news, with one user asking what was the alcohol percentage of each bottle. Freitag was happy to reply and let her fans know that each bottle contains 30% alcohol and is 60 proof (via Twitter). The celebrity chef also launched an Instagram for Freitag's Cocktails, where she gives insight into what goes into her cocktails. From the few posts, it appears that she focuses on using fresh herbs and spices to infuse her cocktails. 
There's no word yet on the price of each bottle or what other flavors, if any, we can expect. What we do know is that enjoying her cocktail is as simple as opening the bottle, and pouring it over ice; straw and garnishes are optional.