Reddit Is Big-Time Coveting Subway Sandwich Artists' Pizzas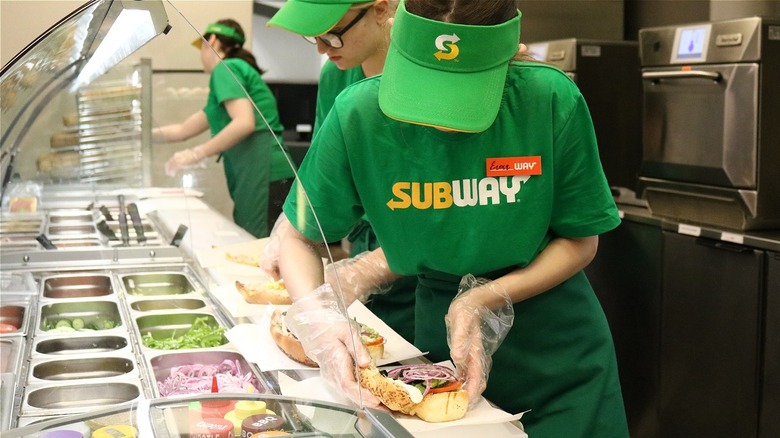 Darya Kaufman/Shutterstock
Subway is known for its signature submarine sandwiches. And while the legitimacy of their bread (in Ireland), tuna (in various places), and other items may have come into question, their sandwich artistry is still pretty on point and lauded.
Sandwich artists are what the employees who make sandwiches at Subway are called, and they are seen as pros by customers. In one instance, a sandwich artist was praised for fully delivering on an order that asked for a wild amount of pickles, and this has happened with countless other odd orders as well. 
But despite their expertise in sandwiches, they have not always been exclusively focused on subs. According to "Rather Be Shopping", Subway has actually been a bit of a pizza connoisseur over the years. And while many locations no longer sell it, if you call enough of them, you just might find a location that does.
Not only might you find them already present at select locations, but it seems they may be starting to roll out again at more locations as well. And lately, customers have expressed their enthusiasm over some pretty exciting-looking pizzas some of the sandwich artists are making.
Gimme that pizza
A user named moldlovingmold, an apparent employee at one of the elusive Subways that sells pizza, posted a Reddit video of the pizza-making process, from sauces to toppings to the final product. Followers are losing their minds.
Many are wondering when Subway even started to sell pizzas, to which a follower explained that it is only at select locations. Others like BaeDayy noted it is a "Bomb looking pizza," and another said the topping choice "sounds amazing."
In another Reddit post by another user PerryTheDucke, the pizza looks just as fantastic, with the user noting it is topped with "pepperoni (under the cheese), fresh mozzarella, shredded cheddar, cut up spinach, Parmesan Cheese, & Oregano," labeling it "The BEST Subway Pizza Ever."
This one looks so much like a professionally made pie with even more premium ingredients that followers are salivating over it. One user said "that looks awesome and delicioso !!!!!" and another noted it should be brought to Canada. If Subway pizzas can look this good, Subway may be getting a petition to bring pizza back to all stores soon.