This Might Be When Dunkin's Holly Berry Sprinkles Donut Will Return In 2022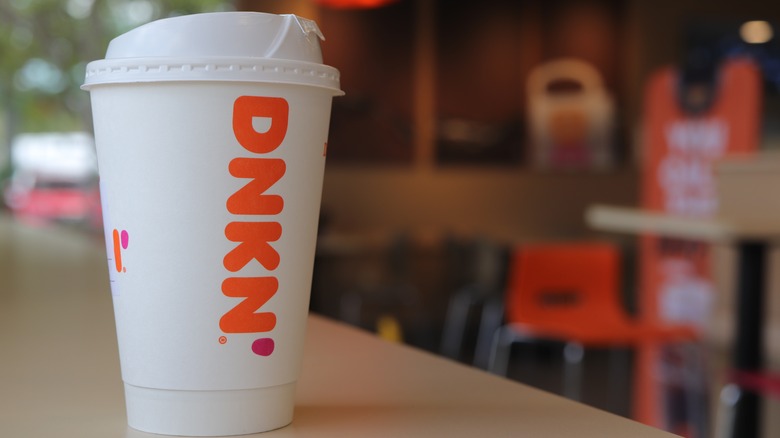 Deutschlandreform/Shutterstock
According to Scrape Hero, Dunkin' has 9,501 stores throughout the United States working to satisfy customers' donuts and coffee cravings. While Dunkin' offers a variety of regular menu items, it's the seasonal items that help customers get in the holiday spirit. Dunkin's 2021 holiday menu included the Toasted White Chocolate Latte and the White Mocha Hot Chocolate. But even though customers were begging, Dunkin' did not bring back its beloved gingerbread latte in 2021. While there's no official news from Dunkin', a leaked TikTok menu for 2022 has been circulating.
The leaked menu showed that the peppermint mocha and toasted white chocolate latte could be back as early as November 2. Customers can also expect a cookie butter cold brew coffee that is new for 2022. As far as food goes, Dunkin' appears to be bringing back its cranberry orange muffin and pancake minis. The leaked menu also hinted that there will be a new cookie butter donut.
While fans await confirmation about the new menu, they're also on the lookout for the donut sprinkles that ring in the holidays.
The wait may be almost over
While there's been no official word from Dunkin' on when the holly berry sprinkle donuts will return, there are some unofficial clues on what fans can expect. In 2021, Dunkin' released its red and green holly berry sprinkles on December 2. Customers could order the holly berry sprinkles atop chocolate, vanilla, or strawberry frosted donuts. (And no, the holly berry donuts don't taste any different from normal sprinkles.)
With the 2021 holly berry sprinkles' release, customers were able to get a $5 discount on a $20 or more order placed through Uber Eats. In addition, Dunkin' offered its DD Perks app users a special deal on the holiday blend coffee; users received twice the points when they ordered the coffee through the mobile app. 
There's no word yet on if these sweet deals will carry over into 2022, but we'll keep our fingers crossed.