The 'Over-The-Top' Donut Duff Goldman Thinks Everyone Should Try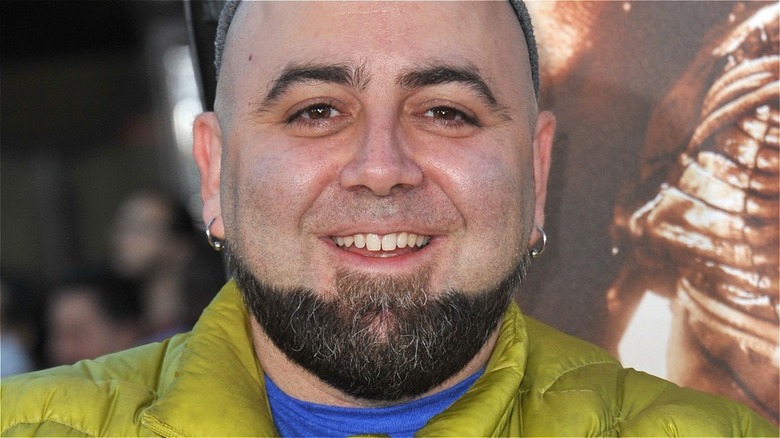 Featureflash Photo
Can someone explain the rationale behind "National Donut Day," recognized on June 1, coinciding with bikini season? It seems logical to place such a celebratory carb-friendly day in the winter when any residual effects from the holiday are concealed beneath sweaters and coats. Instead, Americans should celebrate "National Carrot Day" or "National Eight Glasses of Water Day" in late spring. While Dunkin and Krispy Kreme donuts have dominated the market for decades, boutique donuts have recently popped up on restaurant menus and small shops. Like cupcakes and cookies before them, these fried cakes have become trendy again, pushing the limit with flavor combinations.
Gone are the days when the fanciest donut in town was dressed in rainbow sprinkles. Chefs are creating eye-catching treats in outrageous colors and sky-high toppings that push the boundaries by calling a donut breakfast food. Now there are sweet and savory combinations like bacon donuts, colorful and nostalgic "Fruity Pebbles" topped donuts, and quadruple threats like banana bread, chocolate chip, Nutella, and peanut butter donut (via Brit+Co). Some have even enjoyed burgers sandwiched between two glazed Krispy Kreme donuts.
Pastry chef Duff Goldman has created an empire pushing the boundaries. Goldman's Baltimore bakery, Charm City Cakes, raised the bar for creative, gravity-defying cakes before the rest of the nation discovered him on Food Network's "Ace of Cakes." Although Goldman is well-known for his over-the-top confections, he is no stranger to the more blue-collar donut, especially when it's been dolled up.
The Big Poppa Tart Donut
In an episode of Food Network's "Guilty Pleasures," celebrity chefs shared their favorite food guilty pleasures. While some chefs like Ina Garten didn't shock anyone with a love of bread and butter, others like food scientist Alton Brown did, admitting a love of processed foods, including Cheetos and Kraft grated Parmesan cheese. Not surprisingly, Duff Goldman's go-to guilty pleasure is an over-the-top pastry (via MSN).
From the Donut Bar in San Diego, California, Goldman selected the "Big Poppa Tart Donut," a traditional yeast donut reminiscent of the favorite childhood snack "Pop-Tart" on steroids. The oversized, two-inch thick donut has an entire strawberry Pop-Tart stuffed inside with homemade strawberry jam and decorated with thick icing, more jam, sprinkles, and diced pieces of "Pop-Tarts."
Goldman isn't the only one to take notice of the one-pound donut. According to The Daily News, "The Ellen DeGeneres Show," "The Steve Harvey Show," and BuzzFeed mentioned the Pop-Tart donut viral creation. At $4 each, the Donut Bar sells about 150 "Big Poppa Tart Donuts" daily. Owner and baker Santiago Campa meant the extreme donut to be a weekly special, but the donut's popularity prevented Campa from taking the specialty off the menu. If, unlike Goldman, strawberry Pop-Tarts were never your thing, Donut Bar makes a s'mores version for chocolate lovers. According to Thrillist, the s'mores donut is filled with housemade chocolate fudge and s'mores Pop-Tarts. Of course, you must be in southern California to get either of these decadent treats.