The Secret Meaning Behind Janusz's Outfits On GBBO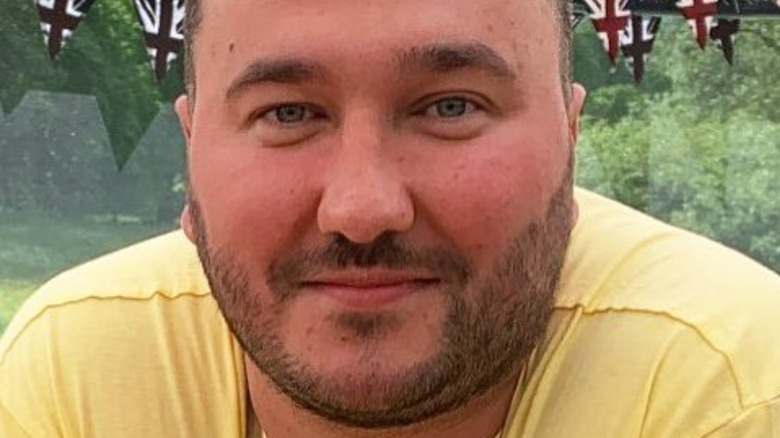 zi3000/Shutterstock
With his passion in the kitchen and goofy personality, Janusz Domagala quickly became a fan favorite on Season 13 of "The Great British Bake Off." The Polish-born contestant's baking career was inspired by his mother, who had a tradition of baking every Saturday, according to the series' website. Janusz finally brought his self-described "cartoon-like, colorful, and camp" baking talents to the popular television series this year after his boyfriend secretly sent in an application for him to compete (via Radio Times). Since the start of the season, Janusz has been gracing viewers' screens with his delicious creations — as well as his hilarious TikTok presence.
Spoiler: Though Janusz recently departed from GBBO after being eliminated in the semi-finals, he had a full season's worth of memorable moments throughout his time in the tent. One included the "mystery of the missing spring roll," as well as the time he shocked viewers with his cricket-infused popcorn dish, which was actually positively received by Prue Leith, according to Hello! Magazine. It is clear that Janusz will be missed in the finale of the show. As a treat for fans following his last episode in the series, Janusz just took to social media to make a revelation about his outfits throughout filming.
Janusz's colorful shirts were intentional
Following the Season 13 semi-finals, Janusz Instagrammed a collage of himself from every episode of the season. In a heartfelt tribute to his time on the show, he wrote, "Being chubby, gay and the first Polish national contestant on GBBO I knew I had a lot to represent walking into the tent." He then referenced the collage, in which each picture shows him wearing a different color of the rainbow. "I wanted to do this by being myself...[I] set myself a little challenge to wear a colour of the pride flag each week and hope that I could tick them all off...mission accomplished!"
Janusz thanked fans and the GBBO crew for the "love, support and fun over the last 9 weeks," and more than 1,500 comments sent the love right back. Fellow contestant Dawn said she thought Janusz would be the one to win the competition, but even though he didn't, he still became "an international gay icon." Another complimented his Pride flag idea with rainbow emojis, saying, "This just makes me love you even more." Countless others said they were sad to see him go and thanked him for making "our lives so much brighter." Finally, one fan referenced the hilarious time Janusz misspoke on the show, writing, "you'll always be our star caker in the bake week." Based on his enthusiastic following on social media, that's true: Janusz has accumulated quite the presence on TikTok, where he just released a comedic video on his feelings about returning to work.