The Shark Tank Shark Who Made Food With Kelly Clarkson And Kathy Bates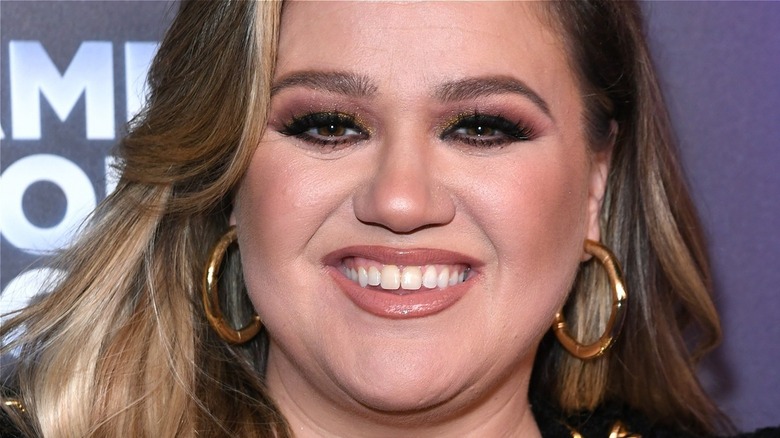 Jc Olivera/Getty
The sharks of "Shark Tank" are, without a doubt, a very talented ensemble. Teeming with business know-how, intelligence, charisma, and entrepreneurial spirit, they seem to have it all. But can they cook?
According to a 2005 article by The New York Times, Mark Cuban refused to have a private chef. And in 2014, Business Insider quoted Cuban as saying that he and his wife would prepare their kids' dinners. Rotten Tomatoes relates that he also joined "The Chew" to create a Thanksgiving turkey dish with "braised fennel and sausage." While Robert Herjavec's culinary abilities remain unclear, he was quick to point out on Instagram that his wife wouldn't be getting a cooking show anytime soon after their child refused to eat her food. Lori Greiner is known for championing innovative cooking products including some of the best kitchen tools we've seen on "Shark Tank." And, according to a Pandemic Twitter post, she isn't averse to whipping up some culinary delights of her own. While Barbara Corcoran admirably took a Julia Child cooking lesson, her Facebook video shows her rather unimpressed family taste-testing her Coquilles St. Jacques and opting, instead, for cereal.
"Shark Tank's" entrepreneurs seem to have achieved varying degrees of culinary know-how. So which shark was invited to make food with Kelly Clarkson?
Mr. Wonderful led a cooking lesson on Clarkson's show
When Kelly Clarkson was looking for someone to provide her and actress, Kathy Bates, with a cooking lesson on her show, she turned to none other than Mr. Wonderful, himself. Yes, it turns out that Kevin O'Leary is no stranger to the kitchen and was more than willing to share his knowledge (while, simultaneously, plugging a few of his products, of course).
O'Leary instructed the duo on how to prepare his Chateaubriand Sur La Mere using meat prepared "sous vide" style. When Clarkson asked what that meant, he responded that it is meat Cry-o-vac sealed and cooked in water that's under pressure. The results were a perfect medium rare that cut like butter. Interspersed throughout his salad-making demo, he managed to promote his wine business, his sous vide enterprise, and his own za'atar seasoning blend (which Feasting at Home defines as a blend of dried herbs, spices, sesame seeds, salt, and sumac).
Admittedly, this television appearance didn't involve any actual cooking. The meat had already been prepared. All that was needed was some salad cutting and mixing. This leaves viewers with one question. Can Mr. Wonderful cook or were his chef's garb and impressive culinary speak merely a clever marketing tactic?
Kevin O'Leary whips up an expert crepe
Kevin O'Leary's stint on "The Kelly Clarkson Show" proves that he can make a salad and put already-prepared beef in it. But can he actually cook? O'Leary claims he can. During an appearance on Today, he stated that he's been cooking since he was 11 years old. He says that two Cambodian chefs showed him how to prepare Classic French dishes. In fact, he once confessed to US Weekly that if he wasn't a business person, one of his top career choices would be becoming a chef.
He has even created his own YouTube channel showcasing Chef Wonderful and his quest to find the world's "best ingredients and secret recipes." Here, he claims to be a "legit chef and connoisseur of fine food and beverages." After watching a couple of his videos, you will quickly discover that he likes his veggies chunky, he knows how to reduce fruit, he makes a great crepe, and he's obsessed with his knife. With only three videos added to his channel, however, his level of cooking prowess remains a mystery.
Kevin O'Leary's epicurean expertise, admittedly, is irrelevant when it comes to his success. He is, after all, a businessman extraordinaire. In a 2019 interview with "CNBC Make It," Mr. Wonderful revealed that he was "spending about $1,000 a day on food" alone. Clearly, if he can't cook it, he's willing to pay someone who can.