Aldi's Mistletoe Mix Has Finally Arrived For The Holiday Season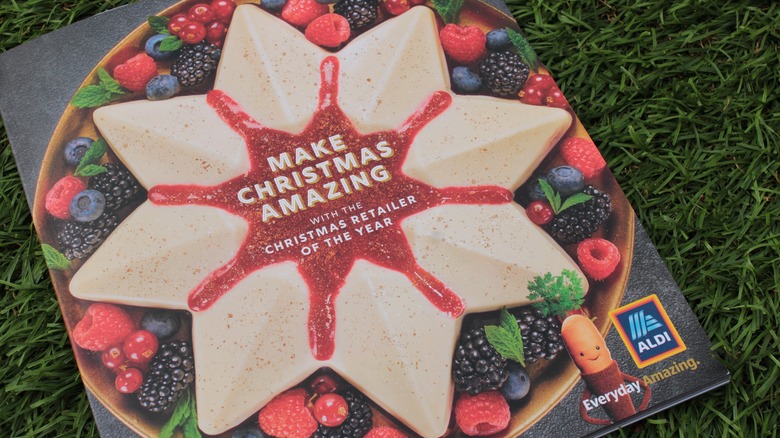 Susan Edmondson/Shutterstock
Do you know what the best part of the holiday season is? No, it's not presents, caroling, or even time with loved ones. The most wonderful thing about this time of year is the food. If you're a cook or a baker, this is your time to shine. There are tons of delicious Christmas-themed desserts like Christmas fudge and gingerbread. While you could spend this time of the year only eating dessert (we wouldn't judge), you may not want to spend the time baking it all. Luckily, there are tons of seasonal sweet treats available to pick up at grocery chains like Trader Joe's and Aldi.
The food blog Aisle of Shame reports that Trader Joe's fans excitedly wait for the store's Danish Kringle to return every year around the holidays. A kringle is a circular pastry made of 36 layers of flaky pastry dough. The kringle can be filled with cheese or dried fruit and nuts and topped with frosting or cinnamon sugar (per Oh Danish Bakery). Grocery chain Aldi also has its fair share of yummy holiday items for customers to try this season. This year, Aldi is releasing holiday macarons, which are fancy French cookie sandwiches filled with buttercream. In the box, customers will find seasonal flavors like peppermint and gingerbread. As far as snacks go, Aldi offered customers seasonal dessert hummus in sugar cookies and chocolate mint (per Aldi). For those who like a crunchy, salty, and sweet snack, the grocer has those needs covered too.
Grab a bag of snack mix, or two, or three
Aldi's snack aisle is overflowing with different types of crunchy, pre-packaged bites. This year, a Reddit user posted a picture of Aldi's mistletoe mix and people had a lot to say about it. Clancy's mistletoe mix combines milk chocolate-covered pretzels, mini peanut butter cups, and other chocolate morsels. The original poster commented, "Yum — but literally two red gems in my bag (as promised!)." The back of the snack bag shows a picture of two single red chocolate gems, and the final product only had two chocolate gems. Fans were quick to comment on the post, with one user writing, "I mean, the biggest problem is that I wanted a bag twice this size..." while another wrote, "I enjoyed that too. Mine was mostly pretzels." It appears that every person may have a slightly different mistletoe mix.
Some users compared Aldi's mistletoe mix to Trader Joe's jingle jangle mix. The mix is similar to Aldi's with chocolate-covered morsels and dark and milk chocolate-covered pretzels (via Trader Joe's). Both snack mixes are limited-time items that only last through the holiday season. Aldi's 8.5oz bag sells for $3.69. With the holiday season well underway, those that want to try the snack mix better pick up a bag for themselves and one (or two) for gifts.