The Aldi Wine Advent Calendar 2022 Is In Full Force On Reddit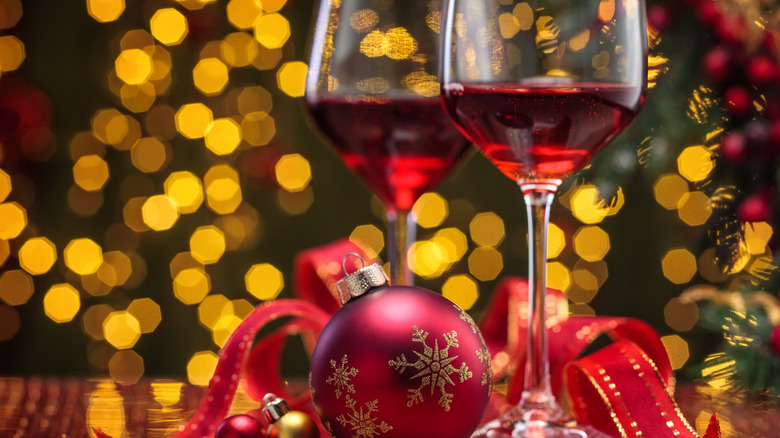 Vitalina/Getty Images
By now, avid fans of advent calendars have probably looked for the best 2022 has to offer. The options have ranged from the classic chocolate calendar to a daily hot sauce calendar. Aldi also releases a wide range of advent calendars every season, and one of the most well-known calendars of the bunch comes with wine.
While popular products at Aldi might fly off the shelves, this year, the wine advent calendars weren't selling out as quickly. Some Reddit users claimed that the wines provided in the past haven't been all that tasty. Others suggested inflation was partly to blame. Still, some customers weren't deterred, and now, the Aldi subreddit includes regular posts where fans discuss each day's wine.
User bettybadabook posted a picture of the first wine, a French red blend called Candlelit Memories. The Redditor thought it was "not as full bodied as I'm used to for a red blend either. It drank like a very dry Pinot noir to me." Still, this person was looking forward to tasting the other wines. As bettybadabook pointed out, the adventure had only just begun, and other Aldi shoppers happily joined in the discussion.
Reddit weighs in on the wine advent calendar
Replying to u/bettybadabook's first 2022 Aldi Wine Advent Calendar post, more shoppers shared their thoughts on the French blend. User please_respect_hats commented, "First one was fine, but a bit dry for my tastes. Excited for the whites in particular, but excited for all that is to come!" It sounded like Christmas came a little early for that commenter because the second day of the advent calendar brought with it a white wine from Hungary called Through The Forest. Unsurprisingly, u/bettybadabook created another Reddit post to chat about that drink.
Redditor rookrt wrote, "Pinot Gris are one of my favorite white wines. I've never had Hungarian wine, but this was quite nice." Other commenters mentioned that they preferred this wine over the first day's selection, and a bit more praise came on the third day, which greeted Reddit with a red Portuguese wine called Winter Getaway. On a third calendar-related post (also made by u/bettybadabook), a fan of the winter offering thought it was good enough to buy at the full size. However, users were split, as some people found this wine bitter or lacking in flavor.
Aldi's wine calendar has 24 days, which means more flavors and nations. The fan site Aldi Things wrote that the remaining dates include an Italian merlot called It's Cold Outside, a Spanish chardonnay called Cozy Fire, and a riesling from North Macedonia dubbed Snowy Song, among others.