Burger King Has Released A Winter Whopper In Japan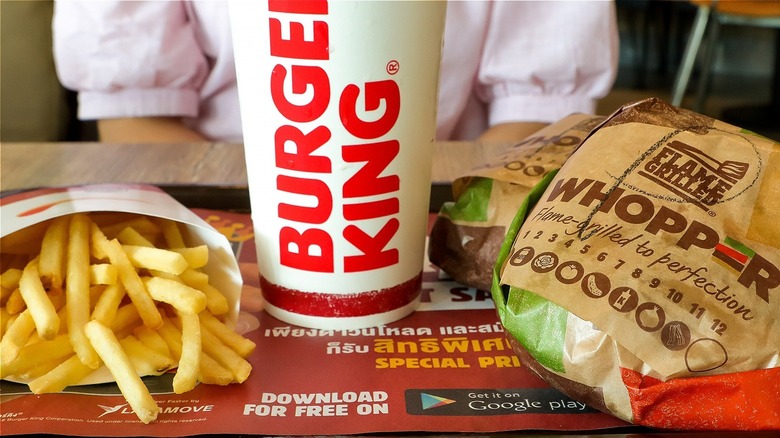 agencies/Shutterstock
Although the classic burger and fries combo might seem quintessentially American, you can find major chains all over the world that put their own twists on fast food items commonly found in the United States. Some recognizable burgers include McDonald's Big Mac and Burger King's Whopper, and although those are popular items on their own, there are variations of these products in other countries.
There are a few ways that Burger Kings in the United States differ from locations in Japan, and Japan has a variety of plays off Burger King's Whopper. For example, Japan has served up a Whopper with shrimp and the Deluxe Chicken Whopper, which also comes with bacon. Aside from riffing off the Whopper, Burger King Japan also created the Teriyaki Ugly Beef Burger, which comes with plenty of teriyaki sauce and is served on a four-cheese bun. But for customers who are craving a Whopper-like burger, there's another limited-time Whopper coming to Burger Kings in Japan that's made just for the winter season.
What's in the Winter Whopper?
Earlier this year in August, Japan released an Icy Whopper with a layer of shaved ice in the burger. Thankfully, this latest edition of the Whopper won't include any ice, which probably wouldn't be the top meal choice on a chilly winter day. According to The Street, the Winter Whopper includes gouda cheese and a spicy hot sauce. Burger King Japan's Twitter account posted a photo that reveals this burger will hit stores on Friday, December 9.
While there's not an exact end date for this promotion, it does look like it'll be a seasonal menu item, so Burger King fans in Japan shouldn't wait too long to try the Winter Whopper. If you're not in Japan and still want to try this, whip up a copycat version of the Whopper at home and add gouda cheese and a spicy sauce. To make it vegetarian-friendly, swap out the meat patty for a plant-based alternative, like an Impossible Burger.
Wondering what other foods you can only find at a Burger King in Japan? There's a unique fry substitute that Burger King Japan offers: pieces of dried ramen noodles.