Bobby Flay Says You Should Use Semisweet Chunks In Your Hot Chocolate
Kevin Mazur/Getty
When it comes to the perfect winter beverage, it's hard to beat hot chocolate. It's sweet and rich, and hot chocolate will warm you up on a cold night or after you've spent a day in the snow. Plus, there are so many delicious variations on the drink, whether it's a spiced hot chocolate recipe or a gingerbread hot chocolate recipe that's perfect for the holiday season.
If hot chocolate is one of your go-to beverages, you'll want to know the secret to making the best hot chocolate, and a big part of this is using quality ingredients. Although it might be easier to open a pack of hot cocoa mix, it'll be well worth your time to make hot chocolate on the stove with cocoa powder, high-quality chocolate, and whole milk. You can make an Instant Pot hot chocolate recipe if you're serving drinks to a crowd, and Bobby Flay also has another tip for impressive and decadent hot chocolate.
In a video on Food Network's Facebook, Bobby Flay demonstrates how to make Red Velvet Hot Chocolate with marshmallow whipped cream. For red velvet hot chocolate, Flay adds a tablespoon of red dye to the pot, but the best tip he revealed in this video is about the type of chocolate you should use when making the drink.
Bobby Flay says it brings 'intense' flavor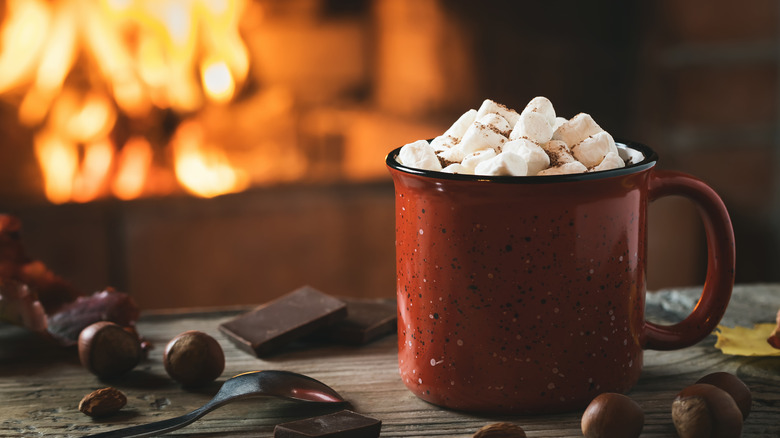 Galina Sandalova/Getty Images
In addition to cocoa powder, Bobby Flay uses semisweet chocolate as he makes hot chocolate in this Facebook video from Food Network. He explains that semisweet chocolate makes the beverage "incredibly rich and flavorful and not too sweet." When he samples the hot chocolate, Flay describes the flavor as "intense" and compares the texture to almost chocolate pudding because of its thickness.
For those who prefer an extra sweet hot chocolate, Flay says that you can always add more sugar at the end. Plus, if you're planning to top off your hot chocolate with marshmallows and whipped cream, it may be better to use semisweet chocolate so the drink itself isn't as overwhelmingly sweet.
Want to learn more of Flay's chocolate tricks? Instagram was gushing over Bobby Flay's chocolate chip cookies – when the Food Network star makes them he chills the dough for up to three days for a crisp and chewy cookie. You can pair the cookies with hot chocolate for the ideal treat.