Instagram Is Drooling Over Bobby Flay's Chocolate Chip Cookies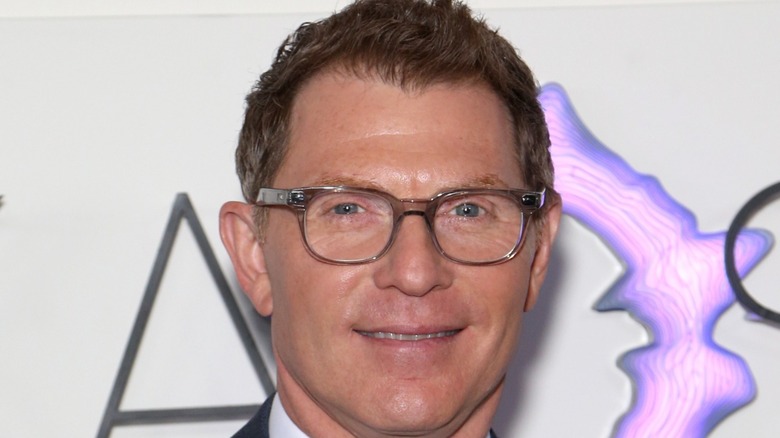 Gabe Ginsberg/Getty Images
February means many things to many different people. Super Bowl parties and Valentine's Day activities fill up the calendar during this winter month. But, for Bobby Flay, February is all about "sweetness," and the celebrity chef has taken to Instagram to share a beloved recipe for chocolate chip cookies to fit with the theme — and it's simply left his Instagram fans drooling. On his website, he shares that the recipe is his "go-to" for these classic cookies and says there is no better way to tell your Valentine how much you love them than by making these baked goods — yes, they are apparently that good.
The "Iron Chef" wrote on his Instagram, "When I think of February, I definitely think of sweet treats ... so I'm sharing my favorite chocolate chip cookie recipe." True to his claim, this type of cookie does tend to rise to the top in a number of polls. In a Buzzfeed face-off between this favorite treat and the sugar cookie, the chocolate chip variety garnered 57,000 votes and the title of the better cookie, compared to the paltry 11,000 the sugar cookie received. For the math-minded, that means 84% of those who voted like their cookies with chocolate flair. And, as Flay says, during this month of "love," it is the perfect opportunity to "pour — or bake — your heart out" making this cookie recipe he swears by. Instagram seems to agree.
Flay says the trick is keeping the dough in the refrigerator for 3 days
The co-host of "Bobby and Giada in Italy" recently shared his go-to recipe for chocolate chip cookies, and explained to his Instagram followers that the key to making these treats is to let the dough rest for a bit. As he wrote in the post that has received over 16,000 likes as of publication, "Here's the thing about this cookie dough ... it's even more delicious when you let it sit in the fridge for 1-3 days (as long as you can stand it) before baking. Trust me! And the best part is they're both crisp AND chewy ... so satisfying." If your taste buds are starting to get excited, you are not alone. Seriously, Flay had us at "crisp and chewy."
Flay's social media followers definitely concur that these cookies are perfection with one who wrote, "LOVE LOVE LOVE this recipe ... always in my regular baking repertoire." While another IGer revealed their own secret to ensure the dough lasts a full three days, as they said, "The secret is to hide the cookie dough behind the Brussels sprouts in the fridge ... the three days will go by fast!" But the overwhelming majority of comments really speak to Flay's swagger about these cookies being the best with another fan who expressed their cookie love with, "I can't tell you how many times I made this recipe. Every time I see chocolate chips in the grocery store ... Im thinking Bobby's cookies." And still another summed it up with, "The best cookies I've ever made were these!" Flay is right: It's time to bake!