Barilla Has A New Heart-Shaped Pasta And Italy Trip Giveaway For Your Valentine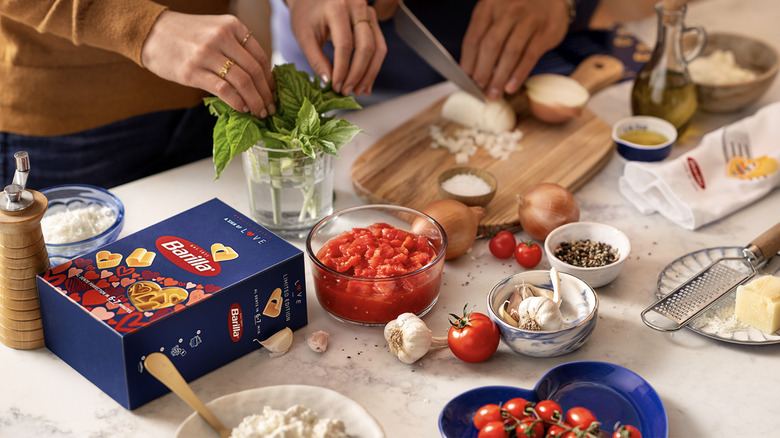 Barilla
Whether you think Valentine's Day is a Hallmark holiday or a time to shower your partner with flowers and gifts, companies are taking advantage by offering special deals. If you've got a coffee lover in your life, it may be wise to look into Starbucks' 2023 Valentine's Day merch, which includes pink and floral-patterned tumblers. If you, your sweetheart, or gal pals want a night out on the town, there are plenty of options for a delicious meal that won't break the bank. Nothing says I love you like a heart-shaped pizza, and Pizza Hut offers just that during Valentine's week (per Good Housekeeping).
If cooking for your beloved is your love language, it's easy to find some stellar recipes that are made to impress. Hostess extraordinaire Ina Garten has some date night tips for a successful Valentine's Day, even if you don't have a Jeffrey of your own. According to The Kitchn, Garten suggests worrying less about preparing fancy food and more about quality time with your significant other. If you want the ambiance of a date night at home, but need some help in the cooking department, one pasta brand has you covered.
Make dinner and win a romantic getaway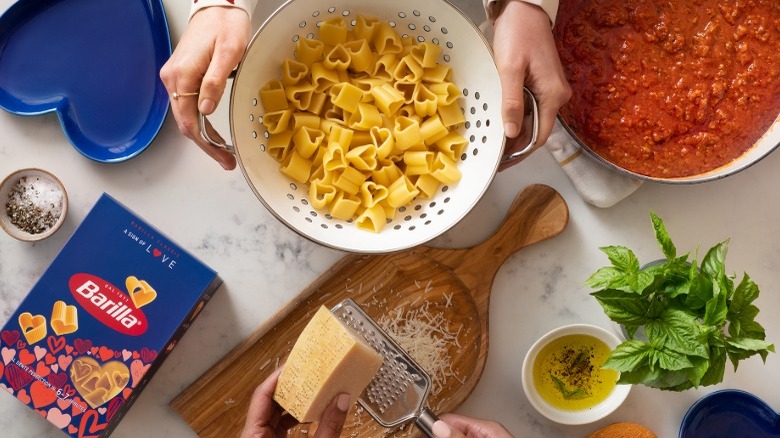 Barilla
If you're looking for a delicious and festive way to treat your loved one at home this Valentine's Day, Barilla's Valentine's pasta may be just up your alley. To celebrate the holiday, Barilla is releasing a limited edition Barilla Love Pasta Kit. According to the brand's press release, the kit comes with heart-shaped dry pasta, Valentine's cards, recipes, and some "additional swag" to complete the meal. All you need to do is turn on one of Barilla's custom playlists for perfectly cooked pasta and get to cooking.
While enjoying an Italian meal in the comfort of your home can be a wonderful thing, enjoying Italian food in Italy is even better. Barilla is offering one lucky winner the chance to win airfare and accommodations for two people to visit Parma and Florence, Italy. While in Parma, the winners will get 3 tours, and of course, be treated to authentic pasta and Italian food experiences. Fans who are looking to really impress their Valentine can enter the giveaway at BarillaLove.com from January 18 through February 1.