Subway Just Unveiled The Perfect Sub Addition And Almost No One Gets To Try It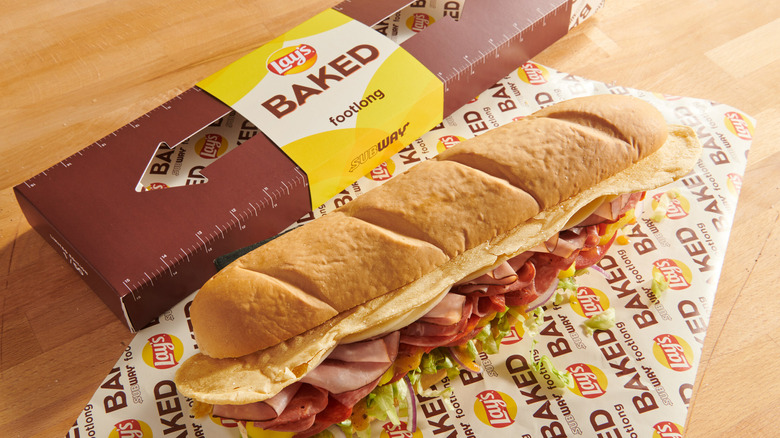 Subway
A lot of people might think Subway is pretty great, or maybe they have a great time modifying sandwiches. Whether ordering a classic All-American Club, a dependable meatball sub, or a drama-filled Subway tuna sammy, people get to load it up to their hearts' content. In addition to typical sandwich toppings, folks can customize a sub with its crunchy best friend, chips. Customers definitely have options in that department, but when Subway asked fans on Facebook about their go-to chips to pair with subs, the word "baked" came up dozens of times, and it was often paired with the name Lay's.
It seems that there's something about BAKED Lay's alongside (or inside) a Subway sandwich that feels just right for many Subway fans. So the sandwich chain took things one step further. In a press release, Subway announced that in honor of National Potato Chip Day on March 14, the sandwich shop will be featuring a BAKED Lay's Footlong. But there's a catch.
Where can Subway fans get the BAKED Lay's Footlong?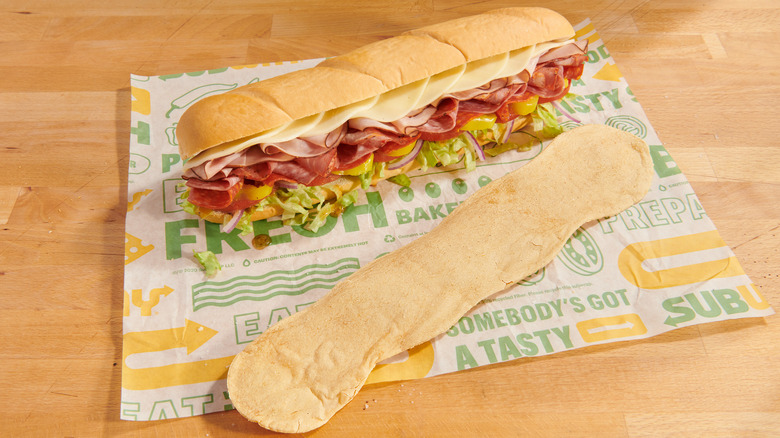 Subway
This is exactly what it sounds like – a 12-inch long BAKED Lay's behemoth fashioned to fit perfectly within the layers of your favorite Subway footlong. Customers will have the option to add on the giant BAKED Lay's chip for free when they purchase any Subway Series footlong meal. Here is the unfortunate catch.
The BAKED Lay's Footlong will only be available at one single location for one single day, March 14. The lone location is in Frisco, Texas, a suburb of Dallas. Subway seems to love pulling this move. When Subway offered footlong cookies at its popup Cookieway in celebration of National Cookie Day, the treats were only offered for a few hours at a single location in the neighborhood of Little Havana in Miami, Florida.
As chefs like Robert Irvine will tell you, the right chips can improve any sandwich. This BAKED Lay's Footlong is the best chip a Subway sandwich could ever bring along for the ride. Designed for perfect crispy crunch distribution, it is the Subway sandwich hack that people deserve all year round. Alas, only a select few will get to experience this National Potato Chip Day triumph.