14 Fruits You Never Thought To Cook In Your Air Fryer But Definitely Should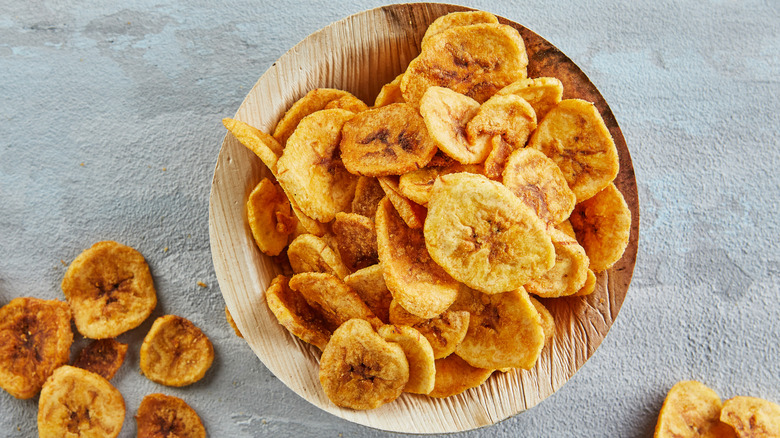 AlexDonin/Shutterstock
There are so many unique things you can make in an air fryer, but have you ever tried cooking fruit? You can use your air fryer to turn fruit into dishes ranging from breakfast to appetizers and dessert. It's a surprising way to make treats from fruit without all the added fat, calories, and work of making more complicated baked or grilled fruit desserts or even pies. Why make a whole apple pie when you can have an air-fried treat that tastes just as nice? And why fry plantains on the stovetop when you can get them perfectly caramelized in the air fryer? Fruits naturally sweeten as they cook, which means you can enjoy any of these dishes without too much sugar. And you can get all this with way less mess. 
For all the air fryer fruits on our list, you will cook them at a standard air-fryer setting of 400 degrees Fahrenheit. While we've included times, each air fryer is different, so it's important to check your fruit and remove it when it starts to soften or brown, depending on your desired end result. Once you've tried one of these air-fried fruits, we're pretty sure you won't be able to get enough. Air-fried apples will lead to air-fried bananas, which will lead to air-fried peaches. Before you know it, you'll be browsing the fruit aisles at your grocery store regularly, scheming which fruit to air fry next.
1. Apples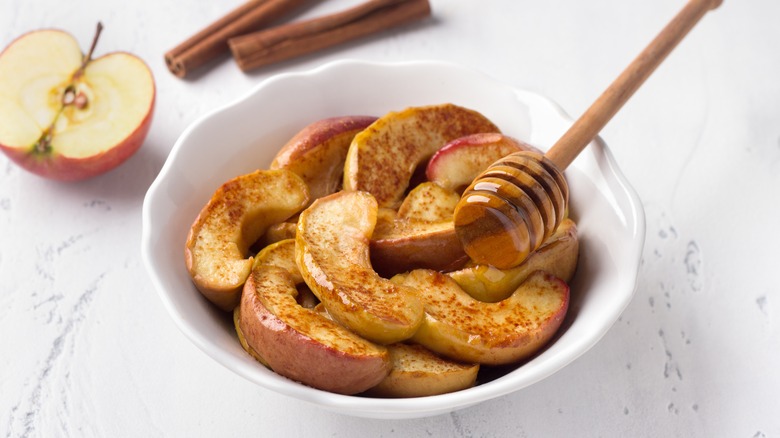 olepeshkina/Shutterstock
It's possible to make mini apple pies in the air fryer. However, did you know you can use the air fryer to make something that tastes like an apple pie with far less work? Sliced apples are great when cooked in the air fryer for 10 to 15 minutes, either with or without the skin. After coring and slicing, you'll want to coat the apples with cinnamon or traditional apple pie spices like cinnamon, nutmeg, allspice, ginger, and cardamom. Slathering the apple slices with melted coconut oil and maple syrup beforehand will help the spices stick to the apple better and enhance the overall flavor.
If you want a more indulgent treat, you can make a baked apple crisp by adding a streusel topping. Simply brush the top of halved apples with melted butter and add a mixture of rolled oats, flour, cinnamon, and maple syrup to the top. Just like with a real apple pie, it's especially enjoyable topped with whipped cream or vanilla ice cream.
2. Bananas
Air fryer bananas are another baked fruit you should definitely be making in your air fryer. These sweet, caramelized bananas are the next best thing to banana bread. And the whole air-frying process is only going to take six to eight minutes, so it will be done in no time.
The easiest banana air-frying method is to peel and slice the banana before placing it in the air fryer and add a little of your favorite oil to crisp it up ever so slightly. Another option is to slice the banana in half and cook it inside its own peel. While air-fried bananas are delightful plain, they're also great with a dusting of cinnamon or pumpkin pie spice. You can also add brown sugar or coconut sugar to enhance the caramelization process. If caramelized bananas don't quite satisfy your sweet tooth, try drizzling them with maple syrup or caramel sauce.
Once you've tried plain air fryer bananas, you can take it up a notch by stuffing the banana. When stuffing the banana, you'll want to make a slit in only one side of the banana and stuff the extra ingredients inside the peel with the banana. Then, add extra ingredients before the cooking process, such as your favorite nut butter, Nutella, nuts, or chocolate chips. Once your banana is done, you can top it with yogurt, whipped cream, or even ice cream.
3. Oranges
Air-fried oranges are suitable for breakfast, a snack, or an entire dessert, depending on what you add. When air frying oranges, you'll get the best results from exposing the juicy innards of the orange rather than air frying pith-enclosed orange wedges. The best way to prepare your oranges for air frying is to either slice the oranges into rounds or slice the orange into quarters, peeling or leaving the orange unpeeled. Then, coat the pieces in maple syrup or brown sugar a dusting of cinnamon.
Three to five minutes in the air fryer is all it takes to start crisping it up just a bit. Once the edges start to brown, your fruit is ready to eat. To make air-fried oranges into breakfast rather than a snack, you'll want to top them with yummy things like yogurt and granola. However, to turn them into dessert, you can serve them with a side of vanilla ice cream.
4. Strawberries
While you could try any type of berry in the air fryer, strawberries seem to be the most popular choice. Plump, warm berries are pleasurable on their own, as a stir-in for breakfast dishes, or as a dessert accompaniment. Air-frying strawberries is also a strategic way to use up overly-tart strawberries that aren't appealing to eat raw and straight from the container without a little help.
Simply slice up your strawberries, and coat them in cinnamon or pumpkin pie spice. If your strawberries are a little on the tart side, you might want to add a little brown or white sugar as well. Once they're spiced and sweetened, you only have to air fry them for four to eight minutes for berry perfection.
While you could eat your air-fried strawberries on their own, they're even better with a dollop of whipped cream or served on top of ice cream. If you're thinking of making them for breakfast, they're an excellent addition to overnight oats or a great stir-in for yogurt.
5. Cantaloupes
The musky, sweet flavor of a cantaloupe lends itself well to grilling and baking. If you haven't tried air-frying cantaloupe, you're really missing out. Simply peel your cantaloupe and slice it into pieces the right size for eating. Then air fry them for about five minutes. The results are unexpected and worth exploring.
If you usually grill your cantaloupe and like the smokey taste the grill gives it, you can try adding smoked paprika and honey to air-fried cantaloupe. The unique taste of fruit also lends itself to exciting flavors that dance on the tongue like acids and spices that pack a little heat. So you might want to try spiking your cantaloupe with a bit of cayenne pepper or Tajin seasoning before placing the cantaloupe in the air fryer. Another surprisingly satisfying flavor combination to try is honey, lime juice, and fresh mint. Lemon juice also works well in place of lime juice for that flavor combination.
6. Peaches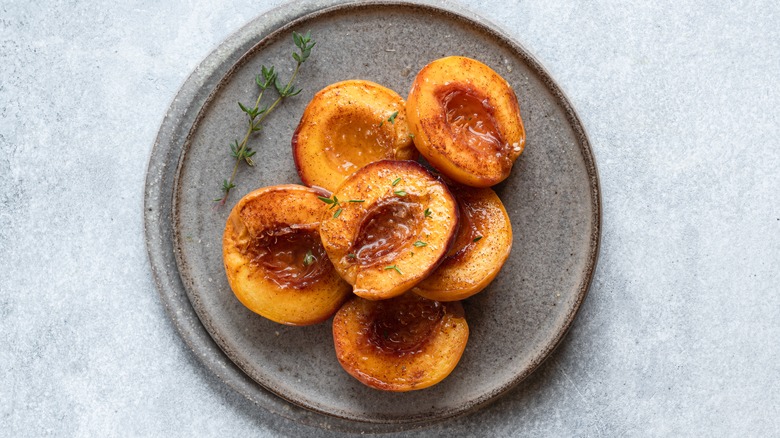 Chzu/Shutterstock
Like air-fried apples, air-fried peaches simulate the experience of a pie without having to go through the trouble of making a whole peach pie. It's a miniature dessert that can bring a lot of culinary pleasure with little effort. Air-fried peaches are also excellent on their own, and they make an excellent breakfast dish topped with yogurt and granola.
To make air-fried peaches, you should start by halving or slicing your peaches and removing the pits. If eating the peach peel doesn't appeal to you, you can remove it as well. Then, you should coat the peaches with cinnamon, coconut oil, and brown sugar. It should only take five to seven minutes to bake the peaches in the air fryer.
For a fancier dessert version, you can top the peaches with a mixture of melted butter, rolled oats, brown sugar, cinnamon, and vanilla before baking. Then, serve it up with whipped cream or ice cream and a drizzle of maple syrup.
7. Watermelons
Oddly enough, you can fry up watermelons in an air fryer. However, we suggest that you slice and dress them up with a few flavors before throwing them in to fry. In fact, for this air-frying adventure, it may help to marinate your watermelon before you put it on to bake.
We suggest making a marinade that contains olive oil and citrus fruit juice like orange juice or lime juice. You'll also want to add a scant amount of salt to your marinade. Trust us on this one, since salt will tame any bitter flavors in the watermelon while bringing out its sweet and juicy qualities. Once the watermelon has marinated for about 10 minutes, it's ready to put in the air fryer. The total cooking time will only be about five minutes. Once it's done, serve the watermelon slices with a few fresh mint leaves, and you'll have a warm, juicy, and refreshing treat.
8. Plums
Plums are usually fairly sweet on their own, but baking them and adding sugar takes them in to the dessert stratosphere of candied fruit. There are at least two delightful options when it comes to making candied plums in the air fryer. Both options involve cutting the plum in half and removing the pit first before adding other scrumptious flavors. The first option for baking plums in the air fryer treats the plum the same way you treat other stone fruit like peaches. You simply cover it in cinnamon and sugar before air frying. 
The other option goes in a different flavor direction. You will brush the plum halves with a mixture of melted butter, vanilla, and sugar so that the flavor of the plum is the star. However you decide to spice up your plums, you will need to cook them in the air fryer for around 10 minutes. 
For the final touch, you'd be remiss not to try your air-fryer plums with a dollop of whipped cream or a serving of vanilla ice cream. A sprinkling of nuts like almond slivers or toasted pecans can also help elevate the flavor as well.
9. Pears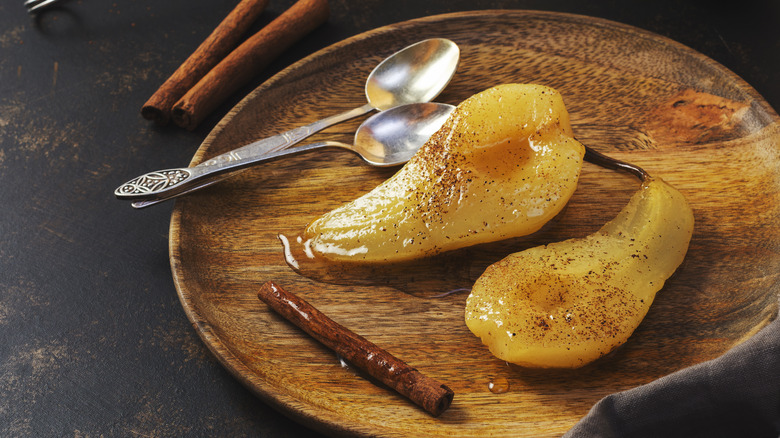 Yulia Gusterina/Getty Images
Air-fried pears make the classic baked pear dessert even easier, and the results are sophisticated enough to serve as a dessert for dinner guests. Cutting the pear in half will give you an elegantly-shaped fruit for your dish. Luckily, pears are soft enough that you can remove any inner seeds easily with a spoon.
All the best ways to make pears in the air fryer involve adding a sugary topping so that the pears caramelize while they cook. You can try topping your pear with maple syrup and cinnamon or honey and cinnamon. Another more indulgent option involves topping it with melted butter, brown sugar, and cinnamon. If you're a nutmeg fan, you might try adding a small pinch to the cinnamon, especially if you're making it in the fall when nutmeg starts appearing more often in desserts.
Although pears start out soft, you'll want to air fry your pears for 12-15 minutes to make them even softer and fully caramelize the top. Once they're done, arrange your pears artfully on a plate and serve with clouds of whipped cream or a scoop of vanilla ice cream. Toasted pecans and an additional light sprinkling of cinnamon can make it look fancier if you're serving it to guests.
10. Pineapples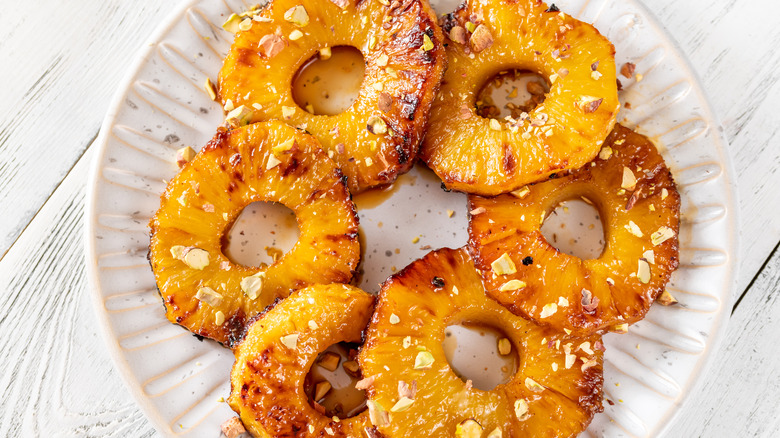 Alexander Prokopenko/Shutterstock
Pineapples are no stranger to the grill and the oven since we heat them up to turn them into everything from kebabs to pizza toppings and pineapple upside-down cake. So it's not surprising that they turn out beautifully air fried. You can either start with pineapple rings, chunks from a can, or fresh a pineapple you've peeled and cored yourself. To get the most flavor from your pineapple, you'll want to use both fat and sugar to coat your fruit. Some great combinations are melted butter and brown sugar, coconut oil and coconut sugar, melted butter and maple syrup, or melted butter and honey. If you're a cinnamon fan, go ahead and dust the pineapples with cinnamon as well.
Your air-fried pineapples will be done in 8-12 minutes. Fresh herbs like basil and mint make for great refreshing summertime garnishes. If you used coconut oil for cooking, you can take it one step closer toward a piña colada flavor by topping your air-fried pineapple with coconut flakes when it's done.
11. Avocados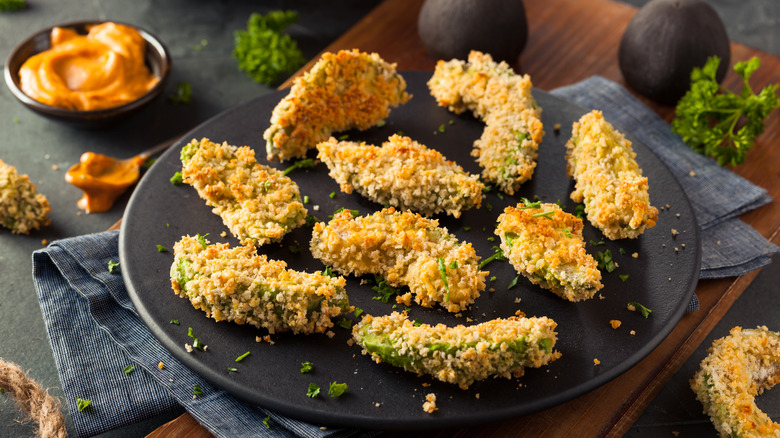 Bhofack2/Getty Images
Perhaps you haven't stopped to think about it before, but avocados are a fruit since they come from a flowering tree and have a seed (albeit a huge one). However, unlike most of the other fruits on our list, we're going to turn them into savory dishes rather than dessert treats.
The first option is to make air fryer avocado fries. Making air fryer fries involves dredging peeled and sliced avocados first in a bowl of flour, a bowl of whisked eggs, and then a bowl of breadcrumbs. You can add seasonings like salt, pepper, and paprika to the breadcrumbs. Although, you're welcome to enhance it with garlic powder, chili powder, or cayenne. Before air-frying, you will need to spray the avocado fries with enough of your favorite cooking oil for the crust to brown. It will only take about eight minutes to air fry the avocado fries and they're so good served with a dipping sauce like ranch dressing or creamy chipotle sauce.
The second option is to turn them into an eggy, cheesy breakfast dish. Simply cut the avocados in half, remove the pit, and crack eggs into the spaces the pit leaves behind. If the egg is too large, you can scoop more avocado out or use less egg. You'll air fry the avocados, eggs, and your favorite egg seasonings for around eight minutes before adding shredded cheese on top. Then, simply air fry the avocados for an additional couple of minutes to melt the cheese.
12. Grapes
When you bake grapes, they undergo an interesting transformation. The skin bursts open, and they become slightly caramelized and juicy inside. So for many people, putting grapes into the air fryer is a revelation. The air fryer grapes we want to suggest mix savory flavors with sweet flavors in a mouth-watering way. Start out by coating the grapes with olive oil and a sprinkling of salt. If you're feeling adventurous, go ahead and add a little pepper as well. Then air-fry the grapes for around 10 minutes.
Once the grapes are done, transfer them to a piece of bread or toast covered in the creamy spread of your choice. Plain or flavored cream cheese is the simplest option. However, you could try other spreadable dairy options like ricotta cheese, plain yogurt, creme fraiche, or a soft variety of cheese like goat cheese, mascarpone, or brie. Then, top the whole thing with a generous drizzle of honey. The result is an absolute flavor burst, which makes a delicious breakfast or appetizer.
13. Persimmons
Next time you encounter persimmons, you'll want to keep the idea of air-fried persimmons in mind. You can bake both the smaller variety of the fruit as well as the larger tomato-sized ones, but they give you different results. Since persimmons are already ridiculously sweet on their own, they really don't need any extra sweetener added.
To air fry a smaller persimmon, you will follow the same method for other drupes like peaches and plums. Start by cutting it in half and removing the pit. Then, it will take about 10 minutes to air fry. Once you're done, you'll be left with a gooey, sweet spread that is perfect for topping toast. Like with air-fried grapes, air-fried persimmons taste good on sliced bread with a creamy topping like cream cheese or mascarpone.
If you have a larger Japanese persimmon, the air-frying process yields a result that's similar to a baked sweet potato. You'll start off by cutting the stem off the top. Then, place the persimmon in the air fryer for 20-35 minutes. You'll know it's done with it's soft and the outside is wrinkled. To eat it, peel off the skin, mash it with a fork, and remove any seeds you find. It's even better with a sprinkling of cinnamon and a small mound of whipped cream on top.
14. Plantains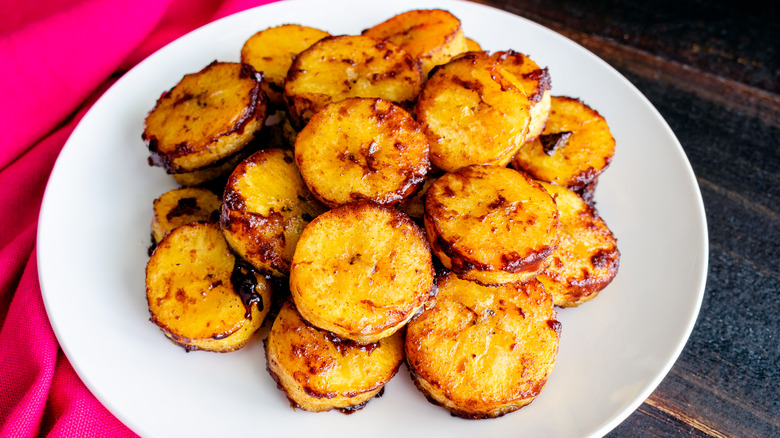 Candice Bell/Shutterstock
Since plantains come from the same family as bananas, they are fruits, although we tend think of them differently since they have more savory flavor. However, air-frying tends to caramelize plantains, bringing out a sweet flavor closer to that of bananas. Making plantains in the oven certainly requires less oil than the traditional frying methods, so the air fryer can also be a healthy alternative to frying.
The most simple version of air fryer plantains involves peeling the plantain, slicing it, and covering it in cooking oil before air frying the pieces in a single layer for six minutes. After that, you'll flip the plantains over before cooking them another couple of minutes. They're done when they looks caramelized and golden brown around the edges. If your air fryer has a french fry setting, you can use that instead of the standard setting for perfect timing.
Salt and cayenne pepper are good seasonings to add before cooking if you want savory plantains. Once they're done, you can even add shredded cheese on top for an extra treat. However, if you are looking for a sweet version of plantains, you can add cinnamon and brown sugar before cooking instead.