Entenmann's Copycat Coffee Cake All Comes Down To How You Handle The Crumbs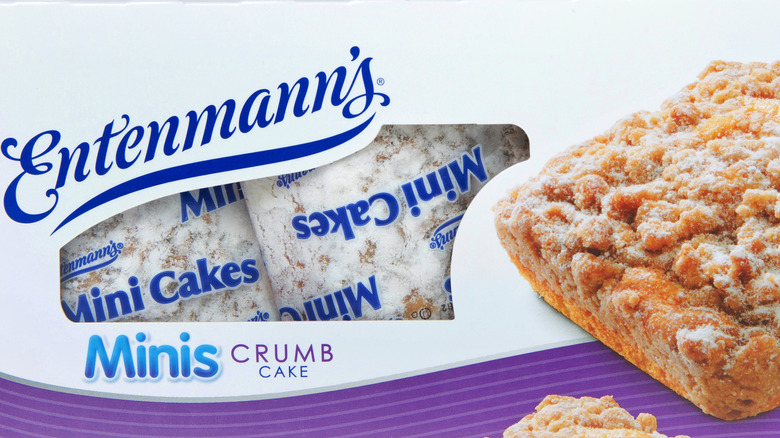 Sheila Fitzgerald/Shutterstock
For 120 years, Entenmann's has been supplying households nationwide with homestyle baked goods. Home cooks that weren't bakers could rely on a tender Entenmann's donut, cake, or danish to accompany their morning coffee. Even Old Blue Eyes and Jersey boy Frank Sinatra enjoyed Entenmann's coffee cake weekly.  If you are familiar with the white and navy scripted boxes, you likely have a childhood favorite, and for many, it is the New York-style crumb cake. 
According to the company website, this European confection was popular in coffee shops throughout the tri-state area in the 1950s and has stood the test of time. Buttery yellow cake is topped with giant sugary crumbs (or streusel) and dusted with confectioners sugar. Coffee cake is denser than a traditional birthday cake but less heavy than pound cake and just as buttery. What sets the New York style apart from other coffee cakes is the size of the soft crumb and the quantity. This version has an equal amount of cake-to-crumb ratio, the perfect combination without being overly sweet.
Used interchangeably, coffee cake and crumb cake have many variations. While Entenmann's has a thick layer of streusel on top, some versions also place a thin layer of streusel in the middle. Fruit or jam is often added under the streusel for additional sweetness, and some even drizzle icing on top, although the coffee cake is delicious as is. If you've got an hour, homemade New York-style coffee cake is easily baked in your kitchen using pantry items you probably have on hand. 
Copycat Entenmann's crumb cake
TikToker, chef Danielle Sepsy demonstrates how to make a classic New York-style coffee cake to rival the OG, Entenmann's. Begin by blending room-temperature unsalted butter with granulated and dark brown sugar until light and fluffy. Add three eggs, one at a time, until mixed into the batter, then add vanilla extract. Combine all-purpose flour, fine table salt, and baking powder in a separate bowl. Alternate mixing the dry ingredients with sour cream into the wet batter until no white streaks remain. Also, avoid overmixing. Divide the batter between two greased, eight inch square pans.
Combine cake flour, dark brown sugar, granulated sugar, cinnamon, and table salt with melted unsalted butter to make the streusel. Mix the ingredients until it resembles wet sand. To prevent the batter from collapsing from the weight of the streusel, begin by placing the crumbs along the perimeter of the pan, working your way towards the center. Once the entire surface is covered, pop both pans into a preheated 325-degree oven for 30-35 minutes or until the cake is fully baked. Test the doneness by sticking a skewer into the center. If it comes out clean, the cake is done. Allow the cake to cool completely before dusting it with powdered sugar.
The cake will stay fresh in an airtight container for a week in the refrigerator. Alternatively, you can prepare individual coffee cake muffins or, for big kids at heart, add rainbow sprinkles to the batter for a fun twist on traditional coffee cake.