Bobby Flay's Favorite Restaurant Burgers Are Certainly Top-Tier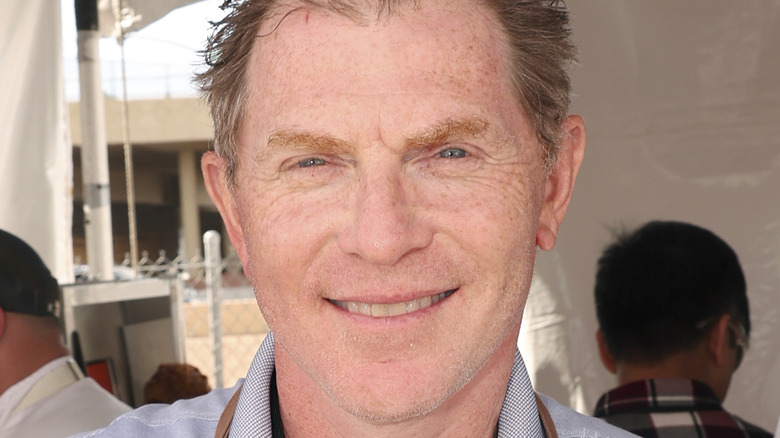 Jesse Grant/Getty Images
Bobby Flay is a burger chef himself, so it's no surprise that the Food Network star has strong opinions when it comes to burgers. But that's not to say that his ideal burger is something fancy, Michelin-starred, or even expensive. When it comes to the perfect restaurant burger, there's one place Flay heads, and that's JG Melon in New York City. "I don't think there is anyone in the world who has eaten more JG Melon cheeseburgers than me," Flay shared with First We Feast. 
JG Melon's burgers are simple and made with no fancy toppings. But the restaurant's attention to detail is what makes this Bobby Flay's favorite burger. The $14 burgers are made with a proprietary blend of "Angus-influenced" beef supplied by Master Purveyors butchers, a business that also works with the best steakhouse in New York (via Eater). It's cooked on a griddle and served on a soft bun. As Flay told First We Feast, "You have to melt the cheese completely, because if you don't then it won't taste as good. American cheese is the key." 
Flay said he basically grew up in the burger restaurant, because the owner was friends with his father, and he even credits the JG Melon for inspiring his own burger chain, Bobby's Burgers. But Flay also likes to try various types of burgers and found a West Coast smash burger like no other. 
Bobby Flay enjoys other burgers as well
JG Melon is Bobby Flay's favorite burger restaurant for when he's craving a classic, simple burger (it's Andrew Zimmern's favorite burger, too). But on an episode of his show "Bobby and Sophie on the Coast," Flay and his daughter Sophie went to the West Coast to sample a different kind of burger. While Sophie's favorite burger is at Black Tap Craft Burgers and Beer in New York City, both agreed Heavy Handed's short rib burger is worth the trip to Los Angeles.
The Heavy Handed food truck used ground short ribs to make a smash burger, which according to Flay, gave it great flavor. As the burger cooks, it gets smashed flat onto the griddle. The rich short rib fat renders out of the burger, crisping up the meat until it's browned and full of flavor. Cheese, burger sauce, and tangy pickles round things out. As for price, a single burger at the truck costs $9, while a triple goes for $13.
"The short rib is a really, really smart way to go because it has the texture, that density of the meat, and also the fat has tons of flavor," Flay said of the burger on the show. Still, Flay's heart will always belong to JG Melon.