DIY Cosmic Brownie Cereal Is Nostalgia Served In A Bowl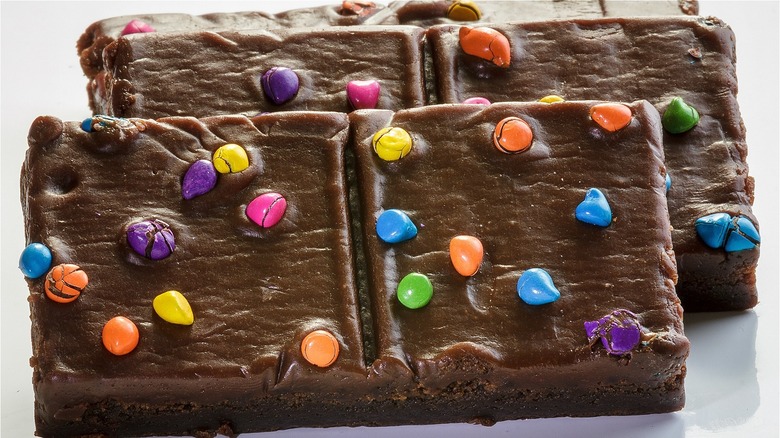 Saibal Ghosh/Shutterstock
Crispy brownie pieces filled with fudgy icing and rainbow candy-coated chocolate pieces is the type of cereal you hide out from your kids, way out of reach, and keep to yourself. While nothing good will come from feeding your child a bowl of that before school, the nostalgic treat is just the thing you want when a late-night chocolate craving hits.
In 2021, Kellogg's announced a collaboration with snack cake darling Little Debbie to create the Cosmic Brownies Cereal after the brand's iconic lunchbox treat. The cereal retailed for $3.99 for the 8.2-ounce box and $5.69 for the 13.2-ounce box, but the product is no longer featured on Kellogg's website. Luckily, clever TikTokers have figured out how to make the tasty treat at home. Is "Dirty Cereal" a thing? It should be.
To recreate the cereal at home, Nazdacook takes a Little Debbie Cosmic Brownies package and removes the rainbow candy-coated chocolates, reserving them for later. Using a chef's knife, he chops the brownie into bite-sized pieces by making four rows the length of the cake and eight rows the width. He bakes the Cosmic Brownies pieces on a greased cookie sheet at 275 degrees for six to eight minutes or until they have dried slightly with a crispy exterior (you don't want them falling apart in the milk). That's it. Grab a spoon and add the cereal to a bowl with milk, and don't forget to top it with the rainbow candy-coated chocolates for the whole chocolatey experience.
Four Little Debbie and Kellogg's classic-treat inspired cereals
Created in September 1999, Little Debbie Cosmic Brownies are individually wrapped chewy, fudgy cakes with an equal ratio of brownie to icing, sprinkled with candy-coated chocolates that come in two to a pack so you could (potentially but unlikely) share one with a deserving friend. According to the company's website, the snack cakes were created for bowling alleys during an 'out-of-this-world' Cosmic Bowling trend.
This isn't the first time Kellogg's and Little Debbie have partnered. The brands' first collaboration was in 2020 when the duo brought us Little Debbie Oatmeal Creme Pies Cereal, turning the company's inaugural product into spoonable goodness. The crispy oatmeal cookie-flavored cereal with an icing-like topping was a limited-time product, but consumers can still find boxes online.
In 2022, Kellogg's brought us Little Debbie Nutty Buddy Cereal. The peanut butter and chocolate-flavored cereal features crunchy bite-sized pieces coated with creamy chocolate fudge. Earlier in 2023, Kellogg's launched the fourth and latest collab, the Little Debbie Swiss Rolls Cereal. The iconic snack cake was turned into crispy, chocolatey swirled cereal with a chocolate creme coating, leaving us to ponder what's next for the duo.