Instead Of Heavy Cream, Upgrade Your Cinnamon Rolls With A Flavorful Alternative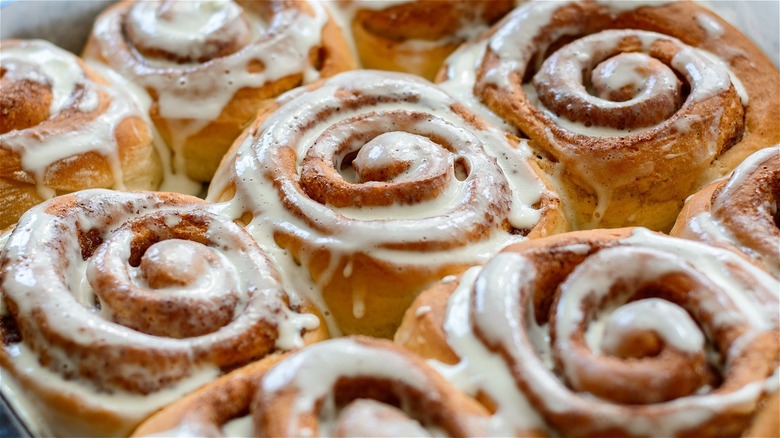 Roman Tohtohunov/Shutterstock
If you have yet to see the TikTok cinnamon roll hack, prepare to break out the stretchy pants because there's no way to resist making them once you've seen the videos. For months, users have been transforming store-bought tubes of unbaked cinnamon rolls, like the popular Pillsbury brand, into fluffy bakery versions reminiscent of the behemoths at Cinnabon.
The secret ingredient to upgrading this Sunday morning breakfast favorite is baking the rolls in a pool of heavy cream (hence the elastic waistband). While this hack involves a few more steps than just popping open the can, compared to making cinnamon rolls from scratch, this TikTok hack is near genius.
The recipe has evolved since the OG was posted, adding more toppings to the cinnamon-sugar-scented baked goods, and now there's a flavored alternative to the main ingredient, heavy cream. Using Starbucks Caramel Flavored Creamer inspired by their Caramel Macchiato coffee drink, TikToker Kitchentool replaces the heavy cream in the recipe with the creamer, infusing caramel and vanilla into the Pillsbury Grands cinnamon rolls.
While Kitchentool admits he doesn't like the creamer in his coffee, it complements the cinnamon rolls, and so far, over 274,000 viewers agree. The concept is similar to the original hack since Starbucks Caramel Flavored Creamer contains heavy cream; however, we'd assume this version is a bit sweeter with sugar listed as the second ingredient. Intrigued? Here's how to make them.
Try your favorite coffee creamer
Place a pack of five Pillsbury Grands cinnamon rolls in a lightly greased 8" square baking pan. Add enough creamer to the bottom of the pan to cover the entire surface, about ½ cup. In a small bowl, combine ½ stick of melted butter with ½ cup of brown sugar and add ground cinnamon to taste. Place a dollop of the brown sugar mixture on each cinnamon roll.
While you can stop here, cover and bake the rolls, Kitchentool guilds the lily further. Gently flatten five soft caramels, like Werther's Original or Kraft, with your fingers and place them on top of the brown sugar mixture on each cinnamon roll. For crunch, add chopped pecans, then cover the pan with aluminum foil to prevent the nuts from burning.
Place the covered cinnamon rolls in a preheated 350-degree oven for thirty minutes until plump, golden brown, and cooked through. You will be amazed at how much they swell. While the cinnamon rolls are still warm but not right out of the oven, smooth on the provided icing with a butter knife or drizzle with a fork.
The recipe is easily doubled using a larger pan and double the amount of cream or creamer. A viewer also suggested substituting egg nog for the holidays. To achieve Cinnabon-esque rolls, avoid using the smaller refrigerated cinnamon rolls; they won't absorb the cream the same way. Leftovers can be reheated in the microwave the next day and will remain tender and plump.