12 Best Value Meal Items From Each Fast Food Chain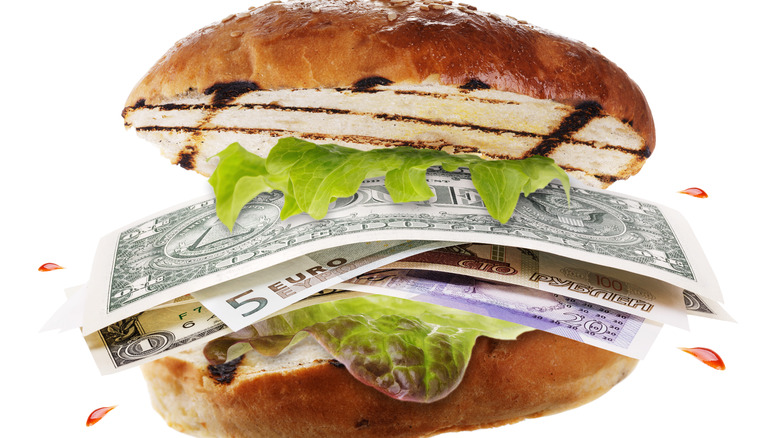 SergeyCo/Shutterstock
With fast food prices trending ever upward, value menus offer a much-needed break from inflation. Discount dining can be something of a treasure hunt, a search through menus that are full of prime items and colossal combos that come close to requiring a credit check to afford. The expectation that if the food is fast, it should also be affordable gets overlooked in favor of pricy selections that almost always taste the same as their more modestly-priced counterparts. The quantity of food loaded into the bag isn't always enough to justify the eye-popping extra padding in the price. That's not to mention the many value menu myths that can trick you into spending more money.
Most fast food outlets offer discount apps and frequent diner programs that can help you cut costs, and several chains also offer value menus and items at reduced prices to entice the hungry. We've ranked these value menus from worst to best by evaluating their offerings and price points. But each menu also has a prime pick that delivers undeniably great food for a fair price. To help narrow the search, we've gathered the best value items from each of the biggest chains around. The result is a mix-and-match menu of options, each one deliciously priced. The prices quoted are what we paid at our local restaurants; pricing may be different where you live.
1. McDonald's McDouble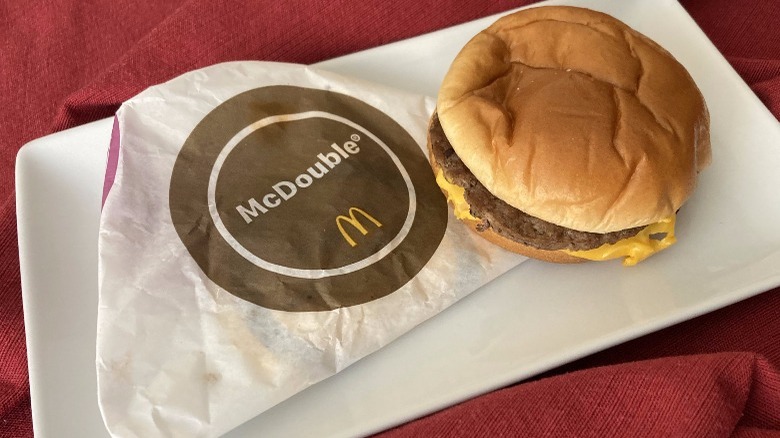 Steven Luna/Mashed
A double cheeseburger at McDonald's used to be standard fare. Two patties, two slices of cheese, pickles, and onions on a single bun — that was the formula for success. Then the McDouble debuted in 1997, upending easy ordering for hungry diners. Although the sandwich has gone through some evolutions throughout its history, as currently constructed, it's quite similar to a double cheeseburger — except a McDouble subtracts one slice of cheese. Everything else is identical. It seems an odd decision on the part of the people who planned it. The one advantage is that the McDouble is priced at $2.59 at our local McDonald's, dropping it squarely into the $1 $2 $3 Dollar Menu that serves as McDonald's current value menu. But the price of a double cheeseburger hovers around the $2.89 mark, so you're not saving all that much by foregoing the extra slice of cheese. If you think about it too hard, your head starts to hurt. 
We chose the McDouble for the list because, in addition to being fairly priced, it has a fun McDonald's-style name that's easy to use at ordering time. Otherwise, it's a fantastic example of what this fast food behemoth does best: serving up cheeseburgers with a familiar layout that are sure to please without draining your debit card.
2. Del Taco 3 Layer Queso Nachos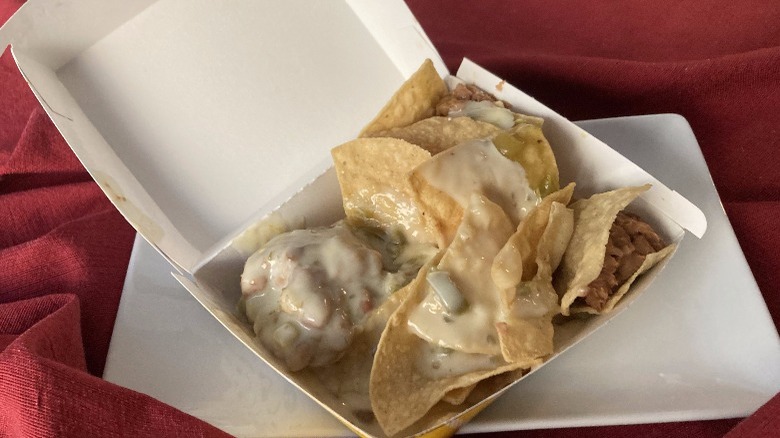 Steven Luna/Mashed
Del Taco knocked our enchiladas off with the ravishing range of its value menu. The name Twenty Under $2 is a Tex-Mex temptation for anyone in search of savory deals that won't compromise your ability to pay rent or utilities. In this wonderland of flavorful possibilities, lucky diners can choose from tacos, burritos, churros, and even drinks that will quench their thirst without drying up their bank accounts. Having this lovely list lets you assemble your own version of a classic combo — or even better, create a mondo combo that piles on a few extras while keeping your total bill below ten dollars. That's something to celebrate.
For our hunger, 3 Layer Queso Nachos served the proper purpose. The saucy mix of green chiles and cheese over corn chips was modest in size, but still more than we were anticipating. For our $2 investment, we received a tasty snack that could have easily been complemented by another couple of items from the menu to make a hefty meal. The main draw here is the number of choices Del Taco provides. This restaurant is doing its best to serve satisfaction for less, and it's succeeding. Here's hoping the Twenty Under $2 is here to stay.
3. Jack in the Box Chicken Sandwich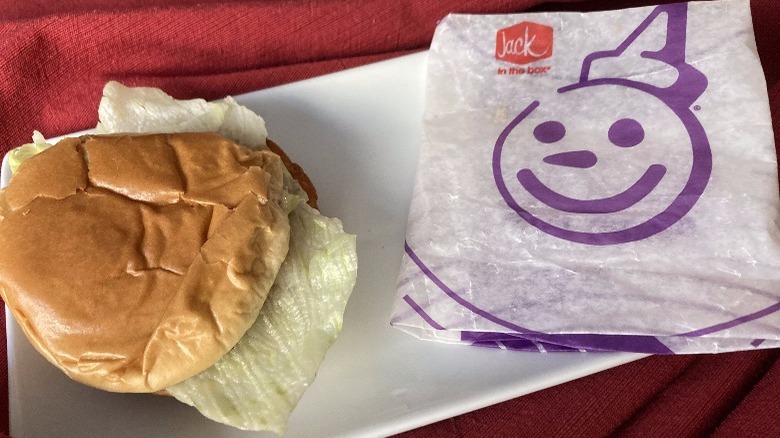 Steven Luna/Mashed
Jack in the Box hides many of its value-conscious items amidst its general menu, making for a frustrating search. Sharp-eyed diners with minimal pocket change will find several familiar options for less than three dollars, notably a two-taco deal for $1.99 and a Jr. Jumbo Jack for $2.99. For our money (in this case, $2.79), the best bite on the block is the Chicken Sandwich, a straightforward take on a pressed and breaded chicken patty that doesn't pretend to do anything other than be simple and satisfying. But it does this extremely well, providing a sandwich that's both crispy and tender, with a refreshing touch of lettuce and a smear of mayo added for good measure.
While this simple bite isn't as flashy as the more glamorous chicken sandwiches on the Jack in the Box roster, it's also not nearly as pricey. Whether it's a Grilled Chicken Sandwich at $7.99 or a Cluck Sandwich at $7.19, these poultry sandwiches are priced at a premium level. If a cheaper chicken alternative is what you're craving, Jack has you covered with its most basic choice.
4. Arby's Americana Roast Beef Sandwich and Mozzarella Sticks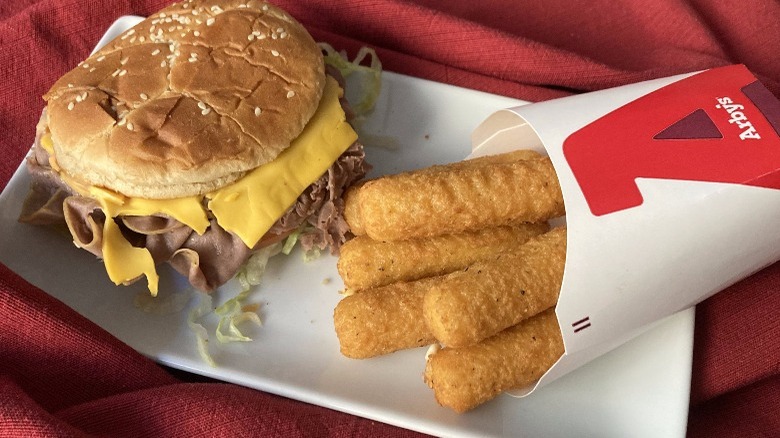 Steven Luna/Mashed
Rolling through the drive-thru window at the home of America's roast beef, you may find a very small collection of treats in a region of the lighted screen known as the 2 for $7 Everyday Value menu. The population of this trim listing includes three modest yet outstanding offerings: the Americana Roast Beef Sandwich, the Classic Crispy Chicken Sandwich, and Mozzarella Sticks. It's a small list, but one that transcends its limitations by providing full-sized portions that feel like a triumph. Allowing diners to mix and match makes the victory even sweeter.
We opted for the Americana Roast Beef Sandwich and the Mozzarella Sticks and discovered that Arby's roast beef topped with American cheese, lettuce, onions, and tomato feels like a new and delicious type of hybrid between a burger and a beef sandwich. The Mozzarella Sticks were cleanly breaded and caused zero complaints. For a franchise that's been serving up America's roast beef in pretty much the same way since it opened, finding an exciting sandwich that freshens up the menu at a price that's nice is a sweet surprise. Having a side option that deviates from the familiar fries selection is a bonus as well.
5. Burger King Rodeo Burger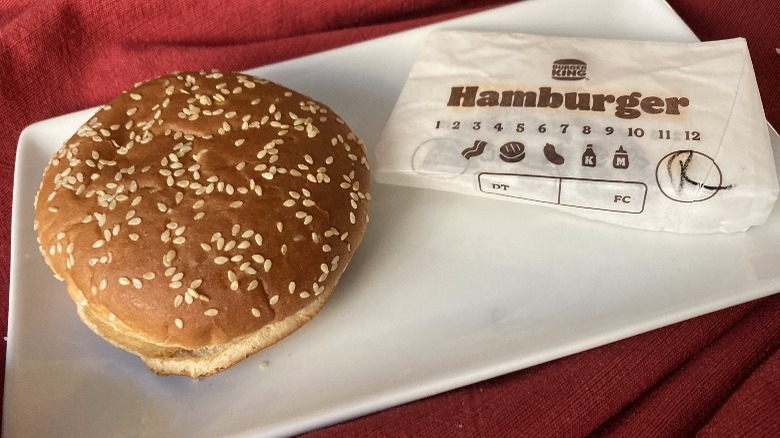 Steven Luna/Mashed
In the world of value menu surfing, anything priced under $3 should be considered a major find. The Burger King Rodeo Burger just so happens to be one of these items. Imagine improving a Burger King cheeseburger by adding a couple of whopping onion rings and some BBQ sauce to the bun to bring a zesty zing to the flame-broiled, cheesy goodness. It's a festival of flavor that takes a simple sandwich and turns it into a pub-style revelation for less money than just about anything else on the menu. You can lay five bucks on the counter, order two of these tastebud-wowing sandwiches, and have enough to cover tax. There aren't a lot of restaurants where this happens, but the world works differently when you're the King.
Though the nutrition facts may make you think twice about getting a Burger King Rodeo Burger, at least the price is not prohibitive. Since the items on this list were chosen for their pricing and relative quality in the dicey domain of fast food, shopping for mindful possibilities was severely constrained. But if you know the deal and you're good with how the numbers shake out, a Rodeo Burger at BK is A-OK.
6. Taco Bell Chipotle Grilled Chicken Burrito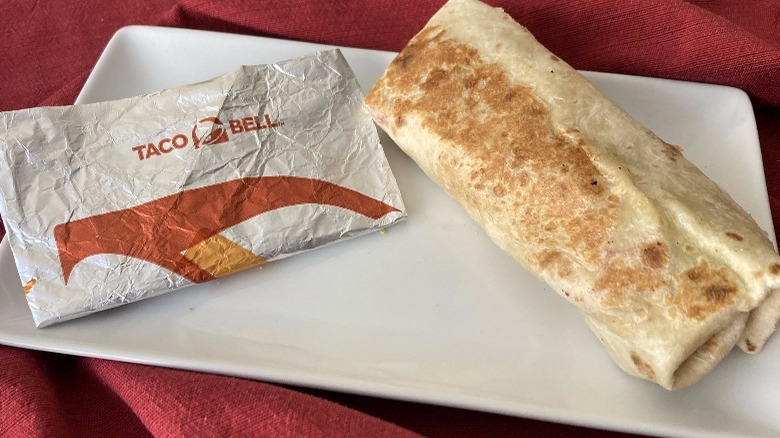 Steven Luna/Mashed
If you plan on making a run for the border, you can do it with the spare change in your pocket and come through with a range of filling selections. Taco Bell's Cravings Menu has a superior selection of items that cost no more than $2, including a Fiesta Veggie Burrito and a Spicy Potato Taco, perfectly prepared for the vegetarian fast food fan. It's a thoughtful way to honor the tradition started by the chain with the original Taco Bell dollar menu.
Out of everything we could have chosen on the list, we found that the Chipotle Ranch Grilled Chicken Burrito was by far the biggest item we came across in the discount bin. There's no shrinkflation affecting this full-sized burrito. This bountiful bite is a full-sized entree loaded with strips of grilled chicken, spicy-creamy chipotle sauce, and a sweet selection of toppings. What you get in the bag is the fullest extent of what two singles can get you in a world where everything seems to cost five dollars or more. It's a savory surprise of a dining experience that leaves room for adding another item or two to affordably round out your meal.
7. DQ Pretzel Sticks with Zesty Queso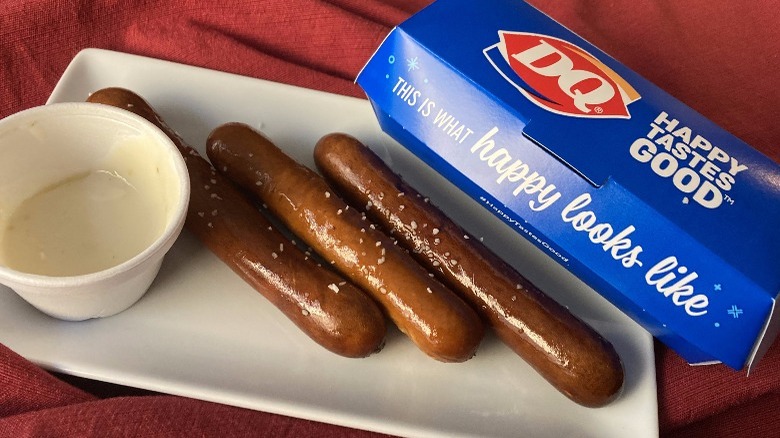 Steven Luna/Mashed
The reigning monarch of upside-down ice cream treats, DQ offers a value menu that lets you mix and match two items from a list of burgers, sides, drinks, and desserts for $5. The inclusion of fun and frosty sips and the possibility of a creamy dessert makes this selection one of the best-priced deals in the fast food sphere. You can grab a cheeseburger and fries, a chili dog and a sundae, or a soft drink and a few pretzel sticks. 
Not that many menus offer soft pretzels with dipping sauce these days. So when we saw these salty bad boys as an option, we doubled up the order and didn't feel bad about it for a second. Our five bones bought us six sticks the size and shape of hot dogs, swirled in butter like the best pretzels are and served with a side of spicy cheese sauce. The pleasure that this quiet yet confident combo brought our famished souls can't be overstated. If you're looking for a snack that's different from the pack, DQ is going to treat your right without taking advantage of your financial state.
8. Carl's Jr. California Classic Double Cheeseburger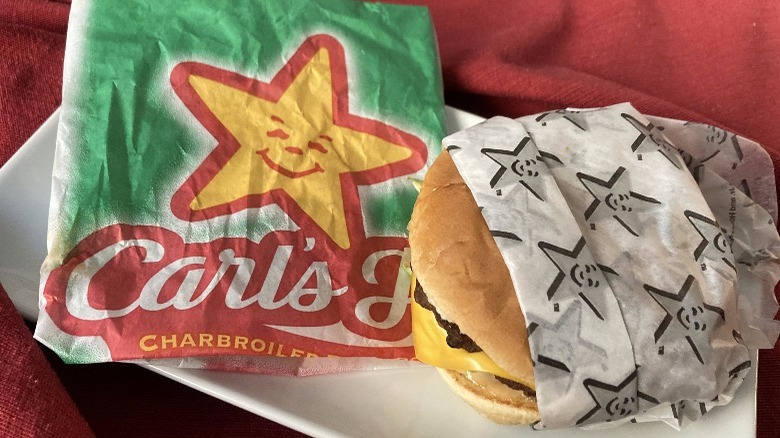 Steven Luna/Mashed
Anything with the word "California" in the name is bound to feel breezy and fun, like a spin through Hollywood by way of Disneyland with a beachside stop-off added for good measure. While the California Classic Double Cheeseburger from Carl's Jr. doesn't quite inspire so much starstruck awe, it does provide a high-quality burger at a modest enough price that you can spend a five-spot and get a fair amount of change back. This smoky, cheesy double stack sits on the menu among burgers that cost twice and three times as much, even when not part of a combo meal. It's a savory standout that can't help but catch the eye of frugal diners looking for the deal of the day.
The CCDC, as we abbreviate this mouthful of a name, brings the famous Carl's Jr. quality to a simplified burger, which means you get exactly the same level of deliciousness as you would in the chain's pricier items. It may not be loaded up with toppings or feature bacon or onion rings sandwiched between the patties. But if a quick bite at a cool price is what you're after, Carl's Jr.'s burger-based trip to California is a blast. The broiled patties, Classic Sauce, and grilled onions are a savory combination that's well worth the modest outlay of cash for this burger.
9. Little Caesars Italian Cheese Bread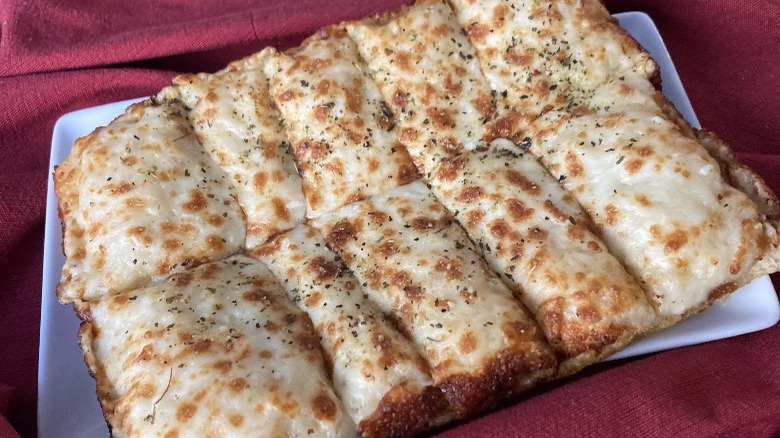 Steven Luna/Mashed
Adding a Little Caesars value menu item to the list may seem like a cheat. This is the home of the Pizza! Pizza! Deal after all, where ten bucks would get you two pizzas in one go. That was a lot of food for a moderate amount of dough, and though neither the slogan nor the promotion are still around, Little Caesars remains one of the most respectably priced pizza chains in the fast food realm.
But even for makers of cheap pizza, prices are creeping up bit by gooey bit. The only entry on our value menu list that's perfect for price-conscious pizza lovers is Little Caesars' Italian Cheese Bread. This hefty bite comes so close to qualifying as a personal pan cheese pizza that it almost feels wrong to call it a bargain buy. Still, it's the most moderately priced pizza-like item on the menu, so it's a keeper. Fuller-sized pizzas add two dollars to the price, which isn't the worst sacrifice to make when the hunger pangs start kicking. But if you're working with a budget and a fiver is all you're looking to spend, the satisfaction of this savory squared-off pie is bound to make your hungry heart happy. It satisfies in a way that the slightly cheaper Crazy Bread sticks simply can't
10. KFC Chicken Little Sandwich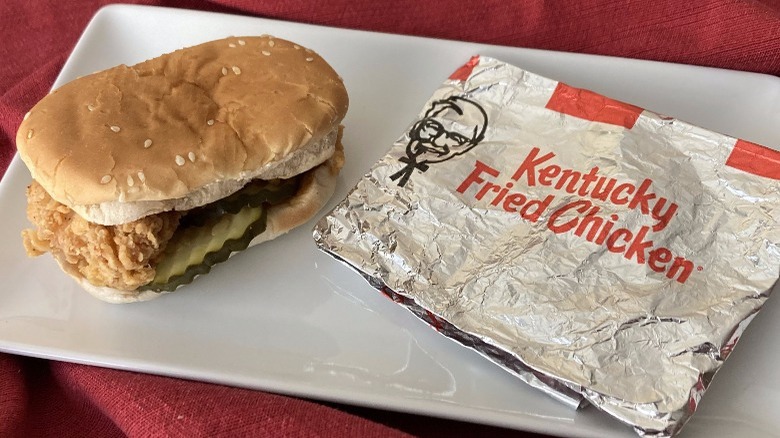 Steven Luna/Mashed
The name does not exaggerate: KFC's Chicken Little Sandwich is a pipsqueak of a dish. It can be finished in two bites. This may be what value dining has come to: Food that takes up half the space of its more expensive brethren. While not knowing how to get the best bang for a buck is just one of the mistakes people make when ordering from KFC, opting for the smaller bites may require picking up a couple of your favorites to make sure your belly is full. 
But what KFC's best value meal item lacks in size it more than makes up for in delicious fried chicken flavor. KFC tweaks its formula by adding dill pickle slices between the chicken strip and the bun. The countrified touch brings to mind Chick-fil-A's iconic sandwich, but in a miniature size that's better described as a slider. Knowing you can pick up a little treat at a low price helps you make better choices when money is tight but hunger won't wait.
11. Sonic Jr. Bacon, Egg, and Cheese Burrito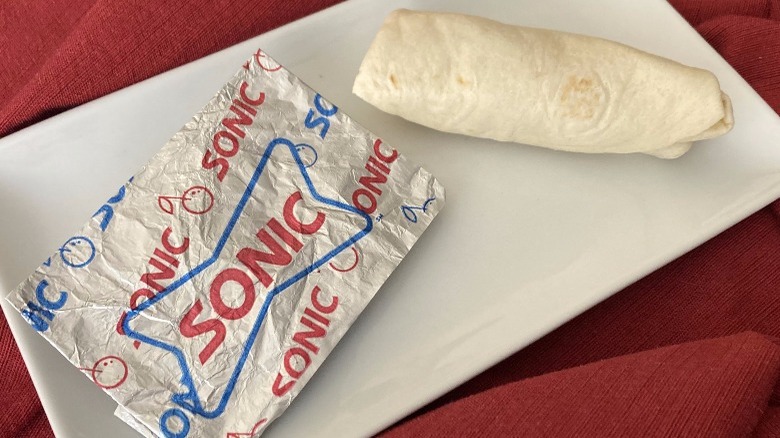 Steven Luna/Mashed
The drive-in hop for the modern era, Sonic brings burgers, dogs, and tots directly to your car, not to mention some of the most creative frozen drinks the world has ever known. To stay in line with the nostalgic drive-in vibe, this happening chain also offers several items at lower prices to tempt guests who might be keeping their purse strings pulled pretty tight. In addition to offering half-price cheeseburgers every Tuesday night, Sonic also features the Under $2/$3/$4 Menu, serving a range of burgers, dogs, and drinks with both flavor and financial appeal. Though there's a list of things you should never order at Sonic, allowances can be made when price is the main consideration.
To switch things up a bit in our quest for lesser-priced fare, we opted for a breakfast wrap: the Jr. Bacon, Egg, and Cheese Breakfast Burrito. This diminutive wrap is one of the smaller options on the list, but it delivers big taste that's fresh and satisfying. Its humble price means you can order two if you're extra-hungry and still have a buck or two left for a cup of coffee to go with it.
12. Wendy's Biggie Bag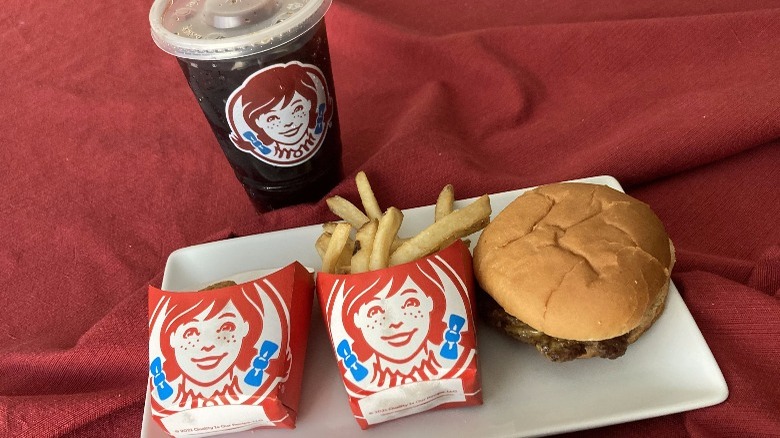 Steven Luna/Mashed
The value menu at Wendy's comes and goes with the wind, appearing just long enough to delight those faithful people who believe in menu magic. For the rest of us, there's the Biggie Bag, a do-it-yourself combo that cuts the cost without killing the quality. In this discounted dining extravaganza, Wendy's lets you load up on your four favorite fast food staples — a sandwich, nuggets, fries, and a drink — all for $5. You get a full meal at around half the price of the other combos on the menu. It's a smart way for Dave's daughter to package prime picks without stripping diners down to their last dollar.
The menu gives guests the option of a Crispy Chicken BLT, a Crispy Chicken Sandwich, or a Bacon Double Stack as the centerpiece of the combo. We went with the Bacon Double Stack since the nuggets satisfied our chicken cravings. Our enjoyment was off the charts when we ate this tidy temptation of a meal. Anyone hoping for a broader selection of choices will have to wait; the powers that be at Wendy's have decided that the current menu shouldn't have a value section beyond the Biggie Bags, but that could always change again. If the Wendy's value menu returns, hopefully it'll bring more low-priced Wendy's winners with it.