Discontinued Krispy Kreme Doughnuts That Need To Make A Comeback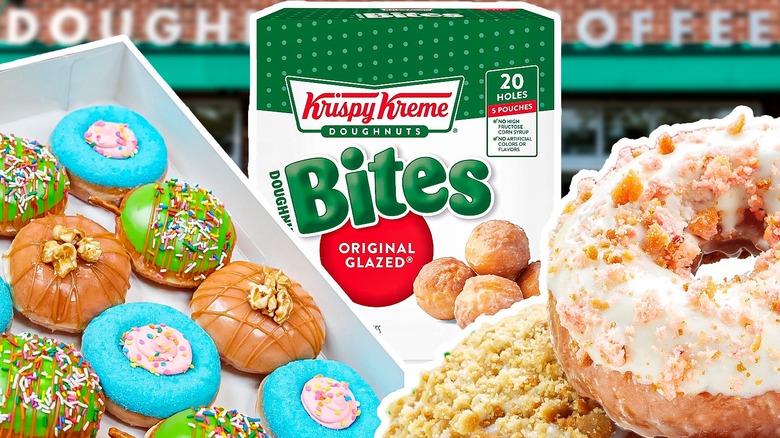 Static Media / Shutterstock
Every year in the United States, over 10 billion donuts are baked, glazed, and made ready for craving consumers ... and Krispy Kreme is one of the largest suppliers. Found in 42 states and with over 350 locations, the popular chain crafts its delicious doughnuts using a confidential recipe which has been in use since 1937. It is a recipe that has inspired Reddit threads such as "What makes Krispy Kreme doughnuts so delicious?," a formula which caused yet another user on the same site make the declaration that Krispy Kremes are "...miles better than any other doughnuts." 
But while you would be hard pressed to make the claim that a single one of its fried, glazed pastries is anything short of delicious, everyone has their favorite. Maybe it's the Original Glazed that does it for you, the Powdered Strawberry that keeps your mouth watering ... or, perhaps, a flavor that showed its face and then disappeared all too quickly. Krispy Kreme has had its fair of share of limited editions and seasonal-only treats over the years, and every time a beloved pastry is pulled off the menu, a crowd of despondent consumers is left in its wake. Here are some of the best discontinued Krispy Kreme doughnuts that need to make a comeback.
Glazed Chocolate Cake
The Glazed Chocolate Cake doughnut was literally a chocolate cake and a doughnut combined ... so, basically, the perfect kitchen creation. A cake batter bake based on the company's original recipe but with just a hint of chocolate stirred into the mix, the finishing and arguably the best touch was the Krispy Kreme signature scrumptious glaze poured over the top. It created just a hint of crystalized crunch around the outside to match the chewy center. What could be better, right? 
Well, much to the dismay of many a loyal customer, this chocolatey delight seems to have simply fallen off the map ... or the menu. One Redditor began a thread asking What happened to the glazed chocolate cake donuts at Krispy Kreme? and, quite frankly, no one seemed to have the answer. "These were by far my favorite donuts of all time," the user stated, and we can feel their confusion and melancholy right through the keyboard. 
While this delectable chewy, frosty delight seems to have made a quiet and mysterious exit, no longer showing up on the official Krispy Kreme menu, it can't stop us from looking longingly at old pictures of baked chocolate cake perfection and hoping the Glazed Chocolate Cake doughnut one day graces the bakery display shelves of one of our favorite pastry shops once again.
Chocolate Peppermint Bark
Much like the holiday favorite candy bar, the 2010 Chocolate Peppermint Bark doughnut was exactly what it sounds like — a chocolate cake doughnut baked using Hershey's cocoa, glaze, and topped with liquid chocolate and crushed bits of striped peppermint bark candy. We can practically hear the crunch in our mouths as we imagine biting into one, followed by a burst of chocolatey, sweet minty flavor which seems to somehow leave everyone with an inexplicable feeling of festive joy. The company also released a seasonal Peppermint Krispy Kreme Chiller beverage alongside this baked addition, channeling similar flavors so that its peppermint-loving consumers could cozy up around the lit tree and have a holiday drink with their new favorite doughnut, as well. 
But unfortunately, we'll have to find that holiday happiness-giving flavor combination somewhere else come the winter season. The Chocolate Peppermint Bark doughnut ran from December 1 to December 26 of that first, magical year and hasn't returned to the Krispy Kreme menu since. We'll have to settle for a regular old peppermint bark candy bar this year ... a bit anticlimactic if you ask us.
Fruit Stand
In April 2012, a refreshing few new seasonal doughnuts became ripe for the picking at Krispy Kreme. With strawberry season in mind, the Strawberry Cake with Cream Cheese Icing and the Strawberry KREME Pie creations were added to the menu. The first of the two was a classic strawberry-flavored cake doughnut doused in glaze and fruity crumbles, while the second was a rounded jelly-style doughnut, stuffed full of strawberry and signature KREME and covered in frosting. On top, sat a delightfully crunchy, generous handful of crushed graham crackers. Alongside two new icy lemonade-flavored Frozen Chiller beverages, these baked additions joined the team known as the Fruit Stand Flavor Treats. 
Heavy (as a donut should be,) but still managing to feel as light as a springtime breeze, the Fruit Stand doughnuts became a brightly colored breath of fresh air during the month of April showers and through to May 20 of that year. But sadly after that, these pleasant products were washed away, disappearing with the changing of the seasons. Perhaps one day they will bloom again? 
Carnival
It's summertime 2021, and depending on your location, there may or may not yet be a big in-person post-COVID county fare taking place. But never fear! Krispy Kreme is here to bring you all the excitement of the carnival festivities you are likely feeling nostalgic for.
Perhaps inspired by the world's mourning of classic grand gatherings with rides, balloons, and quintessential fair food, the beloved doughnut chain released three new masterpieces as part of a state fair-inspired collection. The first, a Caramel Apple Cake doughnut, would take even the most skeptical stoic back to the world of childhood wonder and candied apples on a stick. The next, a Cotton Candy doughnut, was an Original Glazed but topped by a sweet, cotton candy flavored frosting ... which, we can assure you, could transport you to the last time you were seated on a Ferris wheel eating some ridiculously-good bright pink puffed sugar. Finally came the Caramel Popcorn doughnut, a glazed creation filled to the brim with a salty-and-sweet caramel popcorn KREME developed at the Krispy Kreme flavor factory itself. The three were sold for about a month before they were taken off the fun house shelves, but we can be thankful for their life giving presence during the pandemic, however brief.
Doughnut Bites and Mini Crullers
You may or may not have walked the aisles of your local grocery store over the course of the last few years and noticed bags of mini Krispy Kreme bite-sized beauties tucked away cozy in the snack aisle. While they were only available at select supermarket chains, these tiny, longer-lasting versions of the full scale bakery creations were called the Mini Crullers and the Doughnut Bites, and they were part of a grocery line that Krispy Kreme launched in 2020.
In just May of 2023, however, the franchise shut down its grocery store line for good with the closing of one of its plants in Concord, North Carolina — the one and only factory which was developing the mini straight-to-store doughnut snacks. The decision came as a bit of a surprise to some, considering just last year, Krispy Kreme spokespersons praised the ongoing progress of its budding snack line. Either way, shoppers will no longer be able to buy the many scrumptious flavors of the Mini Crullers or the Doughnut Bites as part of their next convenient shopping trip, and we are already bummed.
Original Glazed Vanilla Kreme
While it might seem strange that Krispy Kreme would discontinue one of its very first, classic doughnut makeups, this is exactly what happened. The Original Glazed Vanilla Kreme-filled was pushed to the side to make way for a newer, altered version of the same in 2019. It was put out along with a new Chocolate Kreme-filled recipe on July 20 as a fun, edible celebration the 50th anniversary of the Apollo 11 moon landing in 1969. 
These updated doughnuts were developed for permanent landing on the Krispy Kreme menu, and despite the company giving them out free at select locations as part of a way to win people over to the new recipe, some dejected customers wished for a failed launch. One dejected woman went so far as to begin a petition on change.org pleading that her very favorite doughnut — the original Glazed Vanilla Kreme, not the remake — be brought back. The new recipe, she claimed, was simply ... less. Less filling, less doughnut, and less than exciting.
Mini Pies
Last year's Thanksgiving gave us something to be thankful for via Krispy Kreme — a collection of four adorable mini bakes inspired by classic, beloved holiday dessert pies. "Be still my heart," said one Reddit user on the announcement thread titled Krispy Kreme Introduces New Thanksgiving Mini Pie Doughnuts, and we have to agree with the sentiment. An assortment of personal-sized doughnuts with flavor makeups such as Pumpkin Pie, Pecan Pie, Lemon KREME Pie, and Dutch Apple Pie is enough to make anyone's heart thump ... and debate cooking dessert at all on Thanksgiving evening when you could instead be placing an order for a 16-count to provide dessert for the family after the big meal.
The Mini Pie boxes were available for only a limited time in November of 2022. The good news is, that wasn't all that long ago, so who knows? Maybe this upcoming Autumn of 2023 will inspire Krispy Kreme to bring these masterpieces back to grace our Thanksgiving tables yet again.
Campfire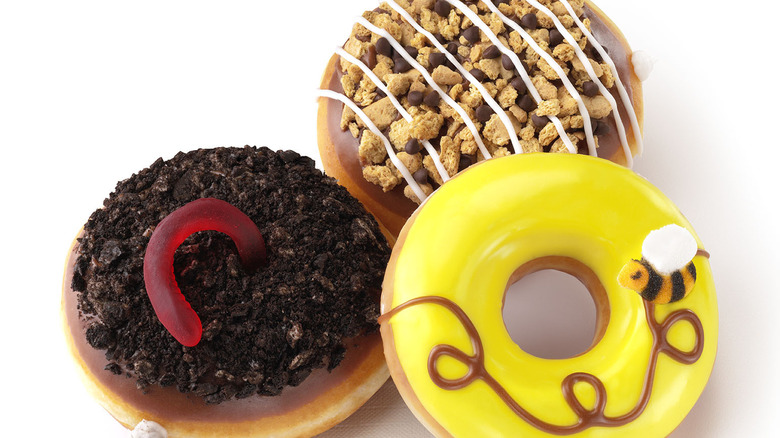 Krispy Kreme
Ahhh, campfires. One can hardly think of sitting around a pit of warm, hazy flames and burning logs without certain smoky smells and sweet, gooey, drippy flavors coming to mind. In the year 2015, Krispy Kreme had the brilliant idea to capitalize on this mind-smell-belly association by creating three new doughnuts inspired by the flavors of the great outdoors. Through the OREO Dirt Cake doughnut, the Honeybee doughnut, and the S'mores doughnut, the company managed to successfully bottle it all and create a seasonal campfire-inspired compilation. 
We're hungry just thinking about doughy centers, chocolate and marshmallow filling, graham cracker and OREO cookie crumbles, yellow honey bee icing, white drizzle ... and craving a good bonfire. Sadly, if you do go out and stoke the fire pit, the Campfire doughnuts won't be joining you around the flames. They were only aflame from April through May of 2015 and haven't been rekindled since.
Hershey's S'mores
In 2021, approaching National S'mores Day, Krispy Kreme had an idea. If s'mores and Americans go together like peanut butter and jelly, maybe s'mores and doughnuts could, too. So the company put its head together with the United States' largest chocolate chain, Hershey, and a pairing from heaven was born.
On August 10 (National S'mores Day) of 2021, Krispy Kreme placed the results of its collaboration on the store shelves, and two delicious new s'mores-themed doughnuts went up for grabs until supplies ran out. The first was a S'mores Classic doughnut, a shell-style bake with all the goodness of marshmallow filling, Hershey's chocolate drizzle, and marshmallow crumb topping. The second, a S'mores Fudge Cake doughnut, was a Hershey's chocolate cake covered with a bright white marshmallow icing and sprinkled with chocolate chips. It was truly s'mores without the stick!
But alas, to taste flavors such as these now, you will need a stick ... and a flame. These doughnut s'mores were only limited edition, and have since melted away.
Chocolate Cheesecake and Caramel Cheesecake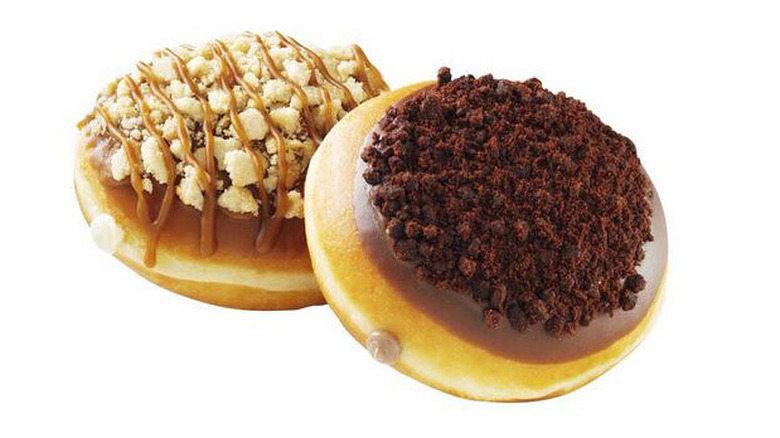 Krispy Kreme
Krispy Kreme went sliding into 2014 with a bang, welcoming the new year with cheesecake ... well, specialty cheesecake doughnuts to be exact. On December 30, 2013, it introduced two new flavors to consumers; the Chocolate Cheesecake doughnut, and the Caramel Cheesecake doughnut. While both vanilla doughnuts at their base, the difference could be found in the fillings and toppings. One contained a chocolate cheesecake filling with chocolate frosting and brownie bits, while the other was filled by a standard cheesecake fluff but covered in caramel icing and graham cracker crumbs. Either way, your taste buds were going to be transported to a place of sweet, tangy bliss.
Sounds amazing, but here's the catch; these cheesy dreams only ran through January 26, 2014. The good news is that Krispy Kreme has done plenty of other cheesecake-doughnut mashups over the years, including the New York Cheesecake, the Pumpkin Cheesecake, or the Biscoff Cheesecake, to name a few. This gives us hope that even though we are nearly ten years out from the days of the chocolate-and-caramel-cheesecake goodness, there could one day be a resurgence.
Caramel and Chocolate Shop
The Caramel and Chocolate Shop Treats trio by Krispy Kreme came onto the scene in 2013, offering three rich new edible luxuries. First was the Caramel Chocolate Chip Cake, a cocoa cake doughnut with caramel icing and a pinch of Ghirardelli chocolate chips. Next, came the Caramel Chocolate Pretzel, which, being topped generously by the crushed salty snack, made it the perfect treat for those who prefer a little bit of savory with their sweet. Third in line was the Dark Chocolate Caramel KREME, a doughnut which was filled and topped thoroughly with dark chocolate icing.
Simply ordering this decadent grouping made one feel outrageously more fancy. It ran from June 24 to September 1, 2013, and we still miss the deluxe feeling that came with biting into it. However, not all hope is lost; in 2022, Krispy Kreme introduced a new collection under the same title. The most recent Caramel and Chocolate Shop grouping included a ROLO doughnut, an Original Glazed, and a Golden Chocolate. Not the 2013 flavors we miss, but hey, we will take the win. 
Valentine's Day
Does it get any cuter (and sweeter) than a heart-shaped doughnut? How about 12 heart shaped doughnuts? In January of 2023, Krispy Kreme — in conjunction with Hershey — created an adorable assortment of Valentine's Day-themed doughnuts. Sprinkled, drizzled, butter-creamed, piped, and perfect, the set could be ordered in a pink and red glowing dozen for your special someone ... or, you know, just for you. Because there is definitely no date required to indulge in a new icing-rose topped conjunction of Krispy Kreme doughnut flavors, especially ones as delicious-sounding as Hershey's Strawberry Dream, Hershey's Double-Chocolate Kiss, Hershey's Chocolate Chip Caramel KREME, and Hershey's I Pick You.
These delightful "Choc-Full-of-Love" boxes have, of course, come and gone ... but who knows? Maybe sometime next year around Cupid's Day, we'll find ourselves shot by an arrow and bewitched by the brightly colored collection of Valentine's Day doughnuts, once more.
Butterfinger
Peanut butter and chocolate is a classic combination ... hence the long-running success of the ever-popular Butterfinger. The company states it makes some 1,626,000,000 candy bars per year — so it was a genius move, really, when Krispy Kreme decided to partner with the candy brand in 2020. The companies together created two scrumptious doughnut selects — a Butterfinger Fudge Cake, and a Butterfinger Original Filled. The first was a chocolate cake doughnut smothered in icing and crushed Butterfinger bits, while the second was a glazed, stuffed with a peanut butter filling and finished off with Butterfinger icing, chocolate drizzle, and smashed Butterfinger candy bar pieces. 
These baked beauties became available on February 20 of that year and stayed only as long as supplies lasted ... which, we can probably assume, wasn't long enough. "PSA ..." said one user on Reddit in a thread, "Everyone should definitely try these because they are amazing." 
If you missed your chance, don't fret too hard. Krispy Kreme does a lot of fun collaborations with cookie and candy companies, and some of them — such as found with OREO or Hershey — have occurred more than once. We like to maintain that there is a chance the franchise will call up its buddy, Butterfinger, again, and peanut butter-chocolate goodness can be reborn.