Big Mac Salad Is The Epitome Of 'We Have McDonald's At Home'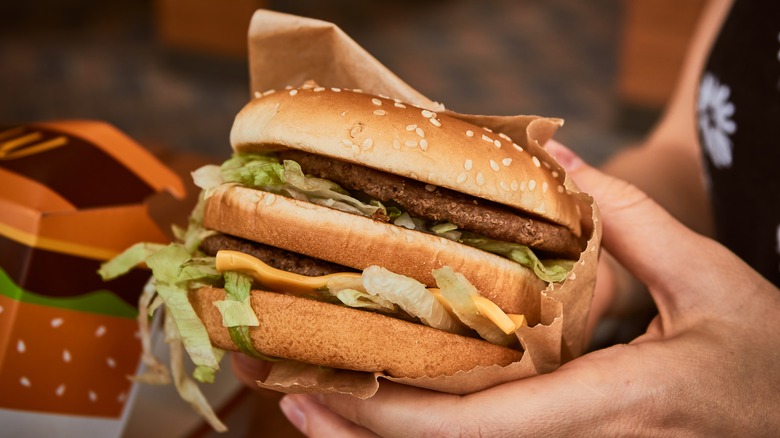 G_A_M/Shutterstock
Don't tell the man who's eaten a McDonald's Big Mac every day for the last 50 years, but there are people out there who may not want to indulge in his favorite meal chain. Perhaps they follow a low-carb diet or live in the state that is home to the most expensive Big Mac in America and want to shell out upwards of $6 for the sandwich.
Whatever their reasoning is for skipping out on the most beloved McDonald's menu item of all time that isn't french fries, they don't have to ditch the flavors of the handheld forever. The Big Mac salad is an easy-to-make alternative that might even be good enough to change the narrative around the dreaded "we have McDonald's at home" response that we all got as children when we were craving a Happy Meal.
The low-carb version of the dish features all the classic elements of a Big Mac: lettuce, pickles, onions, cheese, and ground beef, which can easily be swapped out for a plant-based option such as Beyond Beef or an Impossible Burger patty. The Kitchn's Kristina Vänni also includes tomatoes in her recipe, though these can be omitted if you want your salad to be as authentic as possible. A homemade Big Mac sauce serves as the salad's dressing, while a garnish of sesame seeds pays homage to the sando's classic sesame seed bun, and voila! Your DIY Big Mac salad is ready to enjoy.
Big Macs have inspired other homemade meals, too
If Big Macs are your thing but salads aren't, there are a few other meals you can transform the infamous burger into. In June, TikToker Shay Click, aka @trainwithshay, showed us how to live our best pasta salad summer when she posted a video demonstrating how she makes Big Mac pasta salad. The dish is practically the same as the aforementioned Big Mac salad in that it calls for lettuce, onions, cheese, pickles, and ground beef. However, as you probably could guess by its name, this recipe also calls for pasta noodles, which, along with the rest of the ingredients, get mixed together with Thousand Island dressing (though you could use that copycat Big Mac sauce, as well).
Those missing the potatoes that typically accompany the double-decker sandwich could easily make a batch of loaded Big Mac french fries. Start with a bag of your favorite frozen fries, or copycat McDonald's fries if you're feeling ambitious. Once cooked, top with that same combination of fixings that you'd find on a traditional Big Mac and you're ready to dig in.
While we can't say these Big Mac-inspired meals will taste identical to the real thing, we think they'll put some more merit into the idea that you "have McDonald's at home."