McDonald's Officially Adds Peanut Butter Crunch McFlurry (If The Ice Cream Machine Works)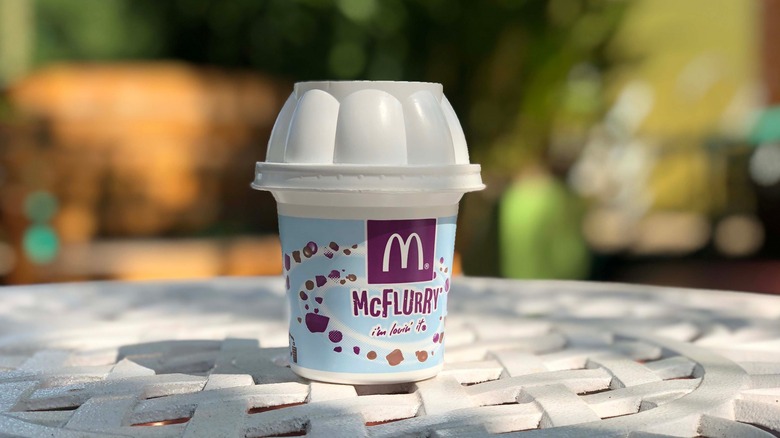 pancha.me/Shutterstock
Rare glimpses of the new Peanut Butter Crunch McFlurry at random McDonald's locations have been teasing (or torturing) fans for over a year. In 2022, a McFlurry filled with cookie bits, peanut butter, and chocolate was spotted at a California franchise. Then, earlier this summer, the snack watchdog Instagram account @Snackolator shared that the word on the street was that this elusive new McFlurry flavor would soon be available at more locations nationwide.
Great news for ice cream and peanut butter lovers alike — it's true! This week McDonald's confirmed that the Peanut Butter Crunch McFlurry will be available at participating locations starting on August 9th. In a statement, McDonald's says the new treat will feature swirls of "crispy cereal mix and chocolatey peanut butter cookie pieces" added to their vanilla soft serve ice cream. Not surprisingly, the company also says this flavor will only be around for a short time. At least they gave their fans a three-week head's up to prepare!
Will this new McFlurry be popular enough to stick around?
This treat is the latest in a year that has included some exciting (and sometimes divisive) new menu items. Grimace took social media by storm when the chain introduced a themed Happy Meal and milkshake to celebrate the purple blob's birthday. The move was nostalgic but didn't win everyone over, with reports of overpriced meals at some locations and not much enthusiasm for the berry flavor of the Grimace shake. Other new items in 2023 include cheese and jalapeño-filled breakfast sandwiches and quarter pounders, as well as two other exciting McFlurrys: Oreo Shamrock and Strawberry Shortcake.
Though we'll have to wait a little longer to sample the Peanut Butter Crunch McFlurry, early taste tests have been very encouraging. There's no indication from the company yet on which locations will offer this new McFlurry, so fans will have to make their voices heard if they want it to come to their town. Considering the popularity of McDonald's past peanut butter flavors, blended with Reese's peanut butter cups or Butterfinger candy bars, this upcoming flavor has the potential to be the next great McFlurry.