Popeyes' Menu Is Fully Embracing The Girl Dinner TikTok Trend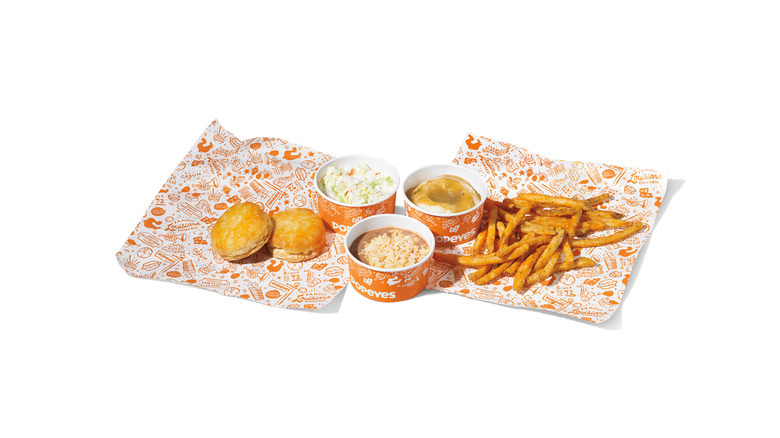 Image courtesy Popeyes
Girl dinner — the TikTok trend of meals that consist entirely of a large plate of snacks — has hit Louisiana. Well, Popeyes Louisiana Kitchen, that is. The Cajun-inspired fried chicken chain recently announced a new online-only girl dinner menu, according to a press release.
The chicken chain's girl dinner menu lets you bundle Southern sides like macaroni & cheese, coleslaw, Cajun fries, mashed potatoes and gravy, and à la carte biscuits. In keeping with the TikTok trend — though perhaps unexpected for a chain known for its delicious fried chicken — the girl dinner menu doesn't include any chicken or main dishes at all.
In reality, the branded girl dinner subsection of the online menu is no different than the existing sides menu. From a restaurant operations perspective, this makes a lot of sense: Especially for fast food, TikTok trends and influencers affect sales way more than you might think. So for Popeyes, embracing the viral girl dinner trend in this way — without having to burden employees to prepare limited-time or secret menu items — could be a savvy business move.
Why is girl dinner popular enough for Popeyes to join the trend?
On TikTok, girl dinner videos have collectively racked up more than 275 million views, and the mealtime trend has quickly taken over the social media app. TikTokers following the trend scavenge through their fridges and cupboards to find fruits, vegetables, cheeses, nuts, and other accouterments that they arrange on plates, much like already trendy — and ultra-satisfyingly artistic — charcuterie boards.
The idea behind the trend emulates the supposedly simple meals eaten by medieval peasants, according to Olivia Maher (@liviemaher), the TikToker credited with originating the term. Women on the app talk about eating girl dinner when their partners aren't home, so they don't feel pressured to prepare a full meal for others. The trend has also faced criticism, particularly from dietitians. They point out the possibility that, for some individuals, such non-substantive meals could be a form of disordered eating.
Following the popularity of girl dinner, TikTokers have begun joking about boy dinner — a similarly low-effort meal structure that playfully invokes the stereotype that men eat starch and meat, not fruits and vegetables. So perhaps, with macaroni and mashed potatoes and fries, Popeyes' girl dinner menu is just as well-suited to cracking open a cold one with the boys, too!