Fast Food Pancakes Ranked Worst To Best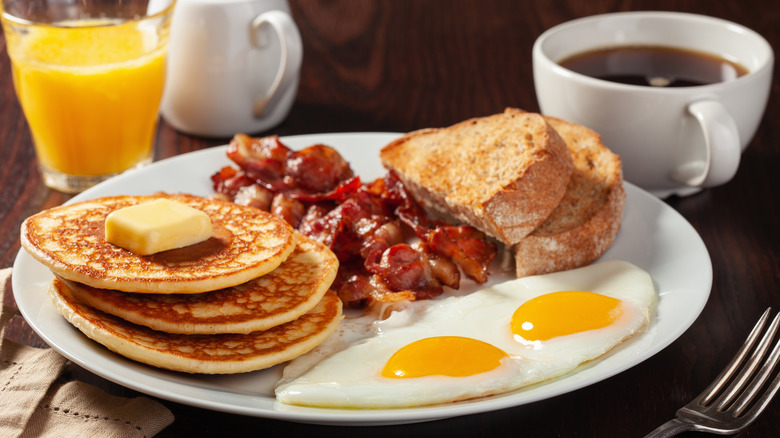 Olga Miltsova/Shutterstock
When you think of classic breakfast dishes, a stack of fluffy, warm, golden pancakes is definitely one of the first entrées to come to mind. It's a dish many of us grew up having on weekend mornings or special occasions. Sometimes there's just no beating this breakfast treat, especially when smothered in butter and maple syrup.
One of many great things about pancakes is how easy they are to make at home. Even so, you may not have time to pull out the griddle on busy mornings. But don't worry. You can still satisfy that breakfast craving and keep things affordable by stopping at one of several fast food joints that offer pancakes on the breakfast menu.
Of course, not all fast food pancakes are created equal. While ordering pancakes can be quick, easy, and delicious at some restaurants, at others, you'll just end up with a mouthful of disappointment. So, before you wait in another fast food line, be sure to read this article for the definitive ranking of worst to best fast food pancakes. Use this as your guide to get the best flapjacks for your dollar, and avoid any subpar fast food breakfasts in the future.
12. Dairy Queen Buttermilk Pancakes
Starting off the list with the worst-ranked pancakes, we have Dairy Queen's Buttermilk Pancakes. If you find yourself at a Dairy Queen during the morning hours, you'd probably be better off opting for one of its burritos, breakfast sandwiches, or biscuits and gravy. Unfortunately, these fast food pancakes just aren't worth the money.
Dairy Queen's pancake breakfast costs $6.19; you can also get a short stack for $3.59 or a big stack for $4.49. While those prices may be low compared to sit-down restaurants, it's fairly pricey when you compare them to other fast food pancake options. At that price, you'd hope that Dairy Queen's Pancakes would be some of the best. Unfortunately, that's not the case.
Dairy Queen buttermilk pancakes are fairly flavorless unless covered in syrup, and they don't have the fluffy texture that you want from a classic buttermilk pancake. One YouTube reviewer, casualgamerreed, expressed his disappointment after getting three buttermilk pancakes. He gave the dish only 2.5 out of 5 stars. Reed explained his poor rating, saying, "I am very disappointed with these pancakes due to them being $4. They're not that good. They're nowhere near as good as a McDonald's pancake, and McDonald's pancakes, of course, are a lot cheaper than these."
11. IHOP's Harvest Grain 'N Nut Pancakes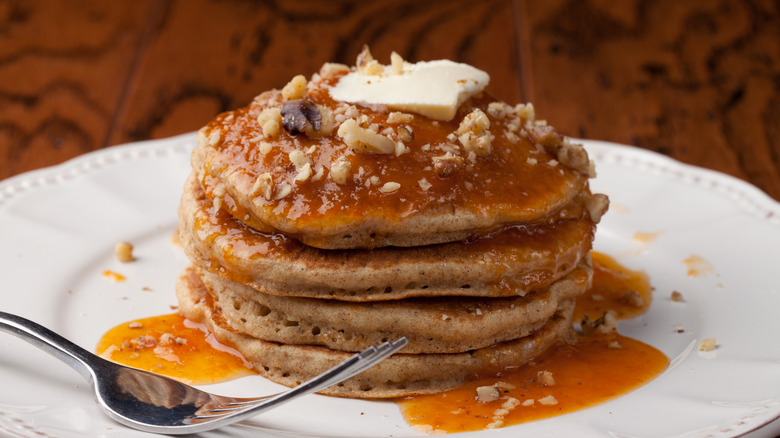 Vezzani Photography/Shutterstock
It may seem strange to see IHOP ranked so low. You'd think a place named the International House of Pancakes would make the best pancakes around. But IHOP has many different kinds of pancakes on the menu. You can get everything from classic buttermilk pancakes to blueberry or cupcake pancakes, and the list goes on. So, of course, some of the pancakes are better than others.
And when it comes to which IHOP pancake is the worst, many customers agree that it's the Harvest Grain 'N Nut pancakes. When we ranked IHOP's worst menu items, 32.02% of 609 respondents said that the Harvest Grain 'N Nut Pancakes were their least favorite. This isn't that surprising as the added grains make the pancakes quite dense, which isn't what you want when you're hoping to get a fluffy pancake. Although the addition of grains and nuts makes it sound like a healthier option, Food Network points out that these pancakes are actually higher in fat and calories than the classic buttermilk pancakes. Despite these pancakes still being a customer favorite, they were discontinued in July 2023. It's always possible they will return to menus in the future due to their popularity.
10. Jack in the Box Mini Pancakes
Coming in third to last, we have Jack in the Box. Like most of the fast food restaurants on this list, Jack in the Box is known more for its hamburgers, like the Bacon Ultimate Cheeseburger and Sourdough Jack, than it is for breakfast. Some other popular items from the burger joint include its tacos and teriyaki chicken bowls. But, it's less known for breakfast. You may not have even realized that Jack in the Box has an all-day breakfast menu, which includes mini pancakes. You can order the miniature pancakes on their own or in a Jumbo Breakfast Platter with a hash brown, scrambled eggs, and sausage or bacon on the side.
Although it's ranked low on this list, there are a few good things to note about these bite-sized pancakes. The first of which is the size. These miniature, silver dollar pancakes stand out from other fast food menu pancakes based on how small they are. But beyond the look, bite-sized hot cakes are an easier on-the-go breakfast item than full-size pancakes are.
These mini pancakes also have some fans. One reviewer, Old Nerd Reviews, shared a YouTube video calling the pancakes "fluffy" and said he could taste the buttermilk flavor. However, other customers have different opinions. In our poll of the most disliked breakfast items at Jack in the Box, 632 Mashed readers across the US disliked the mini pancakes, with a resounding 195 ranking them the worst.
9. Wendy's Pancake Platter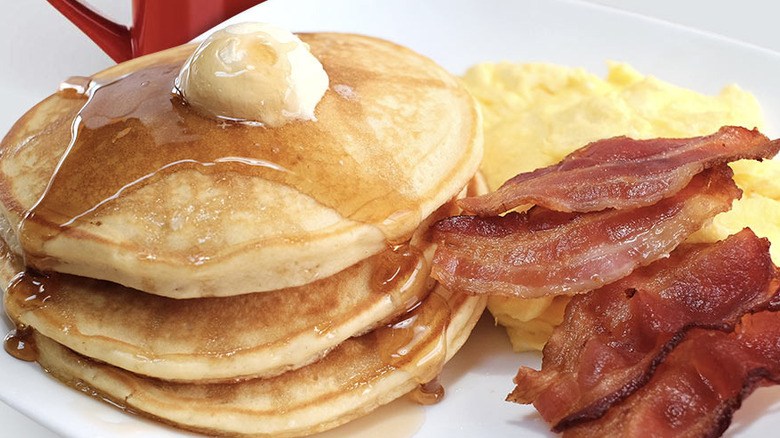 Wendy's
On its breakfast menu, Wendy's offers a three-piece stack of pancakes in the Cayman Islands and the Bahamas for $5.45 (US$6.54) or a pancake platter for $7.79 (US$9.35), which also includes a stack of three pancakes along with eggs, and your choice of sausage or bacon. It's a classic, no-fuss breakfast option, but ultimately isn't anything to write home about. While there's nothing particularly wrong with Wendy's pancakes, they also don't stand out.
When compared to similar pancakes that you can get at McDonald's or Burger King, Wendy's option is quite similar, but for some reason costs much more. That might be acceptable if Wendy's pancakes were offering something new or were significantly better than other fast food choices. However, the classic pancake stack just isn't worth it when you could get the same order for less elsewhere.
On top of that, the pancakes aren't available at all Wendy's locations. So, Wendy's definitely isn't the fast food restaurant for when you're in the mood for pancakes. You may leave empty-handed or have to settle for another menu item. For a more reliable breakfast combo, stop at Wendy's for the French Toast Sticks.
8. IHOP's Chocolate Chocolate Chip Pancakes
Another IHOP menu item coming in fairly low are its Chocolate Chocolate Chip Pancakes. If you love chocolate chip pancakes, this recipe takes it to the next level by adding cocoa powder to the batter so that the chocolate chips are mixed into chocolate pancakes for double the chocolate flavor. The idea of these double chocolate pancakes sounds fantastic! But, unfortunately, it falls flat when you try it.
While you'd hope the chocolatey recipe would turn out tender, gooey and rich, that's not the case. When we ranked IHOP's menu items, these pancakes were called "chalky" and far too sweet. Since IHOP tops the order off with whipped cream and chocolate syrup, that overload of sweetness is even more of an issue.
An Insider article, which reviewed all of IHOP's many pancake options, had similar notes about the Chocolate Chocolate Chip Pancakes. Though the dish sounds ideal for any chocolate lovers out there, the pancakes were surprisingly plain. Despite the addition of cocoa to the batter, the chocolatey flavor that you'd expect is still mainly in the chocolate chips, while the actual chocolate pancakes are disappointingly plain and dry. But, if you add butter, they can still be enjoyable.
7. Burger King Pancakes
Burger King is a decent choice when you're just in the mood for classic breakfast pancakes. While you won't get any of the fancy toppings or mix-ins that you might at IHOP or other restaurants, Burger King offers fluffy pancakes with sweet syrup at an affordable price. You can get a small stack of pancakes on their own for $2.29 or a breakfast platter including pancakes and sausage for $3.69, both more affordable than the arguably overpriced Wendy's version.
However, while these pancakes have a tempting price tag and are decent tasting, they're still far from the top of the list. Overall, Burger King Pancakes are fairly plain, and when stacked up against the many delicious breakfast sandwiches offered on the menu, they're hardly your best option.
In 2018, Burger King had a promotion selling three pancakes for just 89 cents. At that incredibly low price, you can see how these might become a go-to guilty pleasure. But now that the menu item is back to normal pricing, you have to ask yourself if they're really worth it. When reviewing pancakes from both Burger King and McDonald's, Daym Drops on YouTube said that they taste quite similar, but Burger King's pancakes are much smaller. Even though you get three pancakes in the order, the small size makes it less filling than you'd expect. Still, Burger King pancakes will get the job done if you really need something to satisfy your pancake craving.
6. Spangles Cinnamon Pancakes
Spangles is a Kansas-based fast food restaurant with an emphasis on high-quality, fresh food. The family-owned, 1950s-themed restaurant is loved by many in the South, but still not available to the rest of the US. So, even though Spangles' pancakes are quite delicious, it's tough to put it higher on this list when it's not readily available to most of us.
Still, if you find yourself in Kansas, it's definitely worth stopping in a Spangles to enjoy the signature double cheese steak burger, or swing by in the morning and get a taste of the breakfast menu, which includes two pancake options. Spangles offers a plate of three buttermilk pancakes with maple syrup for $4.49 or with sausage added for $5.79. This is a good option if you prefer to stick to the classics. However, what makes Spangles' pancakes stand out are the Ooey Gooey Cinnamon Pancakes. This pancake order is above and beyond standard breakfast pancakes. The three fluffy buttermilk pancakes are served with a delicious cinnamon glaze, vanilla icing, and maple syrup. If you like sweet, melty toppings for your pancakes, you can't go wrong with this order.
One TripAdvisor reviewer wasn't a fan of Spangles overall, but they still couldn't get enough of the cinnamon pancakes. "Those pancakes are the absolute BOMB if you get them fresh, kinda like Cinnabon meets McDonald's pancakes," and the reviewer continued, saying. "[...] Those Ooey Gooey Cinnamon Pancakes are simply amazing calorie bombs that call my name."
5. Jack's Pancakes
Not to be confused with Jack in the Box pancakes, Jack's pancakes are an excellent option to try. Jack's Family Restaurant opened its doors in Alabama in 1960, offering fast food favorites like burgers, sandwiches, chicken, and fries, as well as a breakfast menu. Jack's has stuck to its Southern roots over the years; unfortunately, that means it's another restaurant that's only available in the South. However, there are a few more options than Spangles, as you can find Jack's in Alabama, Georgia, Mississippi, and Tennessee.
Jack's Family Restaurant is a good place to stop for pancakes if you're in the area, especially if you like your hot cakes nice and airy. Customers love these simple, fluffy pancakes! The Daily Meal quoted one satisfied customer who said that Jack's pancakes were "[the] best pancakes from any fast food restaurant." Because of its Alabama roots, you may also want to try some of the more traditional Southern dishes on the menu, like biscuits and gravy and the many biscuit sandwiches.
4. IHOP Classic Buttermilk Pancakes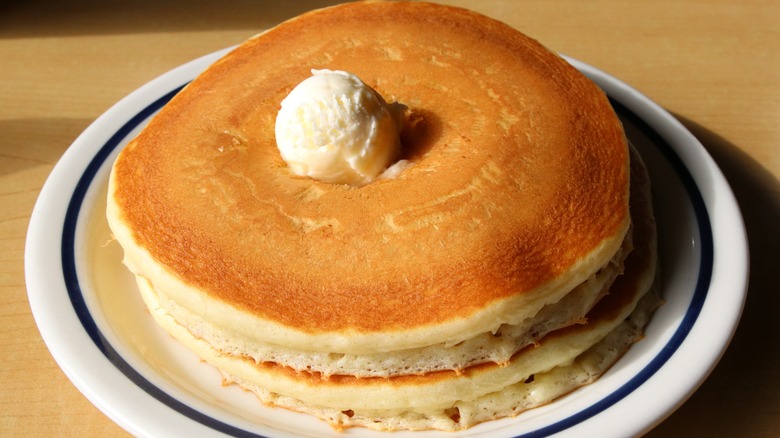 Eric Glenn/Shutterstock
Although not all of IHOP's many pancake flavors are great, it at least gets the classics right, which is why the IHOP buttermilk pancakes make it near the top of our list. This simple pancake stack is the base that most of IHOP's more complex and sweet dishes build off of. They may not stand out on a menu filled with tantalizing and eye-catching options like cupcake, double blueberry, and cheesecake pancakes, but they're a more reliable option. While many of the chain's pancake flavors can be too sweet or dry, like the double chocolate option, the original buttermilk pancakes are reliably delicious. They're fluffy, sweet (but not too sweet), and have a slight tang from the buttermilk. You can get this classic pancake order in a short stack with three pancakes, or a full stack that comes with a tower of five pancakes. Or, get them in a breakfast combo with two pancakes and savory breakfast favorites like eggs, hash browns, bacon, or sausage.
Recently IHOP has been opening Flip'd by IHOP locations. The smaller restaurants are built for to-go orders and fast dining. You can get a pancake bowl, making it easier than ever to pick up your favorite IHOP pancakes and enjoy them on the go.
3. McDonald's Hotcakes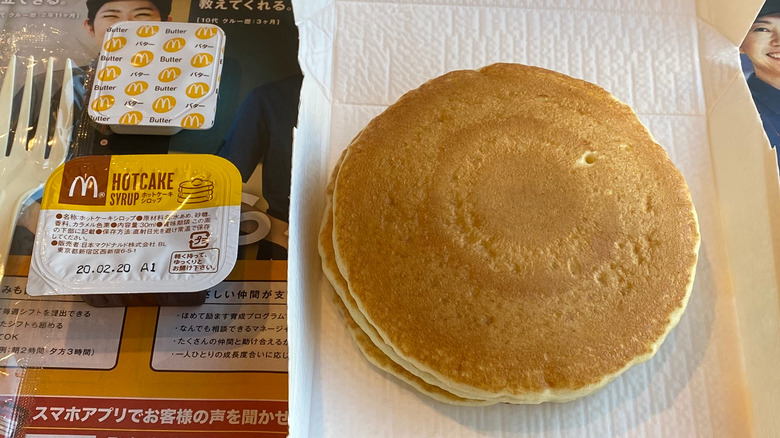 Japan Travel Photos/Shutterstock
When it comes to quick and easy fast food, it's hard to beat McDonald's. There are locations everywhere, it's affordable, and the menu is reliable. Those and many other reasons make McDonald's Hotcakes one of our favorite fast food pancake options. An order of Hotcakes gets you three golden pancakes with a side of butter and maple syrup. It's nothing fancy, but the golden, airy pancakes are exactly what you have in mind when ordering pancakes. And considering the price of $2.49, McDonald's over-delivers with reliably good, fluffy pancakes. Just be sure to eat them while they're still fresh and warm, or they can become rubbery.
Many fans rave about this order. One user took to Reddit to express their love for the order saying, "They're the best pancakes I've ever [had] in terms of quality, consistency, fluffiness, and taste. The syrup and butter they give always deliver as well. They're better than any IHOP, Denny's, etc. And it's much cheaper to eat there." While many commenters agreed with the positive feedback, some felt this was too high of praise for McDonald's. Another user said that while the Hotcakes are good, they're far from the best, "They're like the rest of McDonald's food. Not the best quality but sometime[s] you're just craving it." This is probably a fair assessment of the fast food breakfast. While they aren't the best pancakes you'll ever eat, for the price and convenience, McDonald's Hotcakes are pretty excellent.
2. IHOP English Sticky Toffee Pancakes
In Spring 2018, IHOP introduced three new "globally-inspired" pancakes with Mexican Tres Leches Pancakes, Belgian Dark Chocolate Mousse Pancakes, and English Sticky Toffee Pancakes. Sticky toffee pancakes stood out from the other three flavors and from the rest of IHOP's menu in the best way. These dreamy pancakes are made with classic buttermilk pancakes as the base, with crunchy English toffee added. Then the pancake stack is topped off with salted caramel sauce and whipped cream for the perfect finishing touch.
Thrillist ranked this toffee pancake recipe as the best on IHOP's menu, and it only takes one bite to understand why. As you can probably guess from the name and description, this is a very sweet breakfast order. But, rather than tasting sickly sweet, the addition of salty flavor balances the sweet toffee and caramel, so the dish is still enjoyable. It's an indulgent breakfast treat that's perfect for when you want something a little out of the ordinary.
1. Whataburger Pancake Platter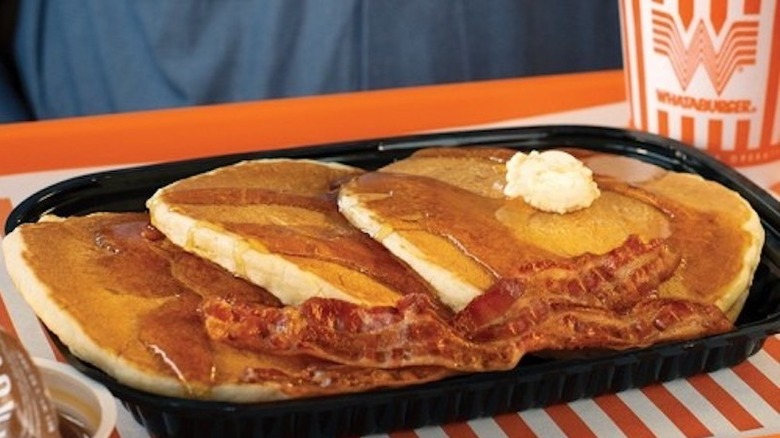 Whataburger
Finally, the top-ranked fast food breakfast pancake is Whataburger's Pancake Platter. Along with a stack of three pancakes, this meal comes with hash brown sticks, coffee, and your choice of bacon or sausage. At $6.49, it's a more expensive option than McDonald's, but you get a very filling meal with the platter. The pancakes themselves are decently thick, fluffy, and a larger size than a lot of fast food pancakes. Popular YouTuber Mike Chen reviewed his Whataburger pancakes, saying, "Not gonna lie, these are some good pancakes! Wow, fluffy, light, airy, [and] easily soaks up that nice syrup."
What sets Whataburger apart from many fast food pancake options is that these pancakes are made fresh on the griddle when you order. Instead of reheating premade breakfast items, Whataburger cooks up these delicious hotcakes to make them hot and fresh. A Reddit user who previously worked for the fast food chain confirmed this, writing, "At our breakfast rush, we get 3 orders of pancakes with every other order. One grill is just producing plain eggs and pancakes." So, if you want a fresh but fast and affordable breakfast, Whataburger's meal is a great option! If you love Whataburger pancakes, you can also make them at home just like the restaurant version. Whataburger sells boxes of its premade pancake mix to make it easy for you!