3-Ingredient Everything Bagel Monkey Bread Recipe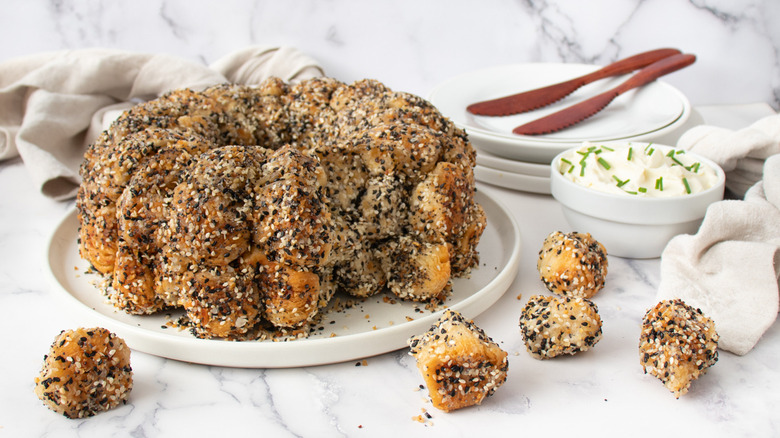 Patterson Watkins/Mashed
Patterson Watkins brings us this delectable twist on classic monkey bread, which infuses the iconic flavors of the beloved everything bagel seasoning into each fluffy bite. The simplicity of this recipe is matched only by its sensational taste, making it the perfect treat for breakfast, brunch, or any time you crave a savory delight.
Watkins tells us, "This savory monkey bread is meant for a group. Bring this along to your next brunch potluck or big breakfast gathering."
With just 3 easy-to-find ingredients, you can create a delectable masterpiece that will leave your taste buds dancing with joy, especially if you serve them alongside classic bagel toppings like lox and cream cheese. The combination of soft, pillowy biscuit pieces coated in a medley of poppy seeds, sesame seeds, garlic, onion, and salt is supremely satisfying. Whether you're hosting a gathering, seeking a quick snack, or looking to impress your family with a unique breakfast creation, this everything bagel monkey bread is a guaranteed crowd-pleaser.
Gather your 3-ingredient everything bagel monkey bread ingredients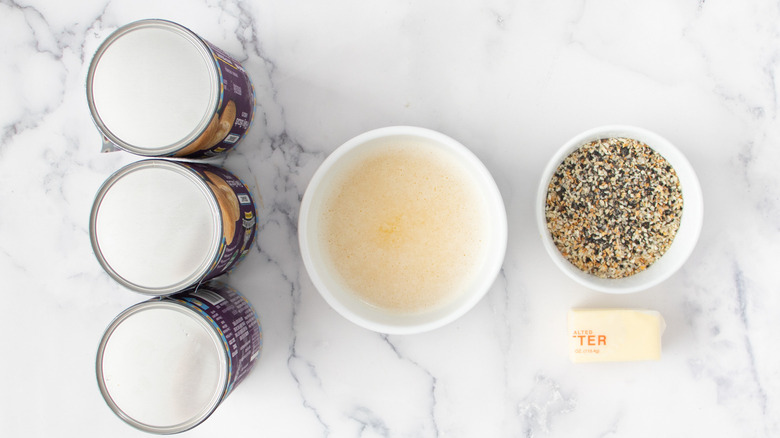 Patterson Watkins/Mashed
To make this 3-ingredient everything bagel monkey bread, you can start by gathering your ingredients. For this recipe, you'll need butter and canned biscuits from the refrigerator section of the grocery store. (You may want to grab an extra can or 2 while you're at it — not only can you whip up this monkey bread with the stuff, but you can even use canned biscuits to make pretzels.)
Lastly, you'll of course need everything bagel seasoning. Since this beloved creation is so popular, we've been able to locate it at most grocery stores. However, Watkins says, "You can always craft your own everything bagel seasoning blend if you have trouble sourcing a store-bought option."
Cut the biscuits into quarters and roll them in seasoning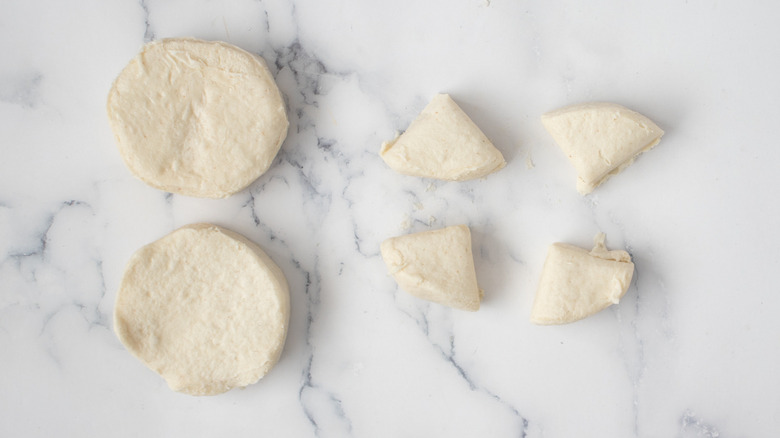 Patterson Watkins/Mashed
Before you open up the biscuits, be sure to grease your bundt pan with ¼ cup of butter. "I have a bit of a troubled relationship with my bundt pan. She sticks. A lot," Watkins says. "So, I make a concerted effort to thoroughly grease up." Before you forget, this is also a great time to preheat the oven to 350 F.
Cut the biscuits into quarters before rolling them into balls. Once each ball has been rolled, melt the remaining 1 cup of butter and dip each one inside to cat. Next, dip the buttery biscuit balls in the everything bagel seasoning, turning them over to get evenly covered.
Place the biscuit balls in a bundt pan and coat with more melted butter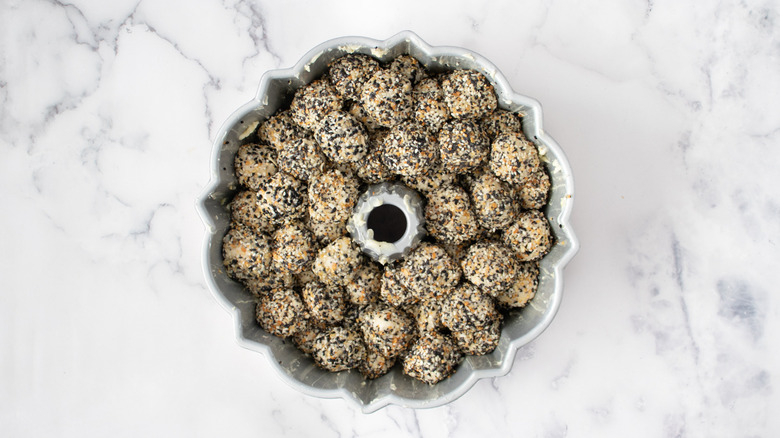 Patterson Watkins/Mashed
Place the seasoned biscuit balls in the bundt pan, being sure to press down slightly to ensure that the dough is in every nook and cranny. Then, pour the remaining melted butter over the entire dish.
Bake the monkey bread for 40 minutes, and allow it to cool on a wire rack. Once the bread has cooled completely, invert the pan onto a serving platter; you may need to tap the bundt pan a bit to allow the bread to release from the sides.
Serve with all the fixings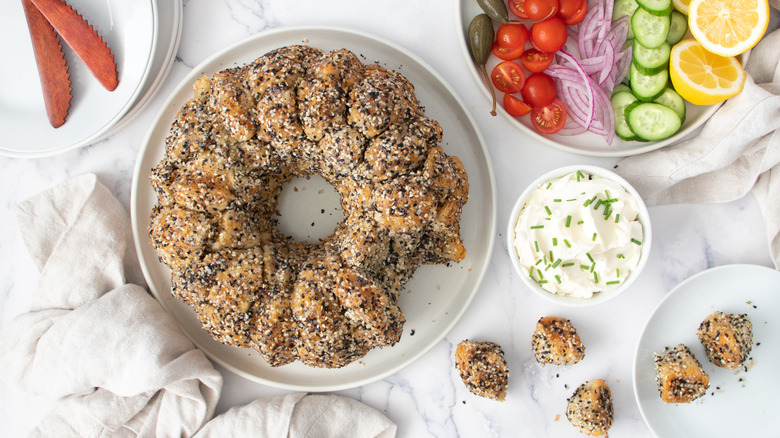 Patterson Watkins/Mashed
Now it's time for the fun part! Since you are likely serving this to a crowd, up the ante by presenting this easy dish alongside an assortment of fixings. Assemble your bagel bar with all the appropriate accoutrement. Watkins recommends "cream cheese, tomatoes, onion slices, capers, smoked salmon, cucumbers, etcetera," adding, "If you like it on an everything bagel, you'll love it with this inspired monkey bread." To complete the shareable spread, add your favorite brunch cocktails, such as fruity mimosas or spiked cold brew. 
3-Ingredient Everything Bagel Monkey Bread Recipe
Every bite of this monkey bread is completely coated in everything bagel seasoning, making it the perfect brunch dish for the bagel lover in your life.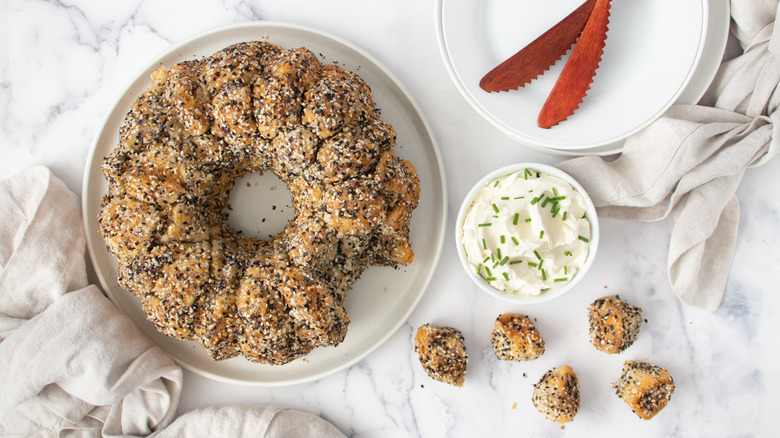 Ingredients
1 ¼ cups unsalted butter
3 (16-ounce) cans refrigerated biscuits
1 cup everything bagel seasoning
Directions
Preheat oven to 350 F.
Generously grease a bundt pan with ¼ cup (4 tablespoons) of butter, making sure to coat each nook and cranny, and set aside. Melt the remaining butter (1 cup) in the microwave and set aside.
Remove the refrigerated biscuits from the cans and cut into quarters, then roll these into small balls.
Coat the biscuit balls in the melted butter, then roll in the everything bagel seasoning, thoroughly covering each ball. (This can be done in a large bowl or zipper bag.)
Transfer the seasoned biscuit balls to the prepped bundt pan, and gently press down to lightly compact the dough. Pour any remaining melted butter over the top.
Place the pan in the oven and bake for 40 minutes or until golden brown.
Remove the pan from the oven and set aside to cool on a wire rack. Once cooled, invert the pan onto a serving platter or plate (you may need to tap on the sides of the bundt pan to release its contents), and enjoy with your desired toppings.
Nutrition
| | |
| --- | --- |
| Calories per Serving | 624 |
| Total Fat | 38.9 g |
| Saturated Fat | 20.1 g |
| Trans Fat | 1.2 g |
| Cholesterol | 61.0 mg |
| | |
| --- | --- |
| Total Carbohydrates | 62.3 g |
| Dietary Fiber | 2.8 g |
| Total Sugars | 6.4 g |
| Sodium | 1,461.1 mg |
| Protein | 9.3 g |