Desserts Every Pickle Fan Needs To Try
Pickle desserts are unusual, but if you're a fan of sour food, you might just find a concoction you'll love. We can hear naysayers expressing doubt, and we completely understand. Some pickle desserts are undoubtedly created more for the novelty and shock factor than as a treat that will have you asking for a second helping. However, some of the pickle desserts we've come across have devotees who make or buy them over and over.
Whether you're a picklehead yourself, have a pickle lover in your life, or just want a view into the bizarre world of odd pickle pairings, you'll want to take a look at our list. Among the pickle candies, pickle pies, and assorted pickle desserts on our list, you may surprise yourself and find something that piques your interest enough to send you on a pickle pilgrimage or to the grocery store for ingredients. Don't say we didn't warn you.
Utah pickle pie
The Sunglow Restaurant at the Sunglow Hotel in Bicknell, Utah, is the home of Utah's famous pickle pie. Sunglow's Bessie Stewart comments, "The customers like the pickle pie, but I think the biggest selling point is curiosity." The inspiration for the pie came from a magazine and underwent some tweaks to turn it into the famous pie of today. Unfortunately, as of July 1, 2023, the Sunglow Restaurant is temporarily closed, but it continues to make its famous pies for customers.
The pickle pie starts with a base of butter, sugar, and milk, with eggs and cornstarch for thickening. Flavorings include cinnamon and nutmeg to give it a warm flavor that allows it to fit in easily with holiday pies. It also includes lemon extract and chopped pickles and comes baked in an ordinary pie crust. Be sure to order it with whipped cream to experience the contrast between the sweetness of the cream and the sourness of the pickles. The pickles are subtle enough that the pie ends up looking and tasting similar to pumpkin pie with a hint of pickles and a slightly green hue. Meanwhile, others compare it to mincemeat pie which goes to show it's not as bad as you might think.
Cranberry pickle pie
Another pie that would easily work for Thanksgiving is the cranberry pickle pie. It became popular when Jen at Baked by an Introvert posted a recipe for cranberry pie. The pie was made with a standard crust and filled with cranberries, sugar, and orange juice. It used cornstarch and flour as thickening agents and ginger, salt, orange zest, and vanilla extract for flavoring. 
Another blogger named Linda Seccaspina posted the recipe, and it wasn't long before her friend Antoinette Errante made the pie, sending her a picture of it with dill pickles on top. Once Seccaspina posted the picture, it didn't take long for the cranberry pickle pie to go viral. The story of the viral pie even made it to a Salt Lake City FOX news story, and Mashed covered it too.
Despite many doubters, Errante insisted that it was a good pie. Seccaspina felt like the idea of ordinary dill pickles layered on top of the cranberry pie might be a bit much and suggested a scattering of candied ginger and pickle slices instead. Soon, Instagram user @brbexplorn decided to give Errante's creation a try after seeing it on the Salt Lake City local news and declared it to be "crantastic" and "berry delicious." So, don't knock it until you try it.
Pickle cupcakes
If you want to really surprise the pickle lover in your life with a sweet treat, make them a batch of pickle cupcakes for their birthday. The recipe is similar to a classic cupcake and includes ingredients like flour, baking powder, butter, sugar, and eggs. However, the moistening ingredients are sour cream and pickle juice. Some people even add chopped pickles or vanilla extract. While you can use vanilla frosting, we suggest trying cream cheese frosting to help balance out the rich pickle flavor. You can even add bourbon to the frosting for a bit of a kick. Rather than sprinkles, these cupcakes get a pickle on top.
Because of all the sugar in the cake and frosting, this is undoubtedly a sweet dessert with a strong pickle flavor. When Redditor u/pnear tried making pickle cupcakes for a birthday party (with ordinary cupcakes as a backup just in case), they got mixed reactions from party-goers, with a more positive response from the adults than the kids. Overall, they described pickle cupcakes as having "a bit of a tangy flavor," and compared them to "a pound cake made with sour cream."
Kool-Aid pickles
Kool-Aid pickles (also known as koolickles) are an easy and famous pickle dessert to make. As the name implies, these pickles are infused with Kool-Aid. While there's no clear indication of their origin, they're especially popular in the Mississippi Delta area, where you're likely to find them anywhere from non-chain convenience stores to fairs, and even sold out of people's kitchens.
It's easiest to start with a jar of dill pickles that come pre-sliced, but you can always slice them yourself. The soaking liquid is the original pickle brine, along with Kool-Aid mix and sugar. Red-colored Kool-Aid like cherry and fruit punch are the most popular flavors. Most people make the Kool-Aid mixture in a separate container and pour it back into the original pickle jar with the pickles. We've seen recipes that call for everything from a quarter of a cup of sugar per packet to a whole cup. Some people make the Kool-Aid twice as sweet as what they would drink. Unfortunately, you have to wait three to five days for the Kool-Aid to permeate the pickles in the fridge before eating these puckery sweet treats.
Chamoy pickle kit
Candy-filled chamoy pickles have become such a sensation that you can now buy chamoy pickle kits. While the treat first became popular with Hispanic chamoy pickle lovers, social media has made the kits famous around the world. Chamoy pickles consist of a hollowed-out pickle stuffed with various ingredients, wrapped in a Fruit Roll-Up, and coated with tangy and spicy chamoy sauce and Tajín.
The stuffing can range from candy to chips. We've seen people use Fruit Gushers, Punch Strawz, Salsaghetti Skwinkles, tamarind candy, or spicy chips like Takis as the filling. Some even mix both candy and chips, so it's fair to say you can expect a wide range of flavors and textures from eating a stuffed chamoy pickle. When you watch people eat these on TikTok, they're often at a loss for words concerning the flavor combination, but the overall consensus is that the spicy, sour, and sweet mix is extremely good.
Pickle milkshake
The Brew-Wing Lab introduced a pickle milkshake for the 2023 Epcot International Food and Wine Festival held from July 27 to November 18. The story goes that Muppets Bunsen and Beaker created it while conducting food experiments in their science lab. This might explain why the milkshakes are an unpickle-like shade of toothpaste green topped with whipped cream and a sprinkling of pickling spices and fresh dill.
TikToker @theshayspence says, "I kind of dig it. It's not really sour like a pickle, though. It's more creamy and sweet with dill and pickling spice flavors coming through." Even kids seem to like it okay. It's a fun shake to try for the novelty factor, but it may not be a repeat purchase if you have another choice. Not everyone is a fan, though. YouTuber @DisLyfeOfOurs, said, "This goes in 'The Book of Things We Don't Speak Of.' I'm actually going to put it in the front of the book."
Pickle popsicles
Studies show that pickle juice can help relieve muscle cramps quickly after exercise. So, interestingly enough, pickle popsicles have become popular with athletes, especially when the pops have added electrolytes. The easiest way to get your hand on pickle popsicles is to check the frozen section of your local grocery store, where you can find pre-made pickle pops like Van Holten's Pickle Ice or Bob's Pickle Pops.
If your local grocery store doesn't have pickle popsicles, they're easy to buy online or make yourself. One easy recipe for homemade pickle popsicles requires combining cucumbers, pickle juice, and honey in a blender and freezing the liquid in popsicle molds. Pickle-maker Mt. Olive has a pickle pop recipe that involves mixing Mt. Olive Pickle Juicers with sugar and freezing the mixture in a popsicle mold. For something completely different, TikToker @crafty.diply tried filling hollowed-out pickles with the liquid from ice pops and sticking them in a popsicle stick to freeze. Her response? "I don't hate it. What can't pickles do?"
Pickle cotton candy
Pickle cotton candy is more popular than you would think. There are several brands on the market, including Grandpa Joe's dilly pickle cotton candy, which you can buy online from Walmart or Grandpa Joe's candy stores. Meanwhile, Chocolate Storybook sells regular and spicy pickle cotton candy. Despite having dozens of unusual flavors, pickle cotton candy is the company's most popular, and it's the one that has inspired TikTokers to give it a try. 
Of course, not everyone likes it, but that's to be expected. When WNEP News Station did a taste test among employees, one described it as "mostly sweet" with a "background flavor of dill," but without the vinegar flavor you get from regular pickles. He called it "weird, but [...] a good weird" (via YouTube).
Some people have gone a step further with pickle cotton candy experiments, by putting a pickle on a stick and wrapping it with regular cotton candy. Another option is wrapping a chamoy pickle with pickle-flavored cotton candy.
Pineapple pickle bundt cake
Another interesting pickle dessert you can find floating around the internet is a pineapple pickle bundt cake. It's a twist on a regular pineapple bundt cake recipe, and the flavors pair together better than you would think. Along with crushed pineapple, it contains grated dill pickles (minus the skins). Like a standard pineapple cake, it contains brown and white sugar, flour, salt, vanilla, and eggs. The recipes we've found use oil and applesauce as the liquid instead of other common options like melted butter or milk. Because of the acidity of the pickles, you'll use baking soda rather than baking powder as the leavening agent. You can also add pecans for added crunch.
Topping choices range from cream cheese frosting to a glaze made with pineapple juice and powdered sugar. You could also dust it with powdered sugar or leave it bare. Because the shredded pickles and crushed pineapple integrated throughout the cake play well together, it has a flavor that tends to have pickle cake doubters coming back for a bigger slice.
Pickle ice cream
We couldn't make a list of pickle desserts without including the famous pickle and ice cream combo that regularly features in pregnancy cravings. Perhaps it's the sweet and salty combo that makes this one a favorite, but you certainly don't have to be pregnant to give pickle ice cream a try.
Some commercial ice cream makers and restaurants have tried to capitalize on the famed duo. Blue Bell's dill pickle 'n cream wasn't on shelves for long because of a lack of popularity. Another company called Nightfood introduced pickles for two ice cream in the summer of 2020, which included amino acids to help with pregnancy heartburn. Unfortunately, it wasn't as popular as hoped and is no longer in Nightfood's main lineup. A few restaurants still serve pickle ice cream, like Jacob's Pickles in New York and Hodgies Too of Salisbury in Massachusetts. 
Considering the difficulty of finding pickle ice cream in grocery stores and restaurants, homemade versions are the way to go. These feature ingredients like cream cheese, pickle juice, chopped dill pickles, and sometimes dill weed. We've even seen homemade ice cream made with bread and butter pickle juice and a sweet peanut butter topping.
Pickle donuts
If you've ever been to Hurts Donut shop, you're probably not surprised to hear it has offered pickle donuts on the menu. Hurts donuts tend to be knee-deep in frosting and covered with everything from piles of sweet cereal to candy, cookies, and pretzels — the quirkier, the better. So, it was inevitable that pickle donuts would eventually make it to the menu. 
They were introduced in December 2017 when the shop offered pickle-glazed donuts for one day only. Fans liked them enough for a repeat a month later. When Delish visited in February of 2018, Hurts invented a pickle cheesecake donut, featuring a cream cheese and pickle filling, vanilla frosting with dill weed, and a torched pickle brine gelatin cube on top. The Springfield, Missouri, shop only made 24 units, eight of which it gave away.
Hurts Donut isn't the only donut shop to experiment with pickle donuts. Voodoo Doughnuts in Portland, Oregon, created a Portland pickles donut to sell at a baseball game in July 2019. The Portland pickles donuts featured three dill pickles on top of a peanut butter glazed donut drizzled with Sriracha hot sauce. As you can imagine, these didn't go over as well as the Hurts pickle donuts.
Chocolate-covered pickles
Chocolate-covered or chocolate-dipped pickles are extremely easy to make and combine two classic flavors in an unusual way. The easiest way to make these is to dip a pickle in chocolate syrup (the kind you'd use to make chocolate milk) and eat it. The trick to making the chocolate stick is to properly dry the pickle first. For a more permanent coating, you could dip the pickle into magic shell ice cream syrup so it hardens around the pickle. If you can't find magic shell ice cream syrup, it's possible to make shell-like chocolate for dipping by heating together equal amounts of chocolate and coconut oil until they melt. Then, dip the pickle into the mixture. 
If you want to get creative, you can use dill pickles, bread and butter pickles, or spicy pickles. You could even try rolling savory pickles in sugar before dipping or adding sea salt, red pepper flakes, or sprinkles to the finished product. When Good Mythical tried chocolate-dipped pickles on YouTube, they were surprised at how much they liked them. One tester said, you get an "immediate chocolate burst at the beginning," and noted, "[it] quickly goes away and is replaced by pickle, but they're complementary as they transition."
Pickle fudge
Pickle fudge is not totally obscure. Although Wisconsin's Valley Fudge & Candy doesn't have dill pickle fudge sitting around on the regular, it will make it to order if you purchase it from the company's website or Amazon listing. You might want to try it first by the half pound, but if you find yourself hankering for it or think you'd like to distribute it to all your pickle-loving friends as a gift (or to your non-pickle-loving friends as a joke), you can buy a whole pound of it.
Meanwhile, Chocolate Moonshine in Grove City, Pennsylvania, sells peanut butter pickle, Pittsburgh pickle, and pickleback, among its pickle-flavored fudges. The company has brought its chocolate-covered pickles and pickle fudges to various pickle festivals, including the Cleveland Pickle Fest and Pittsburgh's Picklesburgh. Customers find pickle fudge to be a little on the strange side, but they still tend to like it a lot.
Pickle candy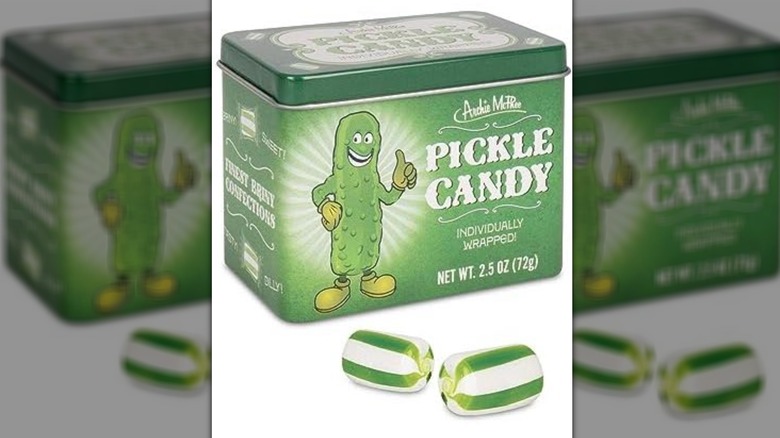 Archie McPhee
There are other pickle candies available beyond fudge that make fun gifts for the pickle fans in your life. The Taffy Shop makes a lot of unique taffy flavors, which include everything from chili mango madness to one that features a dill pickle flavor The dill pickle taffy is salty and sweet with a subtle sour note that most pickle fans love. 
Another candy company that specializes in weird flavors is Archie McPhee, which makes candy canes that taste like ketchup, sour cream and onion, mac and cheese, and fancy pickles. Its fancy pickle candy canes receive high ratings, probably because they focus on being dill flavored rather than including a vinegar kick. Archie McPhee also makes a slightly less popular pickle candy that comes in a cute tin for safekeeping. It has a light dill flavor with a hint of vanilla.
Alamo Candy Co. makes sour pickle balls, which are also salty and will turn your mouth bright green. People seem to either love them or hate them. Meanwhile, candy giant Haribo makes saure gurken and super gurken sweets. These pickle-shaped jelly candies appeal to pickle lovers who love everything Haribo.
Snickles
TikTok turned the combination of pickles and Snickers into a new snack trend in 2021 which everyone called a "snickle." All you have to do to make this pickle dessert is stuff a Snickers candy bar into a hollowed-out pickle. You'll need to find the biggest pickle possible for this culinary adventure. However, if the Snickers bar won't quite fit, you can cut it in half before hollowing out the center and turning the snickle into a dessert snack sandwich. 
In case your Snickers bar doesn't easily fit into your pickle, it seems that the most common way to keep it from popping out is to wrap a rubber band around the pickle before attempting to consume it. TikTokers have even tried baking snickles inside puff pastry with successful results. Other creative endeavors include baking several into a pie or even sticking a snickle inside a beef Wellington — along with the meat.