The Most Outrageous Free-Food-For-Life Promotions In History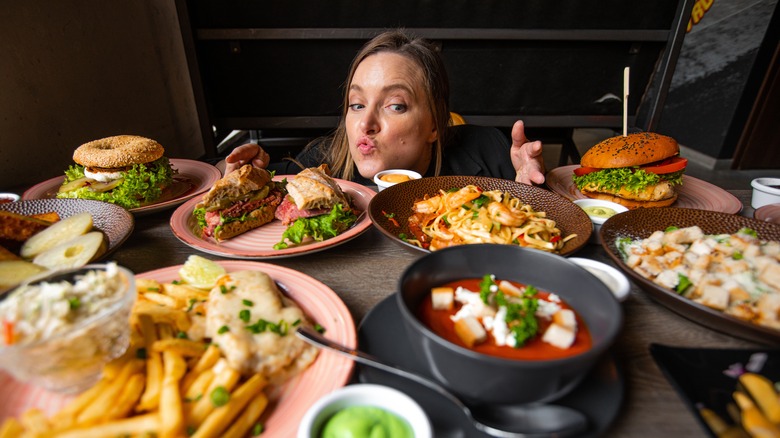 tativophotos/Shutterstock
Imagine a lifetime supply of your favorite dish, be it tacos, pizza, or a "Taylor's Latte" from Starbucks, just an arm's reach away. What price are you ready to pay for this gourmet fantasy? Some free food for life promotions bring about the strangest, most intriguing tales of culinary dedication.
From the outright crazy to the downright cute, a guaranteed feast of your favorite food each and every day may sound too good to be true but these stories and more tell a different tale. From fast food chains to beloved local eateries and pantry snacks, your favorite food has probably dabbled in the bold marketing maneuver of offering "free food for life" promotions. These elusive, eyebrow-raising campaigns, as extraordinary as they sound, have delighted a handful of lucky patrons while baffling the majority with their "lifetime" promise. Are these really, truly outrageous? Only one way to find out. Here's the most outrageous free-food-for-life promotions in food history.
A lifetime supply of Purina for a dog buried alive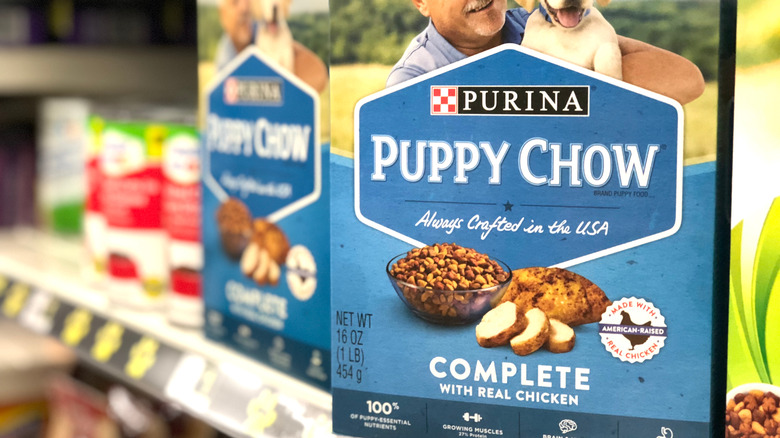 jadimages/Shutterstock
It may be surprising to see a dog food brand on a list of food for life promotions, but the story behind this promo is even crazier than you can probably imagine. In 2001, a dog named Sweetie was hit by a mail truck. Her owner, Glenda Stevens sadly saw little hope for her survival after she found no signs of a heartbeat or pulse. Truly believing her beloved pet passed away, Glenda buried Sweetie in the backyard. 
Several hours later, an unbelievable sight met Glenda when she paid a final visit to her dog's grave. Instead of a peaceful resting spot, she found Sweetie's hind legs flailing upwards from the ground, a clear sign that this dog with an undying spirit was actually alive. The Nevada Daily Mail called her, "The dog that wouldn't die." Overwhelmed by relief and joy, Glenda discovered the incredible truth — Sweetie had not breathed her last yet. News of the dog that triumphed over death spread like wildfire. Sweetie's miraculous comeback story resonated with people worldwide, capturing their hearts and capturing the attention of Ralston Purina, a well-known pet food company. Touched by Sweetie's tale of survival and resilience, they extended an astonishing offer: To celebrate Sweetie's second chance at life, Ralston Purina granted her a lifetime supply of dog food free of charge.
Free tacos for life for the price of a tattoo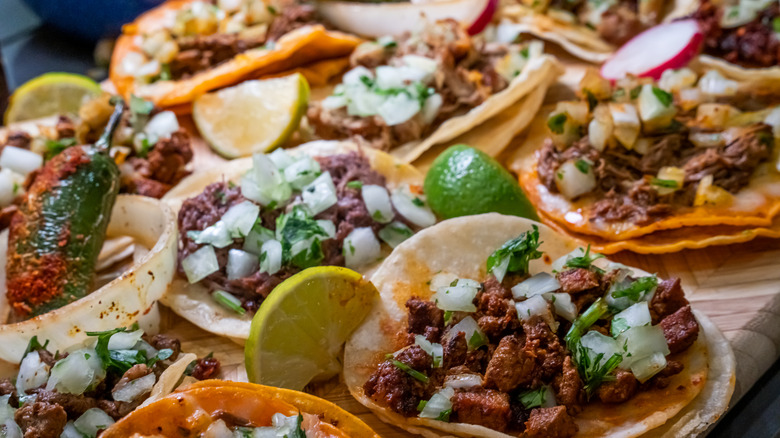 Grandriver/Getty Images
In 1998, a restaurant in San Francisco named Casa Sanchez hosted a rather unusual promotion test of devotion for their patrons. The eatery offered a lifetime supply of tacos or a burrito each day to any customer bold enough to get a tattoo of the restaurant's logo. The logo wasn't your typical text logo — it was the quirky image of "Jimmy the Cornman," a sombrero-wearing man riding a corn-shaped rocket. Sounds crazy, right? While the promo may seem out of this world, it's actually very real, and many other restaurants have surprisingly done something similar. The restaurant's owner, Martha Sanchez, confessed that she didn't anticipate anyone would actually take up the audacious offer.
To her astonishment, people didn't just take on the challenge once. In fact, the campaign was so successful that it was resurrected in 2010. Practically speaking, this old-school method of restaurant marketing was more complicated, and more painful than the traditional gimmicks of tweeting or filling out a digital form. However, it's also like wearing a legitimate badge of honor that frankly many people were thrilled to get. As Greg Tietz, a bartender who got tattooed explained to SFGate, "You don't want to take undue advantage of something like this. It's karma."
McDonald's is free forever if you win a coveted McGold Card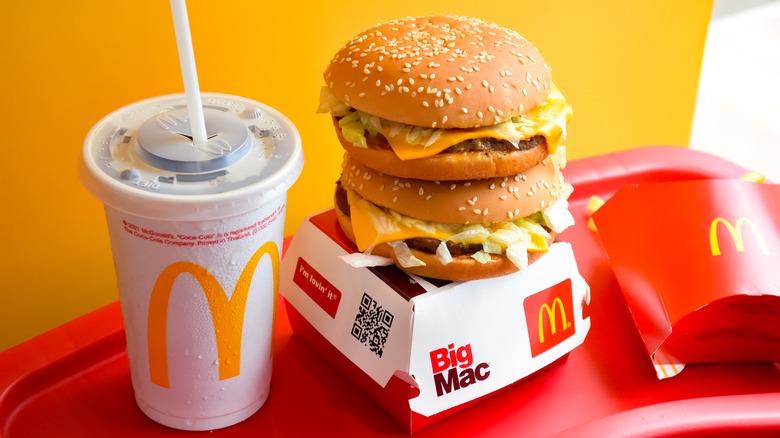 Patcharaporn Puttipon4289/Shutterstock
McDonald's lore is a real thing (don't forget the Hamburglar), but the McGold Card is apparently a part of reality in a lifetime sort of way. In 2022, McDonald's launched a promotional event known as the "SZN of Sharing," where they offered a contest that awarded a lifetime supply of McDonald's. We're talking Big Macs, Filet-O-Fishes, and more. The grand prize was the coveted McGold Card which means two McDonald's meals every week for 50 years.
Previously, the McGold Card was exclusive to celebrities like Warren Buffett, Bill Gates, and Rob Lowe. However, 2022 was truly the season for sharing and McDonald's aimed to democratize this privilege by offering customers a chance to become golden cardholders. Moreover, the winner of the contest was also able to nominate three friends who would each receive their own McGold Card. So, that brings us to the big question: Did anyone win? While there isn't any info about specific winners, a writer with Yahoo! appears to have acquired a temporary McGold Card for the purposes of writing an article about it. 
You could win free Subway for life if you change your name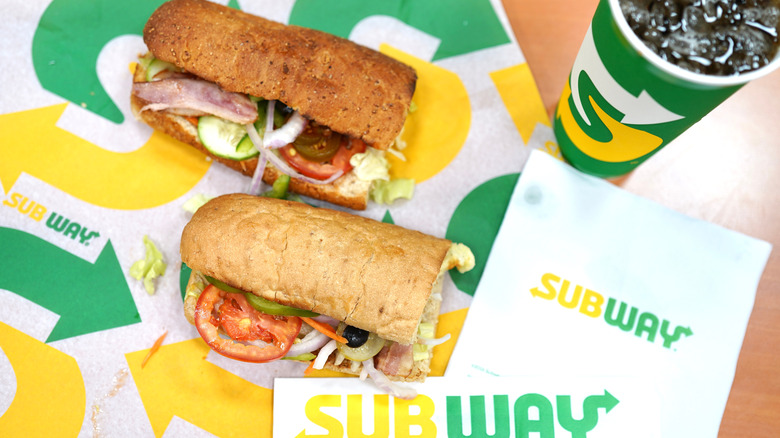 Prachana Thong-on/Shutterstock
Would you ever legally change your name to "Subway?" If Subway's offer of a lifetime supply of free "Deli Hero" subs is any indicator, they're betting on someone taking the plunge. As the rules describe it, you don't just go out and change your name and walk up to a Subway showing off your driver's license with the name change; you'd get randomly selected as long as you submit your info to Subway between August 1 to August 4, 2023. But don't worry, the name change wasn't going to be done in vain. Subway said they'll cover all costs that come with a legal name change, as long as they undergo a background check. If accepted, the prize comes to the winner in $50,000 worth of Subway gift cards.
Ultimately, the marketing strategy is aimed primarily at their "superfans." According to an incident in 2022 where someone camped for two days to get a footlong tattoo in exchange for free Subway for a lifetime, there's some serious Subway superfans out there. So while changing your name legally to a well-known fast food brand is a bit weird, Subway has good reason to believe they'll find a willing contestant if it means free sandwiches. 
Chick-fil-A gave a 100-year-old customer free food for life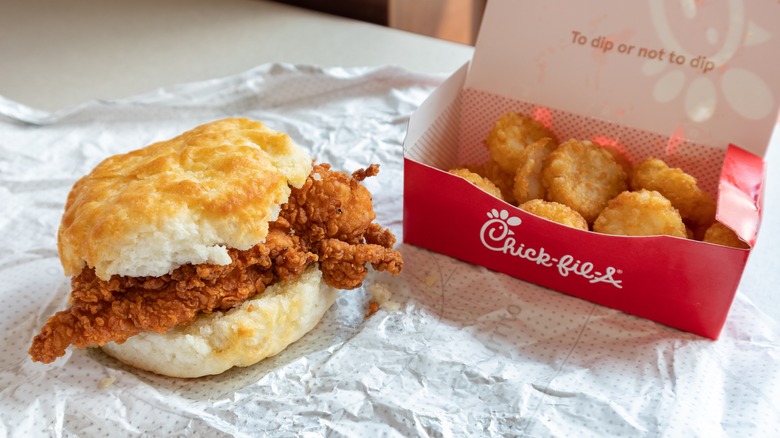 James Andrews1/Shutterstock
Consistency is key, especially when it comes to Chick-fil-A's lifetime partnership with Stephen Bellissimo. Also known as, "Mr. Steve" by the staff, the man visited the same Chick-fil-A in Oldsmar, Florida, for more than 20 years, and had the same exact routine, same exact order, and same exact booth every day. In short, he wasn't your typical customer. As a gift for his undying loyalty, the store gave him a lifetime of free meals along with a birthday party in the store. 
Such an overwhelming recognition was more than just a birthday gift for Bellissimo. It was a celebration of his unwavering commitment to the brand, his love for the regular chicken sandwich, and his life itself. When asked about the unprecedented gift from Chick-fil-A, Bellissimo responded with a shining smile and affectionate appreciation. To Bellissimo, it was everything he imagined, telling The State, "That is the best gift I could ever receive!" It was the ultimate testament to his unwavering and cherished alliance with Chick-fil-A.
Starbucks offers free coffee for life if you only live 30 years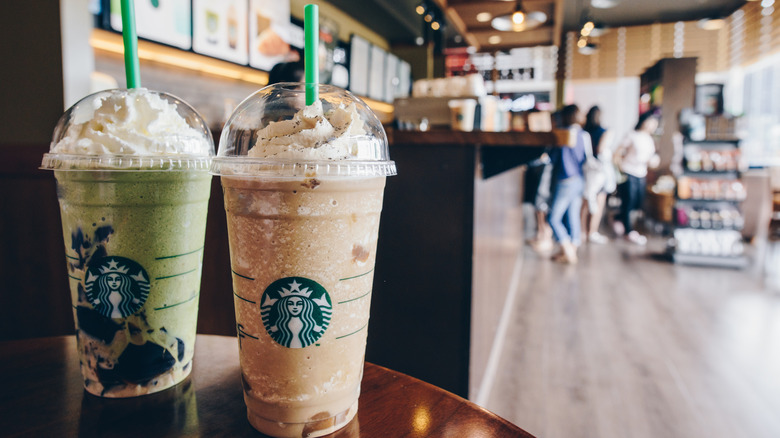 Boyloso/Shutterstock
Starbucks rekindled its popular annual promotion "Starbucks for Life" in 2022, providing Starbucks Rewards members with an enchanting holiday opportunity for the eighth year in a row. From late November through December, avid coffee enthusiasts could potentially walk away with amazing perks ranging from bonus stars, gift cards, merchandise, plane tickets, and the grand attraction — Starbucks for life.
The ultimate "Starbucks for Life" reward presents winners with a daily credit for one complimentary food or drink item for 30 years at participating U.S. Starbucks locations, signifying a veritable — but not literal — "lifetime" supply from Starbucks. Despite its undeniably appealing nature, this extravagant reward features an unusual limitation. The term "for life" is, in fact, based on an estimated span of 30 years. This peculiar restriction suggests that either Starbucks hopes the lucky winners' lives don't extend beyond every caffeinated sip for three decades, or it simply challenges recipients to outlast the remarkable gift, creating a truly unique and memorable Starbucks experience.
Olive Garden offered a lifetime pasta pass
In 2022, Olive Garden brought back its much-anticipated Never Ending Pasta Bowl, offering customers a chance to enjoy unlimited pasta. It also brought back a lesser-known offer known as the "Lifetime Pasta Pass." The Lifetime Pasta Pass, priced at $500, is a dream come true for pasta aficionados. Only 50 of these special passes — entitling the holders to unlimited Olive Garden pasta throughout their lifetime — were ever offered. Despite the initial investment, the cost of this pass would be offset, on average, by the 45th pasta serving, making it a worthy investment for regular diners at Olive Garden.
Jennifer Arguello, executive vice president of marketing for Olive Garden, expressed her enthusiasm for the new promotion, citing the company's intent to be a part of fans' memories for years to come. For a more accessible alternative, there's always the Never Ending Pasta Bowl. Priced at $100 each, 24,000 Never Ending Pasta Bowls were released for sale to the delight of Olive Garden customers during a 2019 promotion.
A guy won a lifetime of Doritos Locos Tacos for a tattoo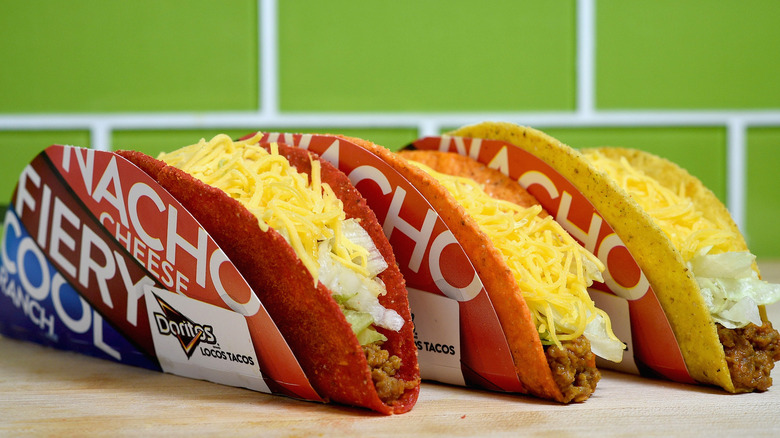 Joshua Blanchard/Getty Images
As Agency Spy described it, this guy traded his "dignity" for Taco Bell. In a novel promotional endeavor, a superfan of Taco Bell, known simply as Tyler drastically demonstrated his dedication to the fast food chain by getting a tattoo of a taco on his arm. The promo, produced by Toronto-based Grip Limited, shows Tyler entering a tattoo parlor and displaying his profound admiration for Taco Bell's offerings, especially the Doritos Locos Tacos he's been devouring since he was 10 years old.
After enough fans said their peace, Taco Bell decided to keep the Doritos Locos Tacos permanently on their menu which further inspired the whole tattoo-for-a-lifetime-supply-of-tacos deal from Taco Bell. We can't blame them, either. Tyler's extreme act of affection is going down in Taco Bell's customer loyalty history. Once the company heard the fans' outcry for a permanent spot for their beloved Doritos Locos Tacos, they knew this cherished offering had to stay. Invigorated by the fan fervor, the promotion took a startling turn — free tacos for life for our brave enthusiast who marked his lifetime allegiance in ink.
A boy won a lifetime supply of milk after asking how to be a quarterback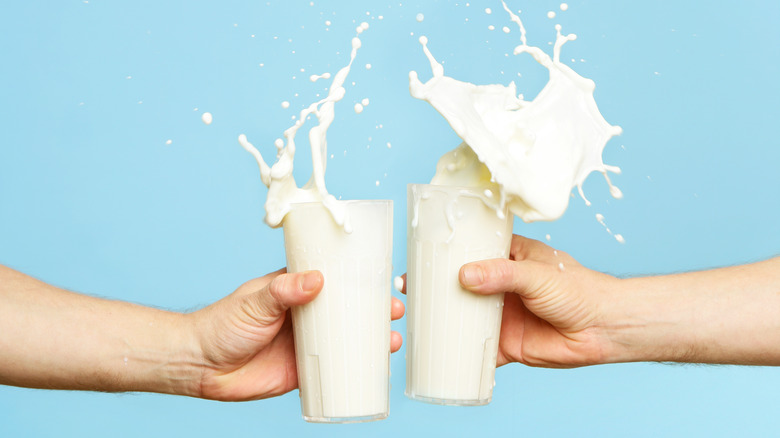 Lisegagne/Getty Images
Imagine never having to ask "Got milk?" ever again. In a heartwarming turn of events, 6-year-old Brady Carpenter gained attention for asking college football coach Jim Harbaugh, "How much milk do I have to drink to be big enough to be [a] quarterback?" The question charmed Harbaugh, leading to a tender moment where he hugged the little boy.
Seizing the opportunity to support Carpenter's aspirations, Fairlife — known for its ultra-filtered milk – decided to provide him with a lifetime supply. A press release from Fairlife quoted CEO Steve Jones as saying, "Brady is a perfect example of a smart kid who seems to have some pretty serious dedications and convictions. We respect that and think that he deserves all the milk he can drink so he can follow the coach's advice." Jones added that the milk was given to help fuel Carpenter's journey to become a quarterback or to achieve whatever dreams he may have.
A kid got lucky and won a lifetime supply of Ben & Jerry's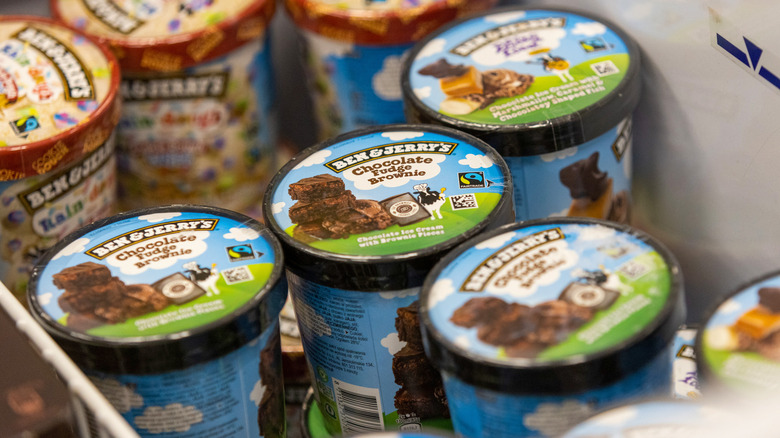 Bloomberg/Getty Images
In a unique twist of fortune, 3-year-old Taylor James Caldwell won a remarkable and extremely child-relevant prize in 1995: A lifetime supply of ice cream courtesy of Ben & Jerry's. Initially, the top prize was the open position for a CEO at Ben & Jerry's, but Taylor bagged the equally delightful second prize. Despite his age, Taylor had some imaginative ideas for new Ben & Jerry's flavors including "Dinosaur flavor," which he told the LA Times should be crafted with a fun mix of gummi bears and chocolate. 
Showing more interest in his playful endeavors, the young ice cream lover was pretty unbothered by his win. His mother had a more optimistic outlook on how this award might affect his health, stating, "What's an extra 10 pounds when it comes to a lifetime supply of ice cream? We can handle it." In winning this prize, Taylor received 150 coupons each year for free pints of Ben & Jerry's, along with a card that he can use at Ben & Jerry's parlors.
Today, Caldwell would be in his early 30s; let's take a moment to marvel at exactly how much ice cream he must've eaten by now ... 
One Oregon family won free pizza for life after selling their house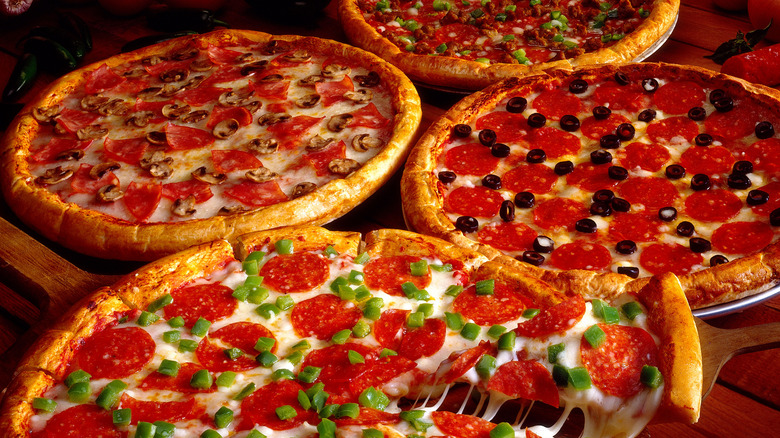 Burke/triolo Productions/Getty Images
Real estate comes with pizza, at least for this one Oregon family. In 2015, the Marsh family aimed to sell their house, but they didn't expect a pizza-filled proposal to come their way. The proposal came from none other than Donna DeNicola, owner of DeNicola's Italian Restaurant, and as she described it to ABC News, "I'll throw in one pizza a month for life as a joke because I'm a sarcastic person." Sarcasm for this pizza maker apparently won along with her $275,000 proposal for the home.
 The unexpected offer intriguingly blended the realms of real estate and hospitality, showing the unique strategies that could be adopted in a tough housing market. For DeNicola, it was love at first sight with the property and her pepperoni-filled offering was just her own personal touch. So what did Holly Marsh think of the offer? "I'm a fan of unorthodox approaches to things, and that definitely stood out," she told ABC News. While the housing market is pretty crazy, some foodies should take note when looking for a house. Maybe pizza or a lifetime supply of any kind of food could be the clincher.
A Olympic Gold Medalist won a lifetime supply of fried chicken.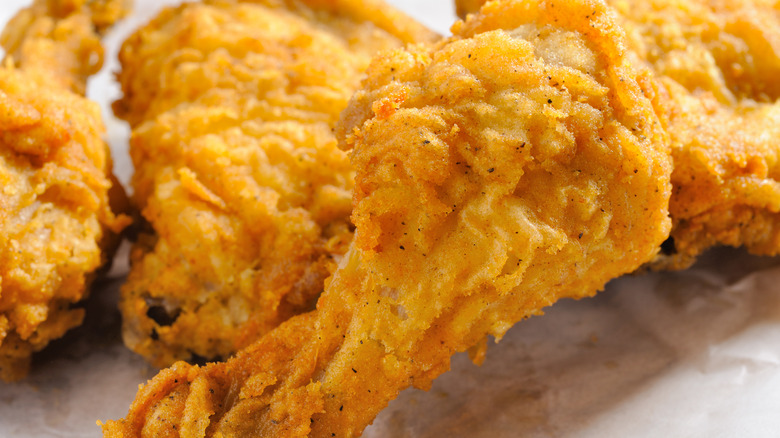 4kodiak/Getty Images
South Korean short-track speedskater Hwang Dae-heon not only left the Beijing Olympics with a gold and a silver medal, but also a rather unconventional prize — a lifetime supply of fried chicken. Hwang won gold in the men's 1,500 meter and silver in the 5,000-meter relay. However, the unique reward from Yoon Hong-geun, a BBQ magnate and Chairman of South Korea's Skating Union, doubled the joy of his success.
Yoon promised Hwang a "fried chicken pension," essentially a lifetime supply of BBQ chicken, if he managed to secure a gold medal at the Beijing Olympics. A fried chicken enthusiast himself, Hwang was evidently spurred on by this appetizing incentive, as he secured the coveted top spot on the podium. Upon his victory, Hwang humorously told reporters that he wants to confirm that his "fried chicken pension" is indeed real. Adding to the thrill, Yoon also promised substantial cash rewards for medal winners.