The Best Food Offerings From Universal Orlando's Halloween Horror Nights 2023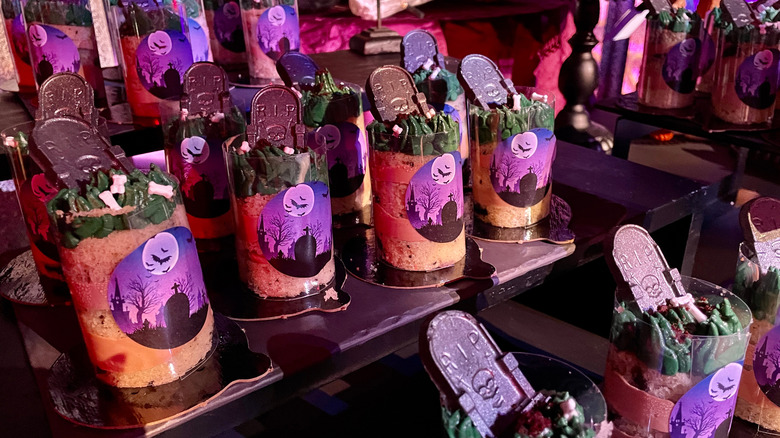 Jenny Kellerhals/Mashed
When it comes to Halloween thrills and chills, few go as hard as Universal Studios Orlando does during its yearly Halloween Horror Nights event. This year, Halloween Horror Nights began in early September and continues on Wednesday through Sunday nights, plus Halloween night, through November 4th. At sundown, the park transforms from a family-friendly theme park into a scream-filled terror extravaganza that includes 10 themed haunted houses built inside backlot soundstages, five "Scare Zones" with scareactors walking the streets alongside you, and live entertainment that you won't see at any other time in the parks.
While the main focus of Halloween Horror Nights is understandably on the high-production value of the haunted houses, Universal Studios has also developed more event-specific foods to satisfy the throngs of hungry thrill seekers. We were invited to get a first look at everything the event has to offer this year — including the special spooky menu items, alongside the new terrifying haunted houses. After all, it takes a lot of energy to scream your way through all 10 of the haunted houses. And on busy nights, some of the lines to get into the more popular haunted houses can take more than an hour to get through, if not longer. So, it's a good idea to grab a drink and a bite to eat to hold you over while you wait in line. Here are all of the specialty food and drink options we tasted during our visit to Universal Orlando's Halloween Horror Nights. 
Left Behind Ravioli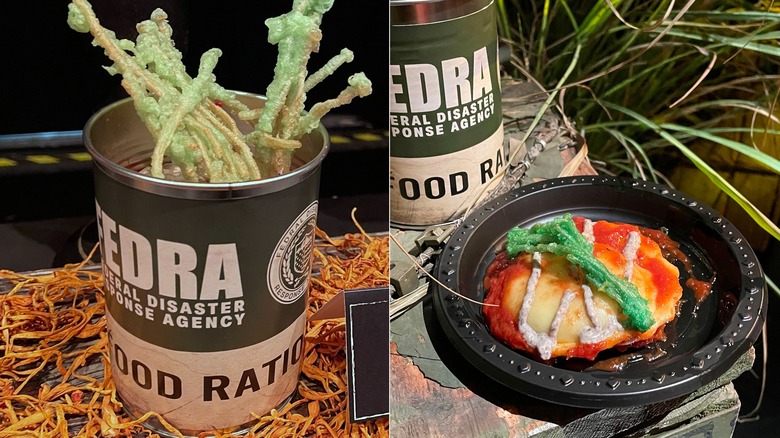 Jenny Kellerhals/Mashed
Of the 10 haunted houses designed to terrify and delight during Universal's Halloween Horror Nights, five are based on popular films, TV shows, and video games. This year, that includes "The Last of Us," which is one of 2023's most-watched TV shows, bringing the original video game it's based on to a much wider audience. Even if you haven't seen the show or played the game, you're probably aware that the post-apocalyptic plot centers around a widespread fungal infection, turning humans into zombie-like hosts — many eventually becoming grossly disfigured by the fungus splitting open their skulls and covering their bodies. Appetizing, right?
Universal didn't miss the opportunity to capitalize on the popularity of "The Last of Us" with several mushroom-themed foods that are equal parts appealing and creepy. The first we tasted was the Left Behind Ravioli, which is cleverly served in a FEDRA food ration can — like a can of post-apocalyptic fungus-infected military-issued Chef Boyardee. It's just cheese ravioli in marinara sauce with a squeeze of truffle sauce on top for a whiff of mushroom with each bite. Long, thin, and mildly flavored enoki mushrooms are also dipped in an unnaturally green tempura batter and fried until crisp. They double as a garnish and snack, bursting out the top of the food ration can and giving the impression that your cheese ravioli might be contaminated. The Left Behind Ravioli is served hot, easy to like, vegetarian, and available at a pop-up stand on Sting Alley for $9.99.
FEDRA Ration Bar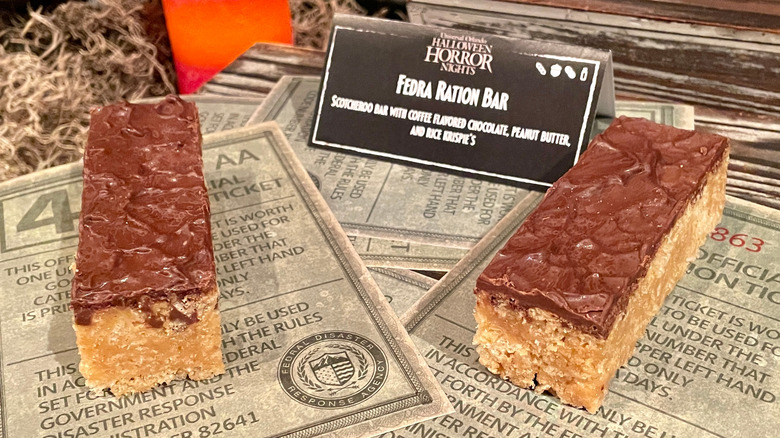 Jenny Kellerhals/Mashed
In "The Last of Us," FEDRA stands for "Federal Disaster Response Agency," which was originally a government agency created to deal with the fungus-based pandemic and eventually takes over the government entirely. FEDRA Ration Bars are available at the same pop-up stand as the Left Behind Ravioli on Sting Alley for $5.49 each. Standing in the long line to get a bite to eat feels a bit unsettling, like you might actually be standing in line for rations, with smoke machines wafting fog through the darkened Universal streets and screams pumping through the park's sound system.
For those who aren't really into mushrooms but want to experience one of the offerings related to "The Last of Us," the FEDRA Ration Bar is probably the way to go. The bar is actually just a scotcheroo – aka, a Rice Krispy treat made with peanut butter instead of marshmallows — finished with a chocolate and butterscotch topping. It's the type of thing we'd definitely take on a hike or camping for a quick hit of protein and carbs to keep us going.
Depending on how long the line is for this particular pop-up, we don't think you need to make a special stop just for this snack. But if you're picking up a Left Behind Ravioli or Lakeside "Meat" Stew, definitely grab a FEDRA Ration Bar for when the munchies inevitably strike while you're waiting in line to get into a haunted house later on.
Cordyceps Corndog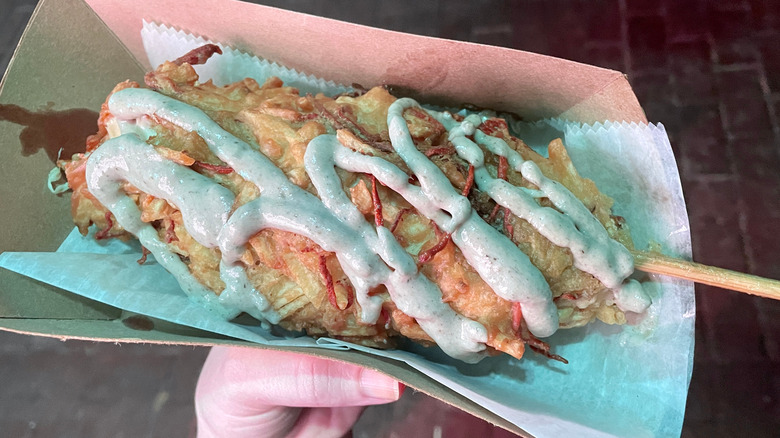 Jenny Kellerhals/Mashed
Technically, Universal's haunted house for "The Last of Us" is based on the video game version of the story — the game's co-creator Neil Druckmann was in attendance on opening night for the house's unveiling. The haunted house is packed with details that gamers will recognize, but you don't need to have played the game to enjoy it ... or be scared senseless when a mushroom-faced clicker jumps out in front of you.
The fungus that infects humans in the game — the Cordyceps "zombie-ant" fungus — actually exists. Even though the real Cordyceps fungus can't infect humans (yet), this is part of what makes the gruesome zombie-style story so unsettling. Regardless, biting into a Cordyceps Corndog feels a little risky. You'll find the bloated snack in a FEDRA-branded shipping container serving hot food in the Gramercy Park section of Universal Studios for $11.49.
The corn dog is made with a stretchy cheese center, dipped in batter, and deep fried with crispy potato sticks and strands of actual Cordyceps fungus on the outside. It's got the same kind of truffle cream sauce that's used on the Left Behind Ravioli for an extra hit of flavor, and daikon radish sprouts as a garnish. (We should mention that our sample didn't include the sprouts.) If you're especially nervous about it, know that the fried Cordyceps don't really have a distinguished flavor once the whole thing comes out of the fryer, but the mental gymnastics required to eat them are real enough.
Electric Death and other liquid courage options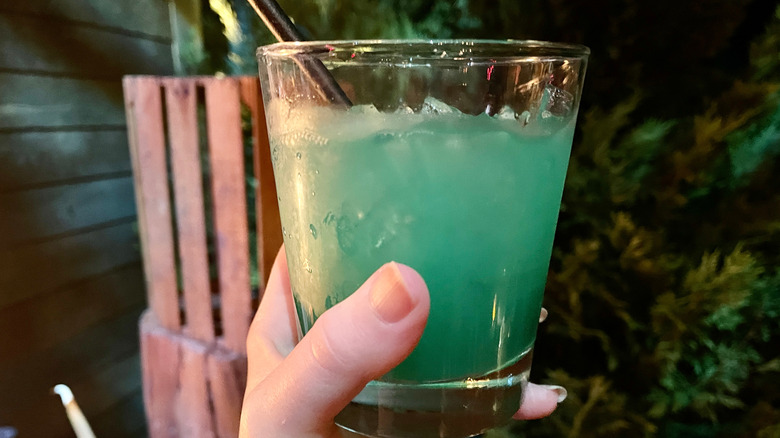 Jenny Kellerhals/Mashed
Whether you're in need of a little liquid courage or feeling ready to rage, a collection of spooky-themed mixed drinks was created for the 21+ crowd and is available at several locations around the park during Halloween Horror Nights. We sipped on the Electric Death cocktail, made with gin, Blue Curaçao, lime and pineapple juices, vanilla bean, simple syrup, and Dale Degroff's pimento bitters — and it's about as fruity and tropical as you might imagine.
Some of the other signature cocktails to be on the lookout for include the Surfer Boy Tropical Dream Punch, based on the "Stranger Things"-inspired pizza chain, and made with Cruzan Rum, orange, pineapple, lime, passion fruit, and grapefruit juice. There's also the Salt Lake City Iced Coffee made with coffee, espresso liqueur, light rum, vanilla bean, smoked sea salt, and smoked bitters, available at the same pop-up that sells the Left Behind Ravioli and FEDRA Ration Bars. (Note that the cocktails are pre-mixed, which means a decaffeinated drink or cocktail mixed without coffee isn't available.)
At the "Chucky"-themed food pop-up, you'll find the Heart of Damballa cocktail, mixed together with vodka, guava and lime juices, simple syrup, cucumber and mint syrup, sea salt flakes, edible glitter, and an inexplicable glow cube. It's about as exciting and confusing as the Chucky Ultimate Kill Count haunted house it's based on.
Yuri's Favorite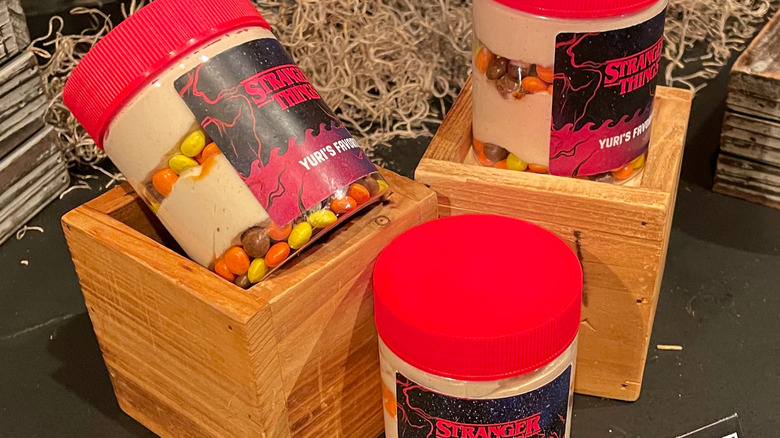 Jenny Kellerhals/Mashed
Yuri may have only been introduced in the most recent season of "Stranger Things," but the Russian peanut butter smuggler quickly became a fan favorite, adored for his erratic peculiarities, misplaced priorities, and love of crunchy Jif peanut butter. It's hard not to grab a serving of Yuri's Favorite — essentially a cake in a jar — in his honor.
From the outside of the container, you can see layers of whipped peanut butter frosting and Reese's Pieces candies, which was enough to convince us to pick up a jar and dig in. But once you start eating, you find a secret core of chocolate cake cleverly nestled into the center, as if it is illicit goods being smuggled out of the country along with the peanut butter. The cake in a jar is pretty sweet, so we were happy that it came packaged in a plastic jar with a screw-top lid to eat over the course of the night. The jar itself is both cute and useful for stashing in your bag as you make your way through the "Stranger Things 4"-themed haunted house. It costs $5.99 and can be found at the Surfer Boy Pizza pop-up.
Dr. Oddfellow's CarnEVIL Dog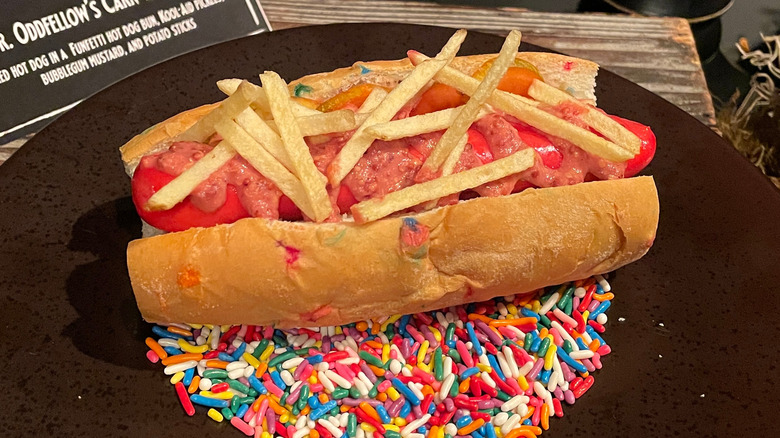 Jenny Kellerhals/Mashed
As we mentioned, five of the haunted houses at Universal Orlando are based on familiar movies, shows, and games, while the other five houses are original concepts created by Universal Studios specifically for Halloween Horror Nights. One of Universal's original concept houses is dedicated to Dr. Oddfellow, whose terrifying carnival-themed story has developed over the past 32 years of Halloween Horror Nights. His background story is a fun rabbit hole to fall into, but even if you're experiencing his particular house of horrors for the first time, there's plenty to be entertained by.
Keeping with the carnival of horrors theme, a Dr. Oddfellow's pop-up food truck located in the Gramercy Park area is selling a Carn"EVIL" hot dog for $10.49 and it's truly a sight to behold. The dog itself is bright red and sits in a sprinkle-speckled confetti hot dog bun. Red pickles that have been soaked in Kool-Aid garnish the dog, as does a strangely colored bubblegum mustard and crunchy potato sticks. While the Kool-Aid pickles are much sweeter than your average pickle, the red hot dog is only colored, not flavored. The sprinkles are vaguely noticeable in the bun, and we like the addition of crunchy potato sticks to the hot dog. The only part we could do without is the bubblegum mustard, which seems to land as peculiar for those who actually like mustard, and absolutely vile for those who don't like mustard to begin with.
African Lentil & Potato Sambusa Coffin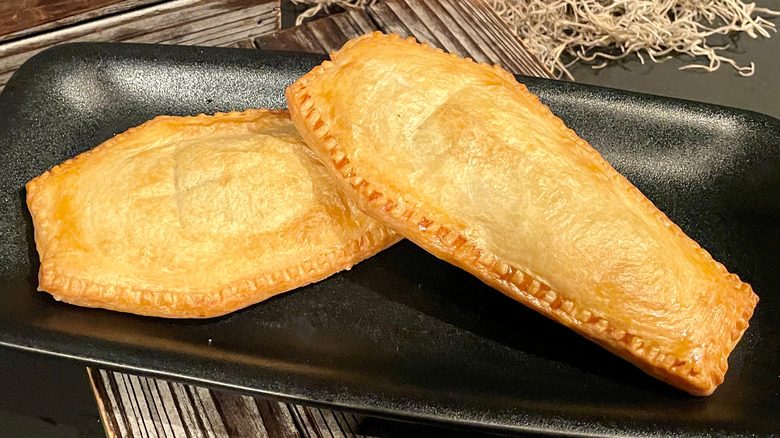 Jenny Kellerhals/Mashed
Across from Jimmy Fallon's Race Through New York ride sits a festival booth, 57 Scare, that isn't really themed after any of this year's haunted houses specifically but has several seasonally themed snacks available. We're only guessing but, based on the NYC-subway-style logos, the "57" could either be a callback to Bruce Springsteen's depressing "Incident on 57th Street" song or be a reference to 57 West 57th Street — the real and reportedly cursed and haunted penthouse at that address, just off of Columbus Circle in Manhattan.
Here, you'll find the African Lentil & Potato Sambusa Coffin, which is just as hearty in texture as you'd expect a savory meat pie to be, plus it's stuffed with potatoes and appealingly seasoned. The coffin-shaped pastry is a tad sacrilegious, which makes it a handy warm-up for the very sacrilegious new haunted house based on "The Exorcist." (In these instances, we mean "sacrilegious" in a good way.) The snack is perfectly filling, easy to carry around while dodging undead hippies in the nearby Vamp '69: Summer of Blood scare zone, and surprisingly vegan. In hindsight, we're grateful that it's vegan — this way, it's slightly less creepy to chomp down on the hand-sized coffin without having to question what kind of meat we're enjoying in the process.
Graveyard Mini Cake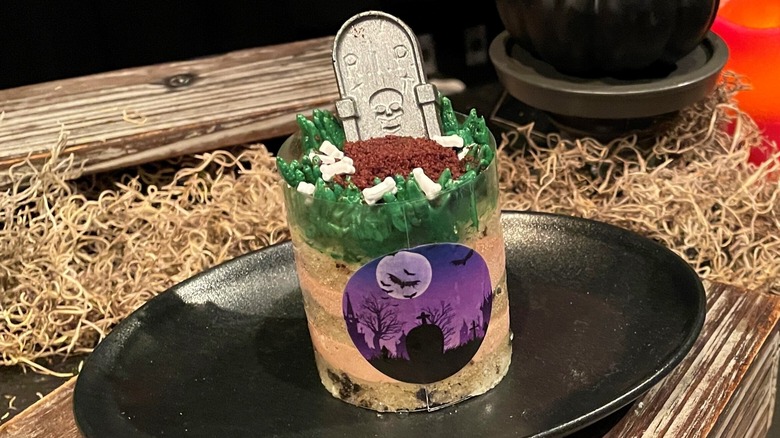 Jenny Kellerhals/Mashed
Halloween Horror Nights' haunted houses are all open after hours in the original Universal Studios Park, one of three theme parks that make up all of Universal Orlando. But it's easy to access all of the parks from a central hub, and even move from Universal Studios to the Islands of Adventure Park via the Hogwarts Express ride during regular operating hours. If you find yourself in Islands of Adventure before heading over to Universal Studios, or just want to enjoy some spooky treats without the full and intense Halloween Horror Nights experience, you can find several dessert options in dining locations scattered throughout the parks.
Sticking with the graveyard theme, one of the cutest treats we came across is the Graveyard Mini Cake, which has layers of cake studded with Oreo cookie pieces stacked alongside layers of double chocolate cream cheese frosting. Now, we'd like to point out that all of that sounds more chocolatey than it actually tastes. Aside from the Oreo pieces, the cake itself is vanilla, and one of the chocolates in the "double chocolate" cream cheese frosting must be white chocolate, because it comes across more like a salted caramel milk chocolate frosting than the dark chocolate we were anticipating. The tombstone on top is an edible chocolate plaque, which is a nice touch that makes it as Instagram-worthy as it is sweet. You can find this cake at the Croissant Moon bakery in Islands of Adventure for $5.49.
Mini Pumpkin Dulce de Leche Cream Puff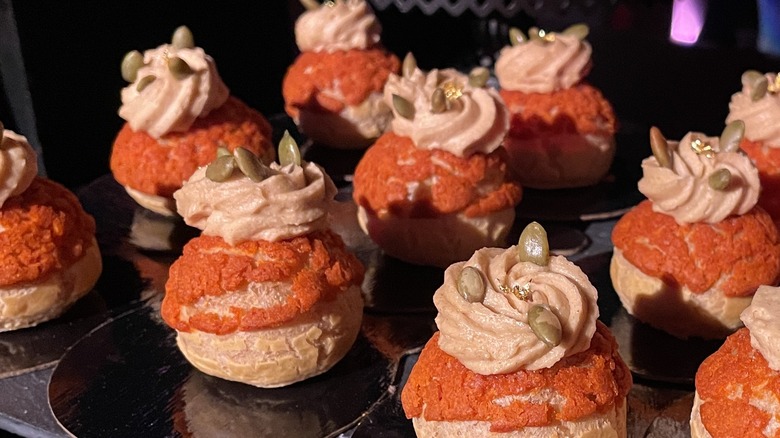 Jenny Kellerhals/Mashed
We appreciated all of the thoughtfully themed food options we managed to eat and drink in one night while running in and out of haunted houses during our visit to Universal, but our favorite treat is possibly the least scary thing available. The Mini Pumpkin Dulce de Leche Cream Puff is just the right size treat for a quick pick-me-up, without having to worry about carrying it around with you through crowds of people and plumes of chemical fog. It's an adorable little orange-colored cream puff, stuffed with pumpkin dulce de leche cream, and topped with a little swirl of smooth whipped ganache. The pumpkin seeds and flecks of gold leaf are just extra enough to make the $6.99 price tag worth every penny.
The cream puff can be found at the Today Café in Universal Studios, which stays open for service during Halloween Horror Nights. Because the cafe has a good selection of regular food options and places to sit down in the air conditioning, you can expect the lines to be longer than at the after-hours pop-up booths, but potentially worth the wait if you need a break. If you happen to be in the park during the day before Halloween Horror Nights start, you might even be able to grab one of these gorgeous little treats without ever having to dodge a zombie.