25 Of The Richest Celebrity Chefs In The World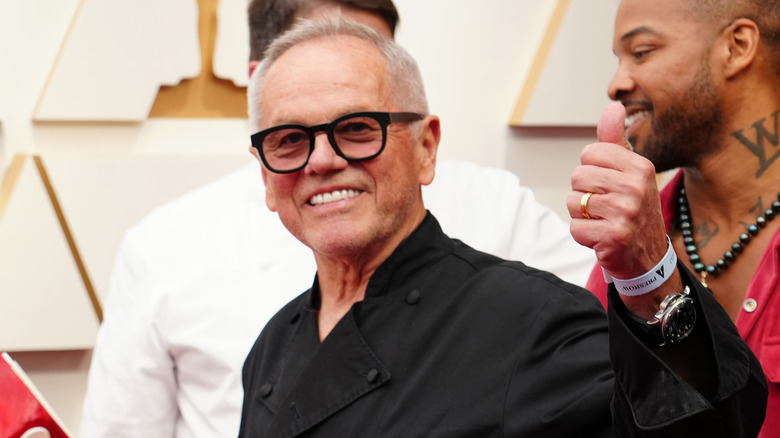 Jeff Kravitz/Getty Images
Choosing a career in the food industry isn't typically associated with making a huge amount of money; the average salary of a chef in the United States is around $44,000 to $60,000. With that said, a few special individuals often break the mold and become incredibly wealthy in their cooking careers, whether it's by opening some of the most successful restaurants in the world, becoming TV stars, creating businesses with signature products, writing successful books, and more.
Most of the people you'll find on this list have become household names in one way or another. You might find their signature cookware in your house or use their cookbooks to make your favorite recipes. But who exactly are the richest celebrity chefs in the world, and how did they manage to create their wealth? We've put together a list of 25 of the richest celebrity chefs in the world, outlining their journeys toward building their food dynasties. 
1. Eric Ripert ($20 Million)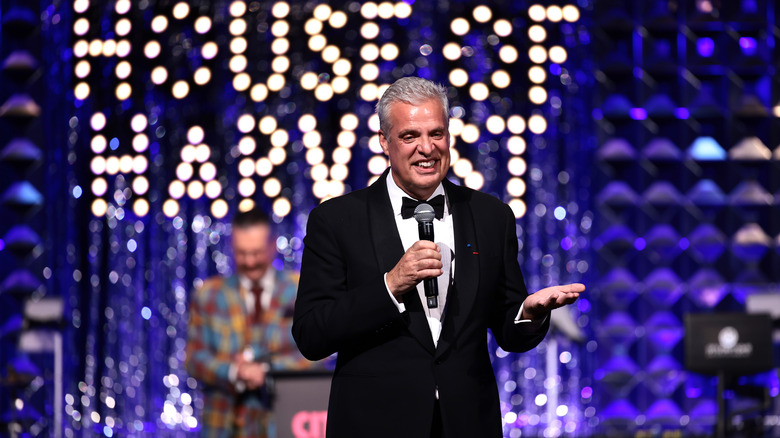 Dimitrios Kambouris/Getty Images
Eric Ripert is a chef, author, and television personality best known for his critically acclaimed NYC restaurant, Le Bernardin. Born in France, Ripert began studying at a culinary school as a teenager. He trained at the critically acclaimed Michelin three-starred restaurant, Jamin, before moving to the United States to become the sous chef for Jean Louis. Eventually, he was brought on at Le Bernardin, where Ripert would build his reputation as one of the top chefs in the world. He has collected a multitude of awards and was named by the James Beard Foundation as Outstanding Chef in the United States and Top Chef in New York City.
Ripert soon found his way to television and was given his first TV show, "Avec Eric" on PBS, winning him a few Daytime Emmys along the way. He has also appeared on several other well-known shows, such as "Top Chef," "Anthony Bourdain: No Reservations," "Anthony Bourdain: Parts Unknown," and more. Along with several successful cookbooks, it's safe to say Ripert has become one of the most notable and successful chefs in the world, with a $20 million net worth to prove it. 
2. David Chang ($20 Million)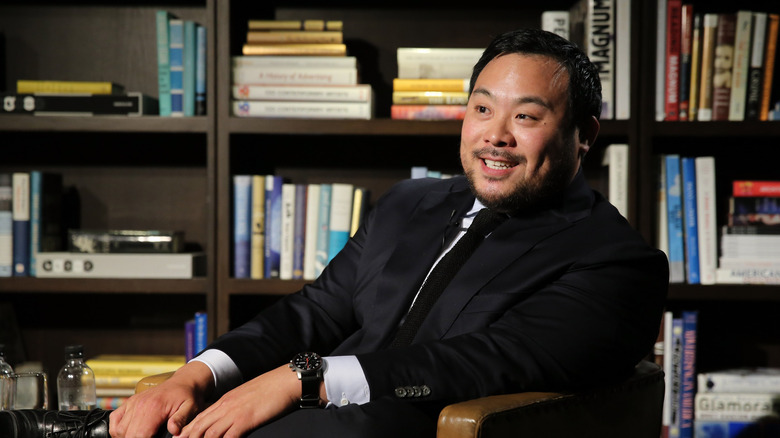 Neilson Barnard/Getty Images
Most known for founding the critically acclaimed Momofuku restaurants, Korean-American David Chang has made waves in the culinary community on just about every platform out there, including television, books, and podcasts. Early in life, Chang enrolled at the French Culinary Institute and eventually went on to work in several notable restaurants in Manhattan, before moving to Japan to learn how to make noodles from masters of the craft. After returning to the United States, he eventually took the plunge and opened a restaurant in the East Village — the iconic Momofuku Noodle Bar. 
After years of hard work, Chang's restaurant was a success and led to several others in the Momofuku restaurant group, including Momofuku Ssäm Bar, Má Pêche, Milk Bar, and Momofuku Ko. Along the way, David racked up several accolades, such as Best New Chef by Food & Wine, Man of the Year by GQ, six James Beard Awards, and two Michelin stars. Chang's boisterous personality led to successful television series on Netflix and PBS, leading him to become one of the most recognizable chefs in America, with a net worth of $20 million.
3. Alice Waters ($20 Million)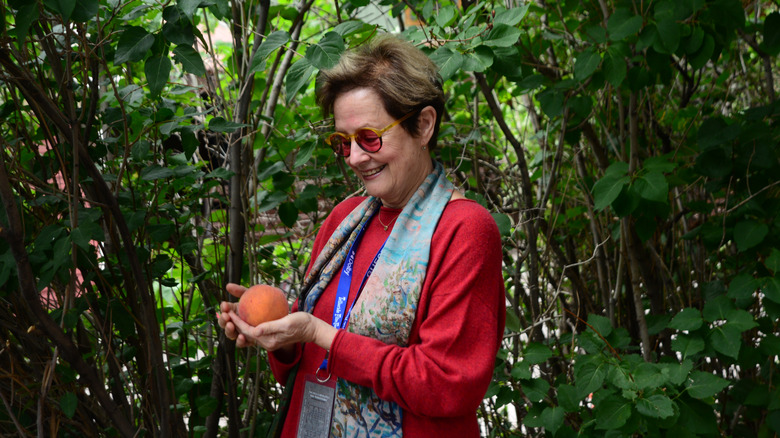 Paul Best/Getty Images
Alice Waters is an award-winning chef, activist, and author best known for her Berkeley restaurant Chez Panisse and her passion for fresh and seasonal slow food. Her interest in food first developed while she was studying abroad in Paris. She later returned to California with her newfound knowledge to open her iconic restaurant, Chez Panisse. Here, she practiced an innovative system of changing the menu every day based on the freshest seasonal produce available at local markets. She eventually became the first woman to win the prized Best Chef in America award by the James Beard Foundation. Waters helped popularize farm-to-table dining nationally and worldwide.   
Besides her award-winning restaurants and cookbooks, Waters made huge contributions to society, like founding the Edible Schoolyard Project, which allowed students to tend to an organic garden and create a kitchen classroom on their campus. She even persuaded President Bill Clinton to create an organic vegetable garden at the White House. She later became the vice president of Slow Food International, which helps preserve food traditions around the world. Her incredible life's work has been honored in her home country, as well as in France, where she was inducted into France's Legion of Honor in 2010. Today, her net worth is around $20 million.
4. Thomas Keller ($20 Million)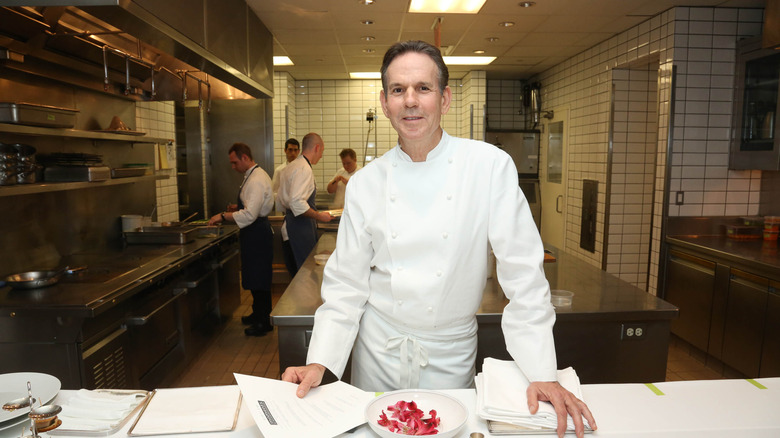 Rob Kim/Getty Images
Some of the most famous restaurants synonymous with fine dining in the country were created by Thomas Keller, so it's no surprise to find him on this list. Keller began cooking at an early age and mastered the art of French cuisine while training under other exceptional chefs. Through trial and failure, Keller opened and closed several restaurants and crossed the sea to France to continue to hone his culinary expertise. 
After returning to the United States and bouncing from restaurant to restaurant, Keller finally happened upon The French Laundry in Napa Valley. It was the perfect location for Keller to showcase his cooking skills. Although he could barely afford it at the time, he finally found a way to acquire the business, and the rest is history. By 1996, he was awarded "Best Chef in America" by the James Beard Foundation, and The New York Times called The French Laundry "the most exciting place to eat in the United States." 
Following his success in Napa, new restaurants (such as Per Se and Bouchon Bakery & Café), cookbooks (The French Laundry Cookbook), and accolades (America's Best Chef by TIME magazine) followed. By 2006, Keller had collected a total of seven Michelin stars in a single year. Today, his culinary empire continues to grow, placing his net worth around $20 million.
5. Sandra Lee ($25 Million)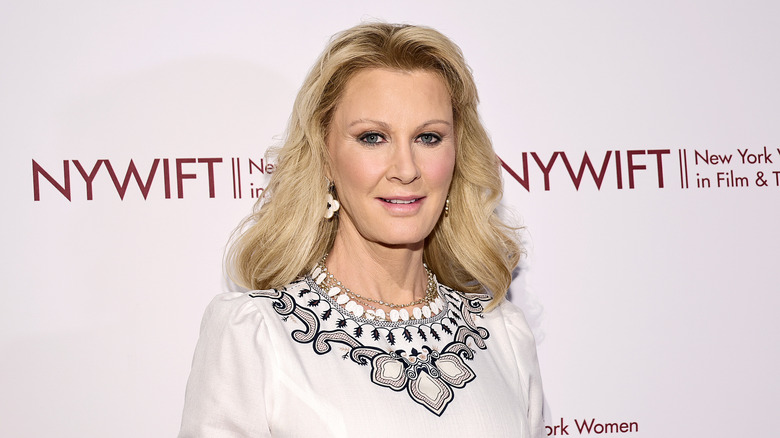 Jamie Mccarthy/Getty Images
Sandra Lee is an entrepreneur, author, and Food Network star, most known for her show "Semi-Homemade," where she creates meals that combine fresh ingredients with pre-made, store-bought items. However, Lee's career goes much deeper than her appearances on television. 
She began her career by creating Kurtain Kraft, a home decorating tool used to create drapes. Through the use of home improvement videos and infomercials, Lee made nearly $6 million in sales by the time she was 27. Soon enough, she was discovered by the Food Network and was given the show that would launch her to fame, eventually winning a Daytime Emmy for Outstanding Lifestyle/Culinary Host. The premise behind "Semi-Homemade" led to several bestselling cookbooks and her own magazine. 
In 2015, Lee publically documented her battle with early-stage cancer in an HBO documentary, for which she also won a Daytime Emmy. Lee's inspiring journey led not only to commercial success and a net worth estimated at $25 million, but also to helping countless people through her charitable contributions and transparency in her struggles.
6. Mario Batali ($25 Million)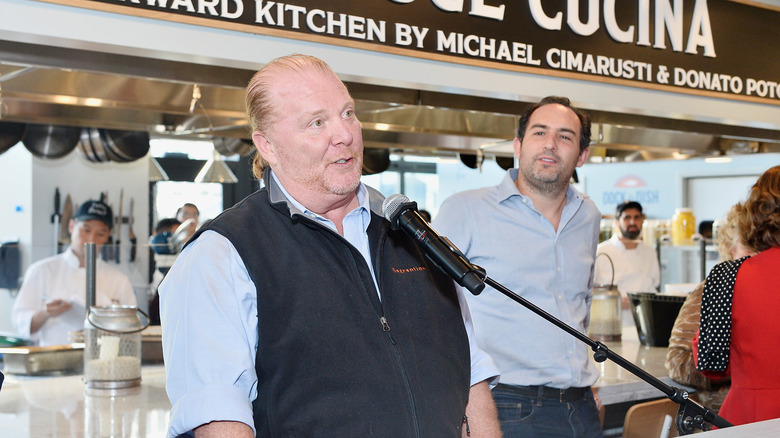 Stefanie Keenan/Getty Images
"Molto Mario," otherwise known as Mario Batali, is an American chef who has created an impressive culinary empire. Like many others on this list, Batali started his culinary journey at Le Cordon Bleu but soon dropped out in order to work under the famed chef Marco Pierre White. Batali worked through an impressive list of restaurants, including La Volta in Italy, where he learned the intricacies of Italian cooking.
In 1993, Batali finally opened an Italian restaurant named Pó in New York City. Five years later, he opened Babbo Ristorante e Enoteca, which the James Beard Foundation named "The Best New Restaurant." Although those ventures were enormously successful, they were only the tip of the iceberg. Batali went on to open more than 10 other restaurants across the country. 
Meanwhile, he was also building a television empire on Food Network, hosting and starring in several shows, including "Molto Mario," "Mario Eats Italy," and "Iron Chef." However, after Batali was accused of sexual misconduct by staff members and other women in the industry, he was removed from several television deals and closed a few of his restaurants. Nevertheless, his current net worth is around $25 million.
7. Curtis Stone ($25 Million)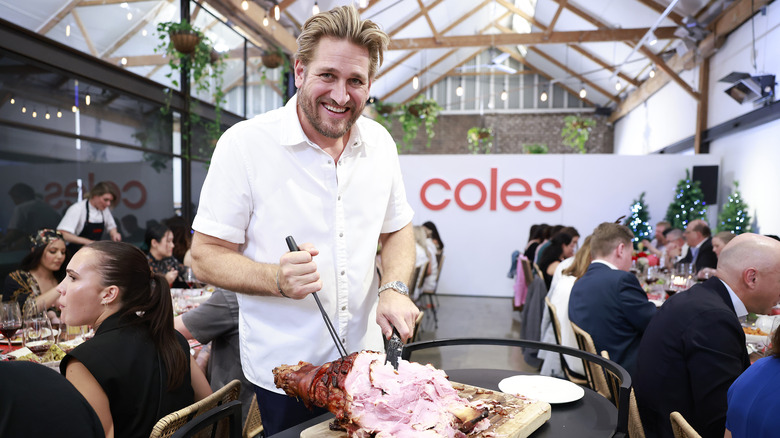 Hanna Lassen/Getty Images
If you're looking for one of the most successful and famous Australian chefs in the world, look no further than Curtis Stone. Stone's culinary journey began in his hometown of Melbourne where he cooked at the Savoy Hotel's five-star restaurant. He later moved to Europe to receive culinary training from Marco Pierre White before going to Los Angeles to open his own restaurant, Maude. The restaurant was a huge success, which led to several others, including Gwen Butcher Shop & Restaurant, Georgie, and The Pie Room by Gwen. 
Although Stone was largely successful in the restaurant game, it was his appearances on TV that brought him the most fame. He was on several shows, including "Iron Chef America," "Top Chef Masters," "The Biggest Loser," and "Around the World in 80 Plates." It didn't hurt his popularity to be named one of People Magazine's "Sexiest Chefs Alive," either.  He also tapped into his entrepreneurial side by starting Kitchen Solutions, a business selling his own line of kitchenware. He authored several cookbooks along the way, all of which contributed to his net worth of around $25 million. 
8. Rick Bayless ($30 Million)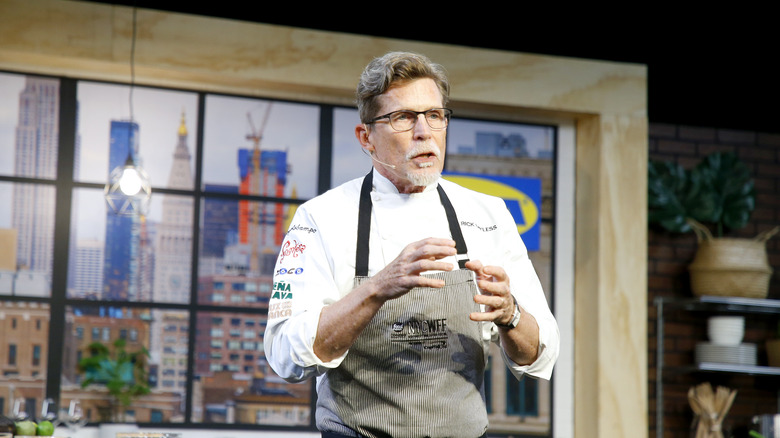 John Lamparski/Getty Images
Rick Bayless is a successful chef who has contributed more to Mexican-American cuisine than most. Although Bayless was raised in a family of food-passionate restaurateurs, he took a different route when he got to college, studying Spanish language and Latin American culture at the University of Oklahoma. This eventually helped him understand Mexico's regional cooking on a deeper level when traveling through the country with his wife.
This one-of-a-kind experience led the couple to write "Authentic Mexican: Regional Cooking from the Heart of Mexico," which was called the "greatest contribution to the Mexican table imaginable" by The New York Times critic Craig Claiborne (via PBS). He later opened a highly acclaimed restaurant called Frontera Grill, which helped Bayless secure his position as one of the best chefs in the country, winning several awards along the way, like the James Beard Foundation's highest honor: Outstanding Restaurant.
He also gave birth to a successful television career on shows like "Mexico — One Plate at a Time," earning several Daytime Emmy nominations for Best Culinary Host in the process. Along with Frontera Grill, Rick has opened several other restaurants, including Toplobampo, Xoco, Bar Sótano, Tortas Frontera, and Frontera Fresco. The Frontera brand also produces a popular line of products, including chips, salsas, and sauces. The highly decorated chef, restaurateur, and entrepreneur has left a huge impact on Mexican-American cuisine and gained a net worth of $30 million in the process.
9. Giada De Laurentiis ($30 Million)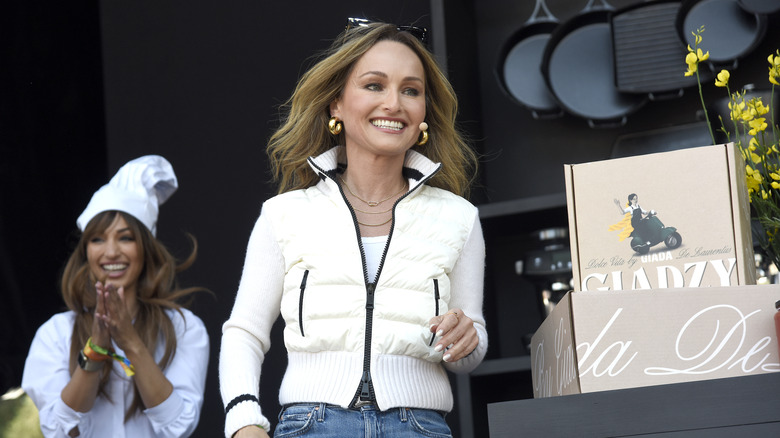 Tim Mosenfelder/Getty Images
If you've ever watched Food Network, you'll likely recognize Giada De Laurentiis — another celebrity chef who has hosted and starred in dozens of cooking and travel shows. The Italian-American chef has built a successful career not only in front of the camera but as a writer and entrepreneur as well, with a net worth estimated at $30 million. 
Born in Rome, Italy, Giada moved to Southern California with her family and graduated from UCLA with a degree in anthropology. However, her passion for food led her back to Europe to study at Le Cordon Bleu in Paris to become a pastry chef. After returning to California, De Laurentiis worked at notable restaurants, including Wolfgang Puck's Spago. Afterward, she built her own catering business and even worked as a food stylist. Following a piece she styled and wrote for Food & Wine magazine, she caught Food Network's attention and was offered her own television series, "Everyday Italian." 
Giada's natural talent in front of the camera and as a chef led her to become one of the most recognizable faces on the network. She also worked on several other shows, like "Giada's Weekend Getaways," "Giada at Home," "Giada in Paradise: Capri and Santorini," "The Next Food Network Star," and more. These shows led to a successful line of cookbooks, including "Giada's Family Dinners" and "Everyday Pasta," which became a #1 New York Times bestseller.
10. Marco Pierre White ($40 Million)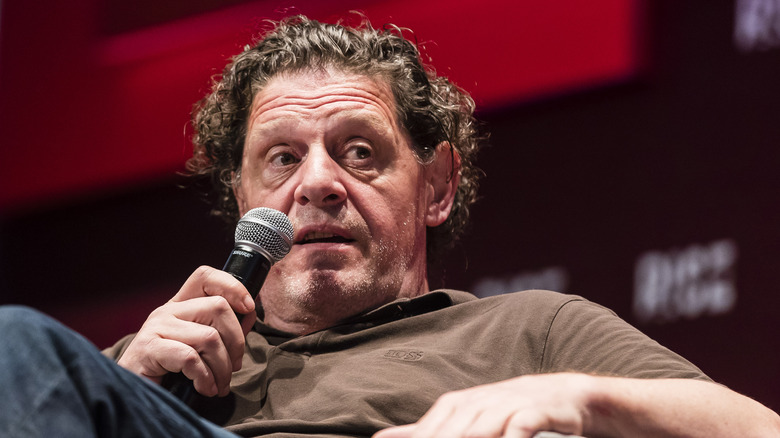 S3studio/Getty Images
Trivia question: Who was the youngest chef to be awarded three Michelin stars? Answer: Marco Pierre White at age 33 — and for the record, he was the youngest to win two at the time, too. It's no surprise that a chef of White's magnitude became one of the most successful of his kind in the industry.
His culinary journey began when he arrived in London at the age of 16 with nearly nothing to his name. Despite that, he worked his way up several critically acclaimed restaurants until finally opening Harveys. He won his first two Michelin stars within a year and earned his third at The Restaurant Marco Pierre White soon after. White is often credited with putting British cuisine back on the culinary map, as well as being one of the greatest chefs of his generation. 
Although medical issues forced him to retire from the kitchen, he continued his journey as a cookbook author and television personality on shows like "Hell's Kitchen" and "Masterchef Australia," helping him build a fortune of around $40 million. 
11. Levi Roots ($45 Million)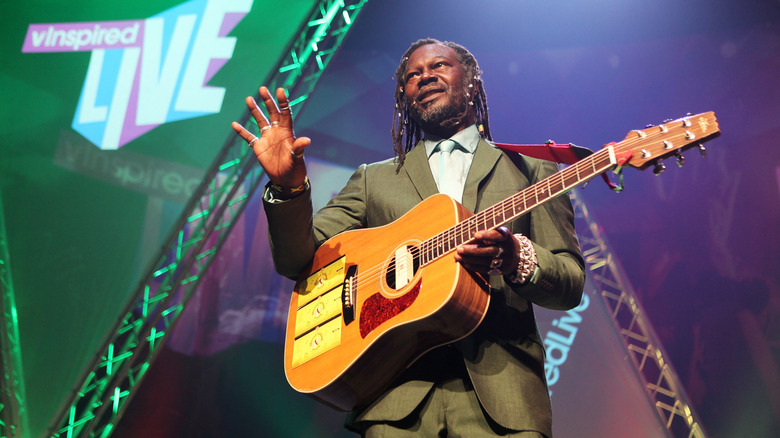 Dave M. Benett/Getty Images
You won't find many people who have conquered both the culinary and musical industries like Levi Roots. Through his music, television shows, and food products, Roots has amassed a net worth of around $45 million. Although he had a successful reggae career playing with famed artists like Maxi Priest and James Brown, it was food that brought Levi the most success. 
In the '90s, Roots developed his soon-to-be-famous Reggae Reggae Sauce (a type of jerk sauce) with the help of his children and sold it out of a backpack. He eventually opened the Rasta'raunt at the Notting Hill Carnival to serve his food, but it wasn't until nearly 16 years later that the sauce hit the mainstream public. It was discovered by a BBC representative and he was invited onto the television show "Dragons' Den" — a program where entrepreneurs invest in different business ideas. Roots' sauce was an absolute hit and gained the support of multiple Dragons, soon hitting the shelves, and becoming an overnight success. 
Roots went on to open a Caribbean-style restaurant, produce several cookbooks, and even release multiple albums. His brand continues to produce the jerk sauce, as well as several other Caribbean snacks, drinks, desserts, and pre-made meals. On top of his work in the musical and culinary worlds, Roots makes regular appearances on television, hosting his own show as well as appearing in others like "Celebrity Mastermind." 
12. Vikram Vij ($50 Million)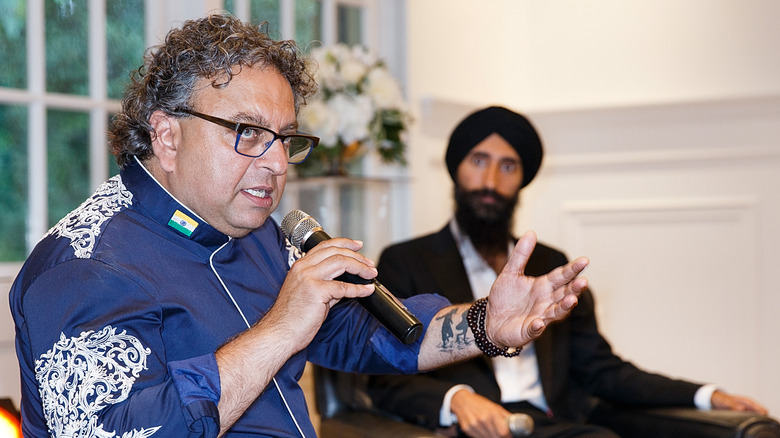 Andrew Chin/Getty Images
India-born Vikram Vij is a celebrity chef who built an empire through cookbooks, restaurants, and television shows. Although he originally had dreams of being a Bollywood actor, becoming one of the richest chefs on the planet isn't bad, either (his net worth is estimated at $50 million). 
After leaving his home country at the age of 20, Vij studied in Austria before finding his way to Canada and eventually opening his first restaurant, Vij's. Inspired by Gandhi's philosophies, Vij never took any reservations, leading to huge lines outside every night. When reviewed by The New York Times, esteemed critic Mark Bittman said the establishment was "easily among the finest Indian restaurants in the world." 
Vij's success led to two other restaurants, Rangoli and My Shanti by Vikram Vij, as well as a gourmet food truck serving his signature dishes in Vancouver. He also opened a frozen food production facility and created a wildly successful line of prepackaged curries. Top that off with two best-selling cookbooks, and you have one of the most successful chefs in the world.  
13. Ree Drummond ($50 Million)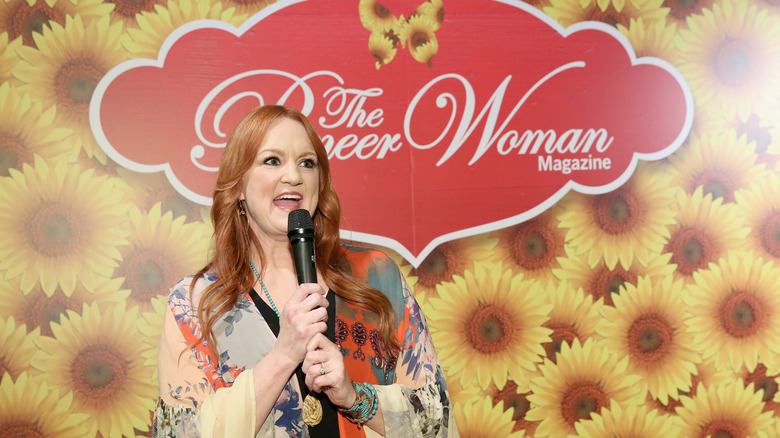 Monica Schipper/Getty Images
Ree Drummond, also known by her Food Network alias "The Pioneer Woman," began her decades-long career in the food space with a humble blog. Back in 2006, she created a website where she posted articles about subjects like her life at the ranch and homeschooling. But it wasn't until she started posting about the food she made that she started to attract serious attention. Drummond's accessible recipes helped her quickly gain popularity and even "Blog of the Year" awards. 
A couple of years later, she began a groundbreaking new cooking website that allowed people to upload their own recipes and interact within a community, much like a food social network platform. Following her blogging success, Drummond wrote several best-selling books, including memoirs like "From Black Heels to Tractor Wheels," cookbooks like "The Pioneer Woman Cooks: Recipes from an Accidental Country Girl," and even children's books like "Charlie the Ranch Dog." 
Her popularity eventually led to her first television appearance on "Throwdown! with Bobby Flay," where the two dueled over a Thanksgiving meal (which she ended up winning). Just a year later, Drummond got her own show on The Food Network: "The Pioneer Woman," setting her up as one of the icons of simple, family-friendly meals. She also has several other business ventures, such as a bed and breakfast, pizza shop, and ice cream store, all maintaining her $50 million net worth. 
14. Julia Child ($50 Million)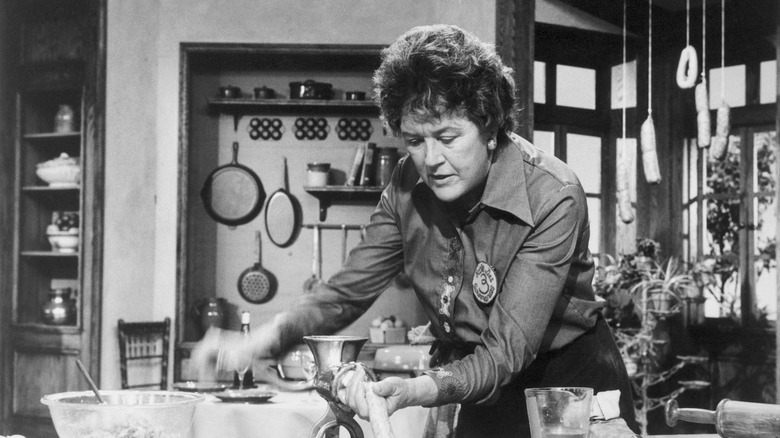 Bettmann/Getty Images
Julia Child, also known as your favorite chef's favorite chef, was a trailblazer throughout the last century in several regards. Most notably, she was one of the first women to have her own cooking show on television and is credited with introducing French cuisine to American audiences. She was also a best-selling author, together earning her a net worth of $50 million.  
Before her career as a cooking icon, Child worked as a copywriter in advertising. When World War II broke out, she attempted to join several branches of the military, but wasn't accepted because of her height — she was too tall. However, she contributed to the war effort by working as a typist for national security agencies in Washington D.C. Her work took her out of the country and she met her husband in India. The two eventually moved to Paris, where Julia found her calling and began studying at Le Cordon Bleu Culinary Institute. 
Child teamed up with two other women and published "Mastering the Art of French Cooking," a revolutionary book that taught the American public French cooking techniques in an accessible way. When she returned to the States, Child was offered her own cooking show by PBS. "The French Chef" ran for nearly a decade and turned Julia Child into a household name. The show led to several awards, additional television shows, and more cookbooks. Her passion for food inspired millions and changed the history of cooking in the United States. 
15. José Andrés ($50 Million)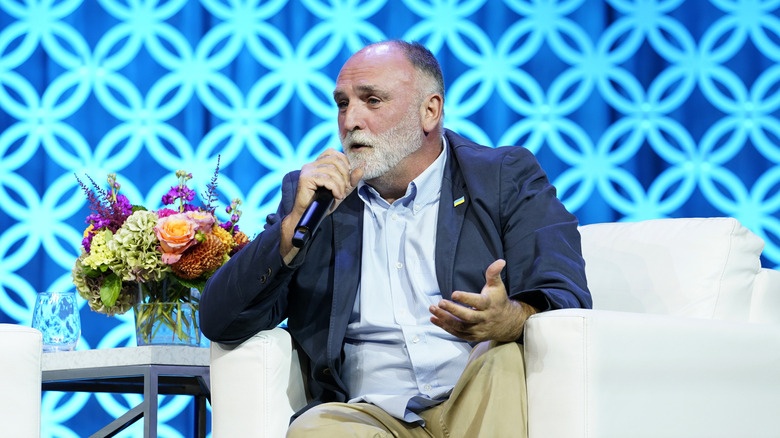 Marla Aufmuth/Getty Images
José Andrés is a Spanish chef who has made incredible contributions to the culinary industry, including opening innovative restaurants, trailblazing advances in molecular gastronomy, and creating the World Central Kitchen, an organization that feeds millions of those in need around the world. His success has led to a net worth of around $50 million.
Andrés was born in Spain in 1969 and began his culinary career interning at the critically acclaimed El Bulli Restaurant in Catalonia. After his time there, he immigrated to the United States, bringing his culinary prowess too. He soon opened one of the first successful tapas restaurants in the country — something Americans had little experience with before. Several restaurants followed, and so did the awards, including the James Beard Award for Best Chef in the Mid-Atlantic, Chef of the Year by Bon Appétit Magazine, and TIME Magazine's 100 Most Influential People in the World.
Andrés' business only expanded after creating ThinkFoodGroup, the company that handles all of his restaurants and businesses. Outside of the kitchen, Andrés has even created an academic impact by working as a guest lecturer on culinary physics at Harvard University. His influence on both the culinary world and humanity in general can't be understated.
16. Ina Garten ($60 Million)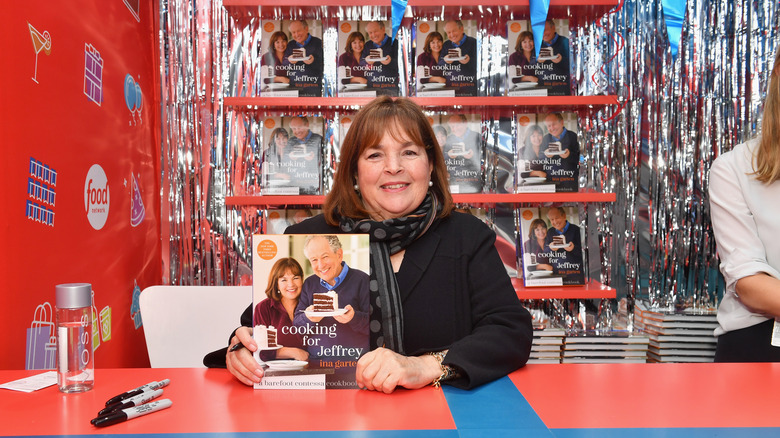 Noam Galai/Getty Images
Ina Garten might best be known for her popular Food Network show "Barefoot Contessa," but she has had an incredible journey to her success. Her first experience with food happened by chance when her husband, Jeffrey Garten, was serving in the military. She began to cook as a hobby to pass the time, but it wasn't until the couple went to Paris after the war that Ina really found her passion for cooking.
Later, the couple moved to Washington D.C. and Garten began a political career at the White House. She worked her way up the ladder and even worked on the nuclear energy budget for multiple presidents. But she decided to leave the stressful job when she saw an ad for a grocery store for sale — Barefoot Contessa. After a lot of hard work, the store became a success. Ina wrote a cookbook about her experience opening the specialty food store — even though she had never really trained as a chef. The cookbook was a huge hit, and she continued publishing new ones every two years. 
After Garten's massive success in the world of cookbooks, Food Network offered her a show, which she originally turned down several times. Eventually, she accepted, and it began a wildly successful career on TV hosting "Barefoot Contessa," which contributed to her estimated net worth of $60 million. 
17. Bobby Flay ($60 Million)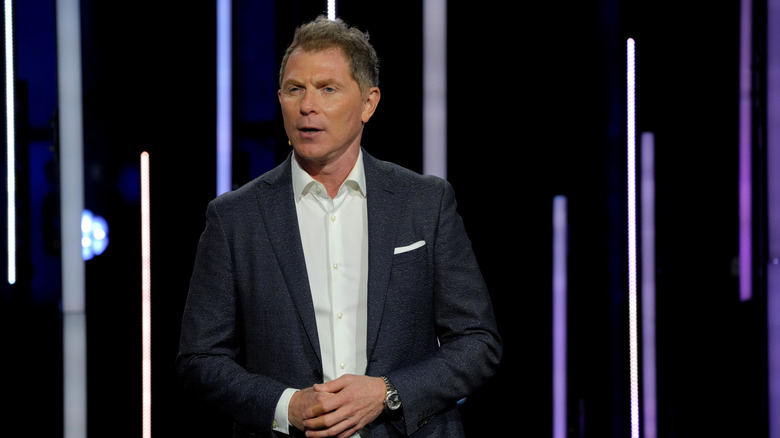 Kevin Mazur/Getty Images
Next up on our list of richest celebrity chefs is Bobby Flay, the culinary genius and (sometimes) polarizing TV personality from New York. Flay is one of the most recognizable faces in the culinary world due to his Food Network shows and successful restaurants, giving him an estimated net worth of around $60 million. 
He discovered his passion for cooking at the young age of 17 years old and attended the French Culinary Institute. By the time he was 20, he was already running a kitchen as an executive chef. At 25, he was handed the opportunity to open his own restaurant: the famed Mesa Grill in New York City. Since then, Flay has opened more than 20 restaurants in the United States, including Bolo, Bar Americain, Bobby Flay Steak, and Bobby's Burger Palace. 
Although Bobby is an incredibly talented chef and restaurateur, it was his dynamic personality that brought him into the spotlight with Food Network. He hosted more than 15 cooking shows, including hits like "Boy Meets Grill" and "Throwdown! With Bobby Flay." Flay has also released large product lines including kitchenware and cookbooks. No matter what your opinion of Bobby Flay is, you can't argue with the success of his culinary portfolio. 
18. Guy Fieri ($70 Million)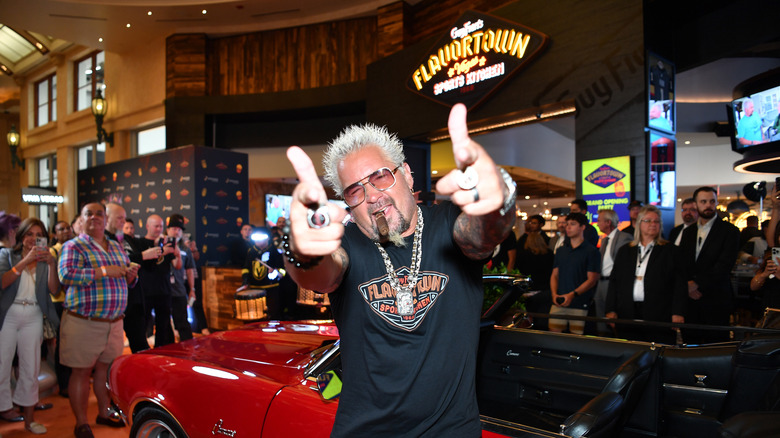 Denise Truscello/Getty Images
You may know the man who brought America to Flavortown, but you might not have known that he is also one of the richest celebrity chefs out there, with a net worth of close to $70 million. As an Emmy Award-winning TV host, and best-selling author, chef, and restaurateur, Guy Fieri has become one of the most prominent faces in the American food scene. 
Before Fieri was driving across the country finding the best diners, drive-ins, and dives America had to offer, he was selling pretzels from the back of a bicycle (aptly named The Awesome Pretzel cart). He turned that pretzel money into a study-abroad trip to France at the age of 16, learning more about the culinary arts along the way. After returning home, Guy Fieri got into the restaurant business and eventually opened his own establishment. Fieri's big break actually came from competing on the Food Network show, "Next Food Network Star." After winning the competition, the famed network gave him his own TV show, "Guy's Big Bite." The rest is history — Fieri went on to host more than 10 shows and has signed multiple contracts with the Food Network for tens of millions of dollars. 
Fieri's powerful on-screen presence led to several more business ventures, including restaurants, sauces, and food-related products; he even licensed his name to Disney theme parks and cruise ship lines. Flavortown has served Fieri well. 
19. Emeril Lagasse ($70 Million)
Alexander Tamargo/Getty Images
Bam! Few catchphrases are as simple yet recognizable as Emeril Lagasse's. Best known for his work as a television personality, Emeril has built a food empire worth around $70 million. His flashy cooking style and signature persona made him one of the most successful and recognizable celebrity chefs of all time. 
Lagasse first cut his teeth in the culinary industry working in a Portuguese bakery as a teenager. He decided to follow his passion for food, earning his culinary degree, and then traveling to France to learn French cooking from the best. After returning to the States, he worked at several high-end restaurants before finally opening his first restaurant, Emeril's Restaurant. Since then, his food empire has expanded to over 20 restaurants across the country. Along the way, he garnered several impressive accolades, like "Chef of the Year" by GQ Magazine and "Best New Restaurant" by Esquire magazine.
But what made him most recognizable was his powerful on-screen personality. He hosted more than 2,000 shows on Food Network and starred in several other successful ones, including "Top Chef," "On the Menu," and "Good Morning America." Combine that with his career as a best-selling author of nearly 20 cookbooks, and you have one of the most successful celebrity chefs out there. 
20. Rachael Ray ($100 Million)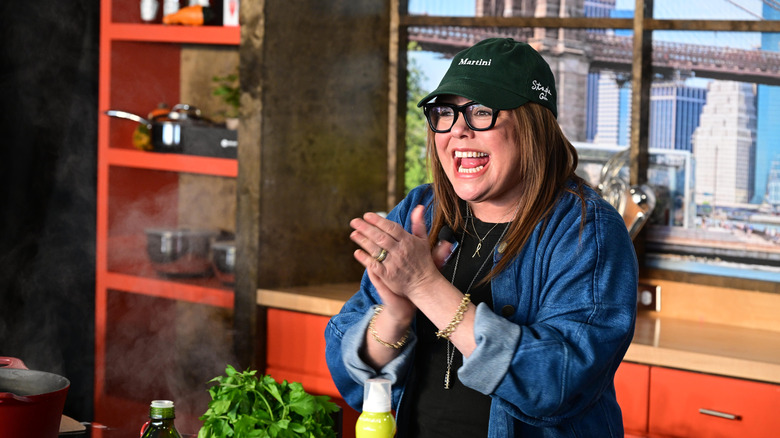 Dave Kotinsky/Getty Images
Rachael Ray has been one of the mainstay faces of Food Network television shows for decades, leading to several cookbooks, products, and a net worth of nearly $100 million. Although she has never undergone professional culinary training (and doesn't even like to call herself a chef), she's built an incredible career in the food industry. Her path to the top of the food chain is far from ordinary, though. 
Ever since her childhood, Ray was surrounded by a family that was passionate about food and owned several restaurants. She followed in her family's footsteps and worked several jobs in the industry, including as a food supervisor for a restaurant chain, a manager of pubs, and a food buyer for a large gourmet market. During her time at the market, she came up with the idea to host cooking classes to boost sales. Her class, "30-Minute Mediterranean Meals," was a huge hit, and she was eventually signed by her local CBS station to do her "30-Minute Meals" on the evening news. From there, Ray's TV career exploded. 
She hosted several shows on Food Network, such as "Inside Dish," "Tasty Travels," and "Rachael's Vacation." The television shows led to a number of bestselling cookbooks and even a magazine. She eventually hosted the widely successful talk show "Rachael Ray" which ran for 17 seasons. A simple cooking class led to Ray becoming one of the most successful faces in the food industry.
21. Wolfgang Puck ($120 Million)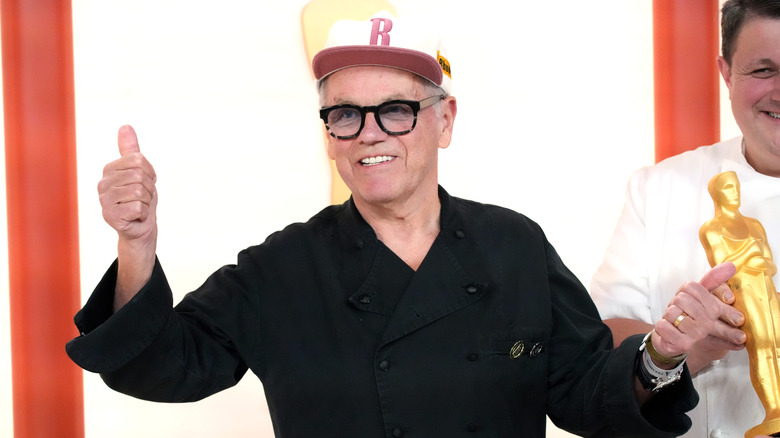 Jeff Kravitz/Getty Images
Although the well-known chef and restaurateur might be from Austria, California (and American) cuisine wouldn't be the same without Wolfgang Puck. His name has become synonymous with some of the best restaurants in the world. The chef has created a massive empire that spans restaurants, books, food products, catering, and much more, bringing him a net worth of close to $120 million. 
From an early age, Puck became passionate about food by cooking with his chef mother. As a teenager, he worked his way through several highly esteemed French restaurants. When he arrived in Los Angeles in 1975, both his food and outgoing personality were quickly noticed. He opened his first restaurant, Spago, and it soon became an icon on the Sunset Strip in West Hollywood. Here, several signature dishes were created, including the famous smoked salmon pizza. Puck continued to push the boundaries of fusion food, opened more restaurants, and raked in several accolades along the way, including the James Beard Foundation Award for Restaurant of the Year and the James Beard Foundation Award for Outstanding Chef of the Year.
Today, he has published seven different cookbooks, hosted several television shows, runs the Wolfgang Puck Companies, and continues to create food-related products through his businesses. 
22. Nobu Matsuhisa ($200 Million)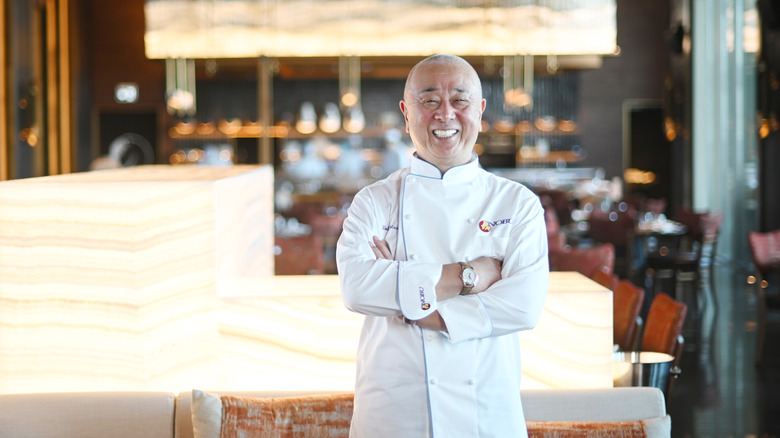 Samir Hussein/Getty Images
When you think of high-end, fine-dining sushi restaurants, one of the first places to come to mind is Nobu. Known for his innovative fusion of Japanese cuisine with South American flavors, Chef Nobu Matsuhisa built a sushi empire that stretches across the world, with new restaurants opening every year. 
Matsuhisa was born in the Saitama Prefecture in Japan and landed a job as a dishwasher at a sushi restaurant in Tokyo, where he trained under a sushi master. After seven years, he was invited to open a restaurant in Lima, Peru, by an investor who ate at his restaurant. He accepted and headed across the world. However, Matsuhisa couldn't source all of the Japanese ingredients he needed in the foreign land, so he improvised. Thus, Nobu's signature style of blending Japanese techniques and Peruvian ingredients was born. 
However, the chef's path to stardom and success wasn't easy, and his partnership in Lima eventually fell through. After a few moves, he agreed to open a new restaurant in Anchorage — but it burned down in an electrical fire after just the first couple of months. Eventually, he landed in Los Angeles and opened Matsuhisa in Beverly Hills. On one fateful night, superstar Robert De Niro dined at the restaurant and loved it so much that he convinced Matsuhisa to open a restaurant in New York. The first Nobu was an instant hit, leading to the chef's current net worth of $200 million. 
23. Jamie Oliver ($200 Million)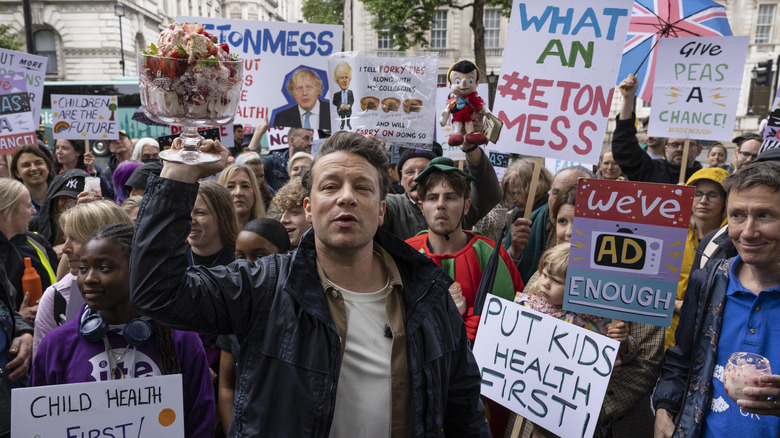 Dan Kitwood/Getty Images
If you've spent any time watching anything food-related on TV or the internet, you're likely familiar with Jamie Oliver. He has created a food empire that has brought in a net worth of over $200 million, thanks to a successful career as a restaurateur, television show host, cookbook author, and more. Since an early age, the Essex-born chef chased his passion for food and climbed his way up the food chain, working in several notable restaurants around France.
Although he became a highly successful chef, it was his media personality that thrust him into the national spotlight. After appearing in a documentary for a restaurant, TV networks began lining up to have Jamie host his own show, which ultimately led to the creation of "The Naked Chef." The show focuses on how the average person can simplify recipes with basic ingredients and techniques. After the show debuted in 1999, his first cookbook quickly became a bestseller in the United Kingdom. His career snowballed after that, resulting in several more shows and cookbooks. 
Jamie has also taken an active role in helping make healthier school cafeteria food and he even aired a show called "Jamie's School Dinners." This led to his "Feed Me Better" campaign, a movement to have healthier food served to students. Ultimately, the British government increased the budget spent on children's school meals.
24. Gordon Ramsay ($220 Million)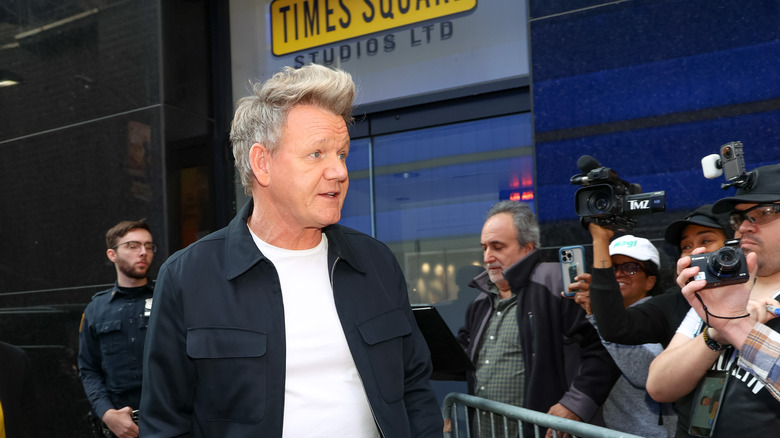 Jason Howard/Bauer-griffin/Getty Images
Of all the celebrity chefs out there, Gordon Ramsay might be the most recognizable. As a famous chef, (aggressive) television personality, food critic, restaurateur, and writer, Ramsay has amassed a net worth of around $220 million. You might know him as the guy who yells at his kitchen staff on TV, but Gordon Ramsay has been conquering the culinary industry since long before then. 
His early attraction to cooking led him to train with some of the world's most accomplished chefs, like Marco Pierre White and Guy Savoy. By 1993, Ramsay was the head chef of the famous Aubergine in London. Three years later, that restaurant was awarded two Michelin stars. Apparently, this wasn't enough — a few years after, Ramsay created his own restaurant (aptly named Restaurant Gordon Ramsay), which soon won three Michelin stars, a feat accomplished by less than 140 restaurants in the world. He continued to open several successful restaurants, in cities like Las Vegas, Singapore, Atlantic City, and Dubai.
Of course, the main reason why everyone knows Gordon Ramsay is through his time on screen. He's starred in critically acclaimed shows like "Masterchef," "Hell's Kitchen," "The F-Word," and several more. Combine that with several published books, a line of home and lifestyle products, and even a mobile game, and you get one of the most successful celebrity chefs in the world.
25. Kimbal Musk ($500 Million)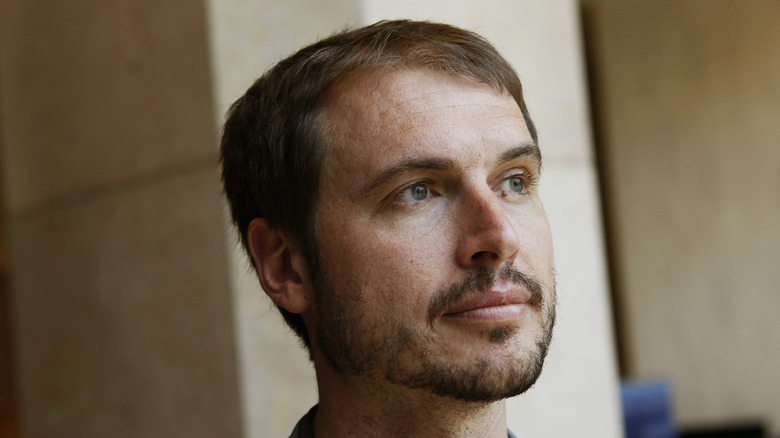 Bloomberg/Getty Images
Kimbal Musk is famous for quite a few things: being an incredibly successful entrepreneur, restaurateur, chef, and of course, being Elon Musk's brother (not to mention working for companies like Tesla and SpaceX). Early in life, the South African entrepreneur launched several businesses, including an online guide called Zip2 that he co-founded with his brother. The company became an important tool for newspapers like The New York Times and eventually sold for $307 million in 1999. Kimbal continued to invest in software and technology companies to grow his wealth.
He later attended the French Culinary Institute in New York City and eventually opened The Kitchen in Boulder, Colorado. The restaurant was a hit and was named one of "America's Top Restaurants" by notable food guides such as Zagat. Musk's culinary success didn't stop there. He went on to open Next Door American Eatery, which grew to as many as 10 locations before he stepped down from the ownership group in 2023. Altogether, Musk's restaurant success contributed to his net worth of around half a billion dollars. 
He also spent nearly a decade contributing to the Growe Foundation, a group that plants gardens in local schools in Boulder. Additionally, he established The Kitchen Community (later renamed Big Green), an organization that helps communities learn how to grow their own food through gardening. Musk has definitely left an impact throughout his culinary journey.