Cozy Apple Cider Beef Stew Is A Fruity Take On The Autumnal Soup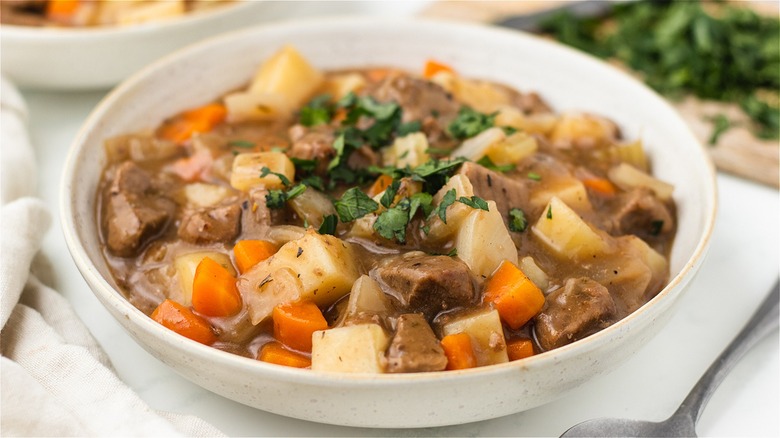 Catherine Brookes/Mashed
Fall — that time of the year when you can finally bust out the pumpkin spice, comforting stews, and apple cider. But what if we told you that you could put two of those things together and create something delicious you probably haven't tried before? No, we're not suggesting pumpkin spice soup; we're talking about apple cider beef stew. If that sounds enticing, our recipe developer Catherine Brookes thought so too, which is why she was kind enough to provide a recipe for apple cider beef stew that you could make tomorrow.
Traditional beef stew recipes like beef bourguignon often call for wine, which shares a couple of important traits with apple cider that make it a good ingredient in rich, meaty stews. First of all, apple cider — like wine — adds acidity to the dish, which helps to balance out the fattiness of the beef. As stew beef renders during the cooking process, much of its fat gets released from the meat into the soup. Without acid, the result is something that might feel uncomfortably fatty. And secondly, apple cider also adds sweetness. The level of sweetness will be higher than wine's, but the richness of the meat and beef broth can stand up to the sugar. Not to mention, the flavor of apples is just as evocative of the fall as the other root vegetables present in the dish.
Mistakes to avoid when cooking apple cider beef stew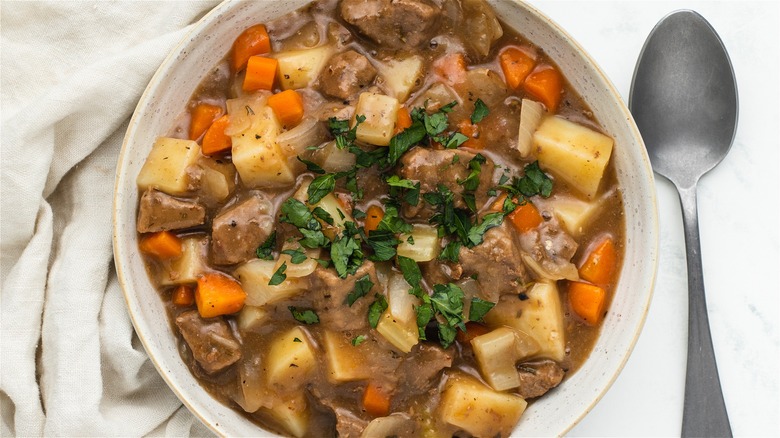 Catherine Brookes/Mashed
There are many mistakes you could make with beef stew, many of which still apply to this recipe. Since apple cider is likely to be an ingredient you haven't used in many savory dishes, one potential pitfall you'll want to avoid is using more than you're comfortable with. The original recipe calls for equal parts of beef broth and cider, but you might not enjoy the taste with this ratio. Start with half the original quantity of cider, let it simmer a bit, and then taste it to see if you like it. Remember: You can always add more, but you can't take the cider out once it's in there.
Another big mistake you could make is being afraid to experiment with the recipe and explore different ingredients. Using your leftover Martinelli's from Thanksgiving dinner is fine, but you could also try using your favorite hard cider in the stew as well. The long simmer is more than enough time for the ethanol to burn off, leaving you with soup that will have noticeably more complexity than if it were standard apple cider. As far as protein is concerned, you could also try subbing in bone-in chicken legs for nights when you aren't in the mood for red meat. If you do this, just be sure to also use chicken stock instead of beef stock and reduce the overall cooking time to keep the chicken from drying out.