The New Ruffles Flavor Is Turning Heads
Another day, another new Ruffles flavor — wait, what? Haven't they already come out with just about every flavor combo that could possibly be imagined? Evidently not, since there's always new territory to explore and new countries to conquer. Although if you were expecting something truly radical, like, say, curried goat or pasta puttanesca, well, you're bound to be disappointed, since this "new" flavor is actually a reboot of a 2011 limited offer. Yes, Ruffles historians, Loaded Chili & Cheese (via Brand Eating) is back, although this time minus the "loaded."
A few more differences with the 2020 version: last time around, the chili cheese flavor seemed to be available in snack-size bags, available at convenience stores such as 7-Eleven. This time, an Instagram brand-spotter posted a photo showing a full-size (8.5 ounce) bag, but says these potato chips are a Kroger-only exclusive until next year. Once the calendar flips over, these chips will go nationwide, most likely in time for the Super Bowl since chips + chili + cheese are all important parts of the game day food pyramid.
What people think of Chili Cheese Ruffles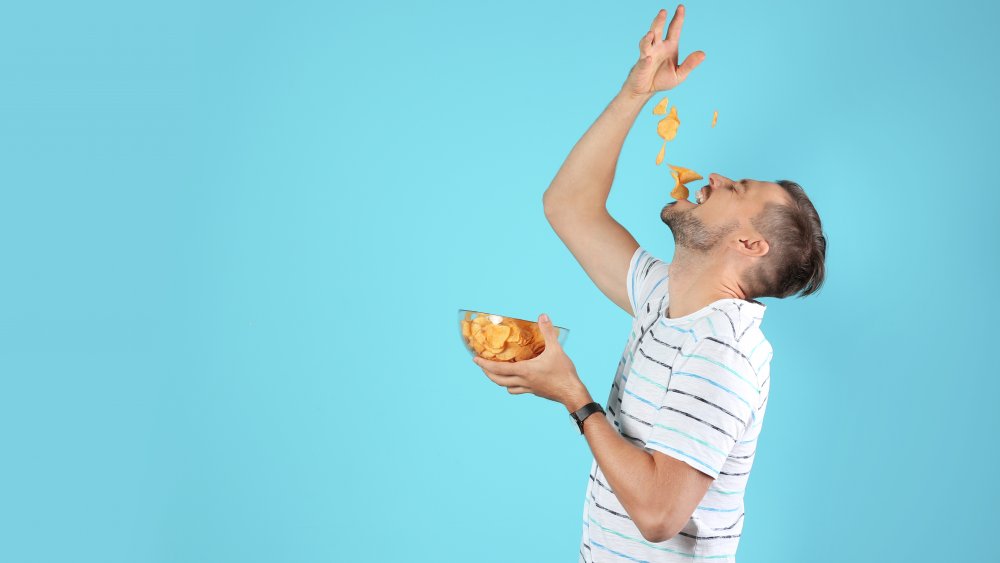 Shutterstock
As the 2.0 version of these chili cheese chips is brand new, most Instagram commenters had yet to try them so their opinions were limited to such speculations as "these look good," "These look awesome," and "Wow I bet these would be amazing!" One pointed out that there's already a similar corn chip version, saying "I love chili cheese Fritos, so these might be good too."
Assuming Ruffles hasn't tweaked the flavor formula too much since 2011, Brand Eating's reviewer confirms that these chips are actually pretty similar to the Fritos version, only, you know, potato chippy instead of corny. Their review praised the strong but not overpowering chili flavor that paired well with the powdered cheese and potatoes, saying it did in fact do a decent job of mimicking chili cheese fries minus the mess (plus that inevitable sogginess, yuck). Their verdict? "All-in-all, a pretty interesting and enjoyable flavor that might go well paired with a simple sour cream dip."
So, while there's no need to go storm your local Kroger to get your hands on these, much less make a road trip should you not be located in Kroger-affiliate territory, you should probably pick some up in time for Super Bowl LV since they're just what your snackadium needs.