Viral TikTok Series Reveals Who Really Makes Kirkland Products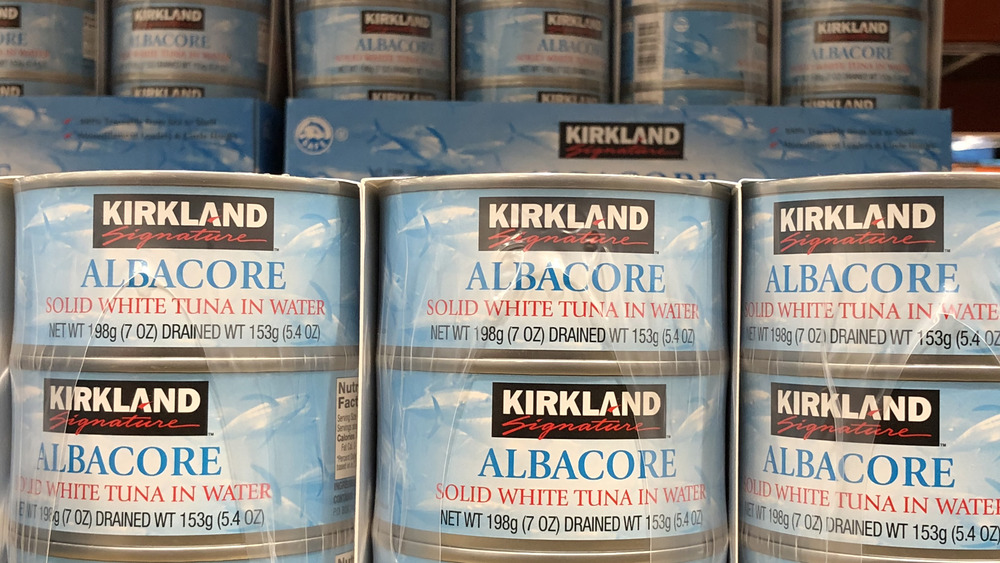 Justin Sullivan/Getty Images
People don't often think of TikTok as their go-to for investigative journalism, but "Ashley Marie," username @ashiemari, has carved a niche for herself on the video-sharing app by dishing out scoops on the big-name manufacturers behind Costco's Kirkland label. Marie started a series November 20 on TikTok called "Behind the Label: Kirkland Edition," letting the TikTok community know where a wide variety of Costco's private-label products are made — everything from leggings (Lululemon) and batteries (Duracell) to coffee (Starbucks) and diapers (Huggies). Her TikTok account has seen rapid growth as a result. She watched her follower count hit 75,000 during the "Behind the Label" series, and the first video in the series has been viewed 5.6 million times.
In that first video, Marie covers the brands mentioned above plus Kirkland jelly beans (Jelly Belly), pet food (Diamond), tuna fish (Bumble Bee), and aluminum foil (Reynolds).
Marie's second "Behind the Label" video covers one Kirkland item in particular, probably the most hotly debated of the warehouse chain's private labels. She takes on the question of whether Grey Goose makes Kirkland vodka, and she confirms information reported earlier by this website: Kirkland's vodka may be made from the same spring water as Grey Goose, but the Goose's representatives deny they make Costco's vodka. Maybe they wish they did. As Marie mentioned, and as Mashed has pointed out, Kirkland vodka beats Grey Goose in blind taste tests. (Marie doesn't mention this, but Kirkland also sells for one-third the price.)
When famous name brands make Kirkland products, both sides win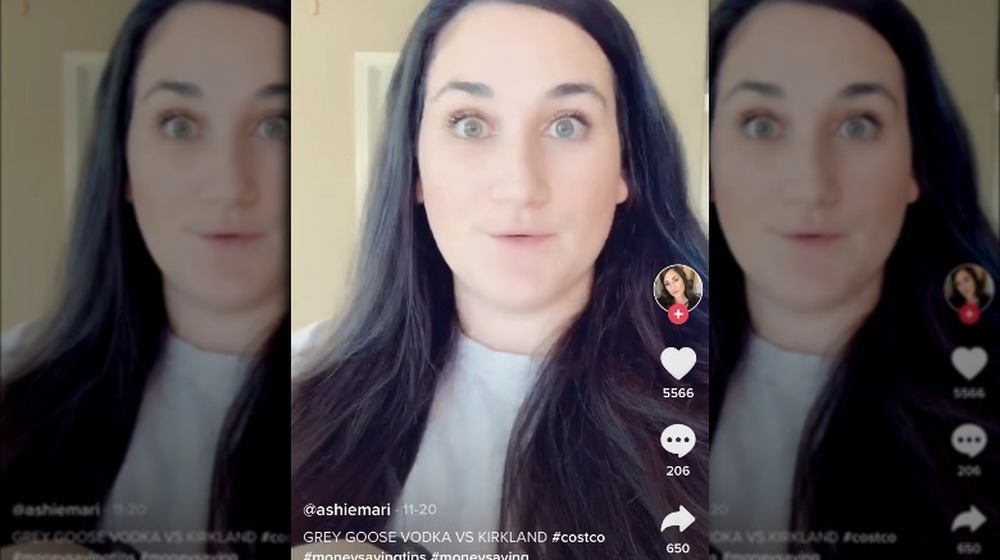 TikTok
Ashley Marie gives Mashed a warmly appreciated shout-out in her next "Behind the Label: Kirkland Edition" video. This one doesn't match Kirkland products with their manufacturers but rather responds to a commenter's question: "Why do they do this?" She answers for both sides of the Kirkland equation, citing a Mashed article from April 2019 about the secret weapon behind Costco's success. Costco puts out high-quality products under the Kirkland name to build brand loyalty. Big companies agree to make stuff for Costco because doing so enables them to make favorable deals with Costco. After Huggies agreed to make Kirkland diapers, for example, Costco stocked Huggies, too — but not Pampers.
Marie devoted not one but two videos to Kirkland liquors (in addition to the Grey Goose video). The blended Scotch whisky is made either by Diageo or Bacardi. The bourbon is from George Dickel. The spiced rum is from either Cruzan or Captain Morgan — or both. The tequila is made at the same distillery as Ed Hardy, and a "barcode for tequila" is supposed to prove it. Marie addresses the Crown Royal rumors swirling around Kirkland's Canadian whisky: "Experts say that we may never really know because Crown would not want to claim a Kirkland brand, for obvious reasons." Kirkland's London Dry Gin is said to be close to Bombay Sapphire, with some floral notes added.
The TikTok series addresses Kirkland rumors along with confirmed facts
Much of Ashley Marie's alcohol discussion is centered on rumors rather than confirmed fact, mainly because distillers aren't going to tarnish their own identity by admitting they make a private label. Marie devotes yet another video to other Kirkland products only rumored and not confirmed to come from particular companies. She states a good case for a lot of them. Kirkland water is bottled by Niagara, or so rumor has it. Kirkland Nut Bars could be made by Kind. "They are virtually identical," down to the texture, Marie said. Kirkland Soft and Chewy granola bars are said to closely resemble Quaker Chewy bars.
The bottom line, according to Marie, is that Costco does not cut corners with the Kirkland name. (She posted another video to make that point.) "Costco really prides itself and strives to have high quality products," she said. "They're striving to be just as good as that [big-name] brand if not exceed that brand's quality. So the expectation and the bar is set really high for Kirkland."
Thanks for your TikTok journalism, Marie. We know you're not affiliated with Costco in any way, but consider the possibilities. TikToker Charli D'Amelio got a Dunkin' coffee drink named after her. How about your own line of Lululemon-esque Kirkland leggings?