Creative Ways To Use Green Tomatoes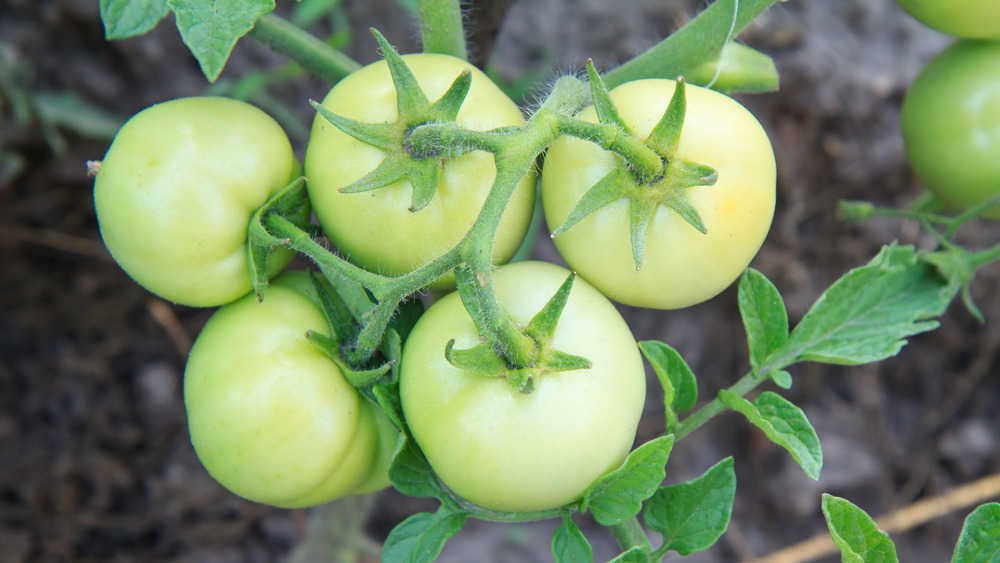 Shutterstock
Few things are better than juicy-sweet, vine-ripened tomatoes. Layered onto sandwiches, tossed into salads, blended into salsas, and used to make vibrant, uncooked sauces, red tomatoes are cherished and used in countless ways. But what about the fruit before it changes from green to red?
Green tomatoes are, in fact, unripe tomatoes. Green Home DIY explains that the degree of "unripeness" determines the taste, and the best flavor comes from green tomatoes that have grown to full size but haven't yet transitioned to red. Saveur adds that when shopping (or picking from your garden), choose average- to large-sized fruit, as small green tomatoes can be bitter.
Green tomatoes have a distinctly tangy flavor and pleasantly firm flesh, making them ideal for a variety of sweet and savory recipes (via The Spruce Eats). The Kitchn relishes their tangy flavor and crisp texture and states that green tomatoes provide a fresh perspective on the red fruit we know and love. The tart, zingy flavor and robust texture of green tomatoes (versus softer red tomatoes) make them ideal for pickling, preserving, frying, and layering into casseroles, pies, and other baked dishes (via A Couple Cooks).
Swap green tomatoes in for red and change the game entirely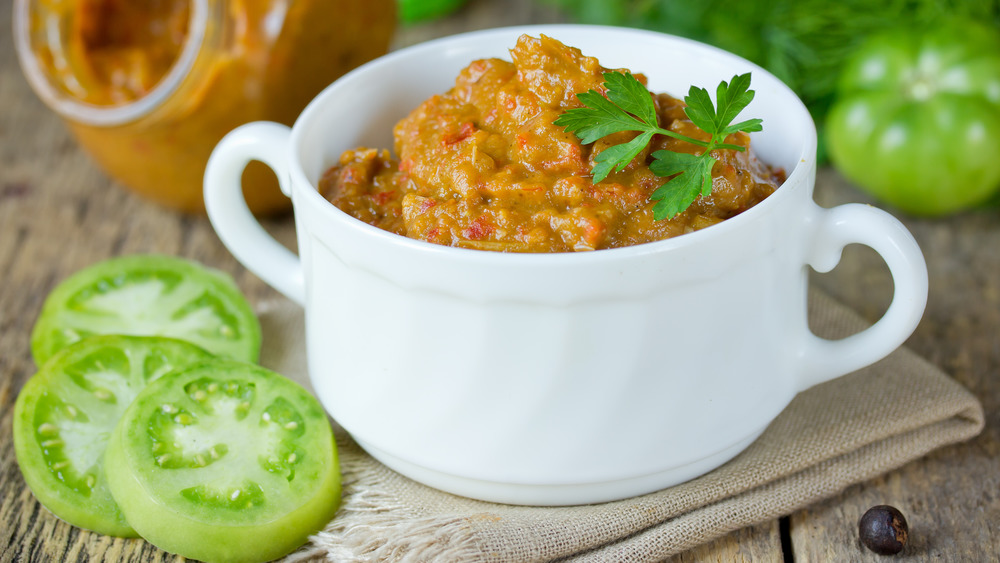 Shutterstock
While breaded and fried is the classic Southern preparation for green tomatoes, there are many more, irresistible ways to work with the firm fruit. Paste Magazine has some savvy uses for green tomatoes, including pickles, jams, and chutneys. They also suggest adding green tomatoes to sauces, stews, gratins (with other vegetables), and even pies, since the tangy tomato partners well with sweet apples.
The Spruce Eats dishes up wonderfully unique options for green tomatoes, such as sweet corn fritters, green tomato rice, ham-studded soup, relishes, ketchup, pie, quick bread, and a dreamy, moist cake. Taste of Home suggests green tomato BLT's, chowchow, lasagna, napoleons, curried pork, and sweet jam. Brit + Co recommends swapping green tomatoes in for tomatillos for an amazing salsa verde. They've also come up with cool Po'boy, Panzanella, and caprese salads, green pasta sauce, fermented tomatoes, tartines, tacos, tostadas, a cobbler, and a galette.
Head over to Rural Sprout and check out their green tomato shakshuka, burritos, salsa, chutney, chili, pasta, pizza, focaccia, frittata, quiche, and tart. With this ample amount of recipe inspiration, the question should be, "What can't you do with green tomatoes?"