Chef Marc Murphy Dishes On Martha Stewart Calling The Shots On Chopped - Exclusive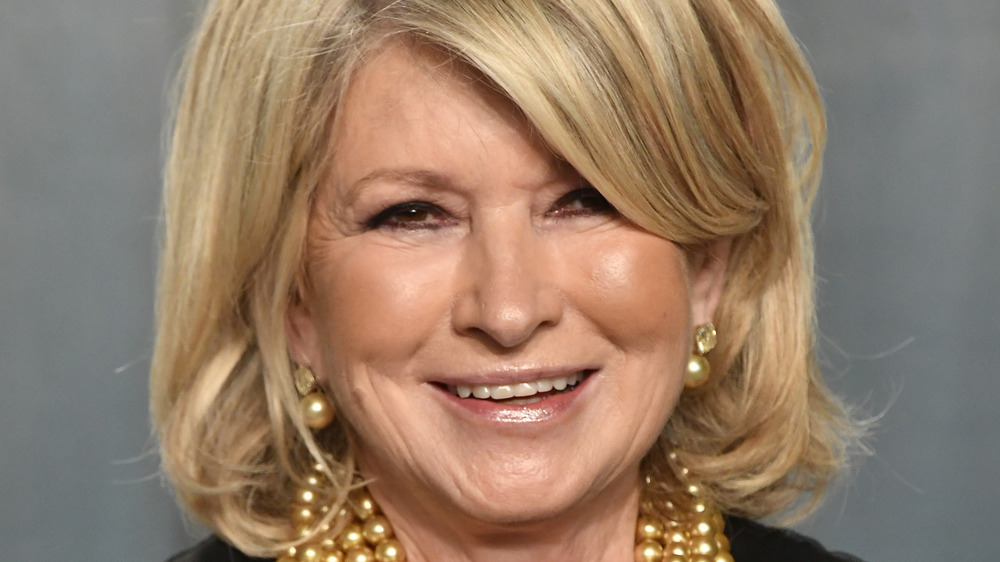 Frazer Harrison/Getty Images
Just when you thought you've seen it all on Chopped, culinary legend Martha Stewart joins the high-pressure cooking competition to add to the plight of brave chefs fighting for top honors. According to a press release sent to Mashed, Chopped: Martha Rules is a five-part tournament, and (as the name suggests) the rules are overhauled by its celebrity guest judge. The shake-ups start with the show leaving its set for an outdoor kitchen in Kennebunkport, Maine. The Emmy Award-winning food and lifestyle expert will also control the clock for the 16 chefs looking to take home a $50,000 grand prize. Regular Chopped judges, chefs Marc Murphy and Marcus Samulesson, will also weigh in on the winning selections. Murphy, who states he "flanked" the culinary authority during the tournament, spoke in an exclusive interview with Mashed about Stewart and what viewers can expect from the new show.
Chef Marc Murphy, who has worked with Stewart before, revealed the crew filmed this special over five days on a rustic farm in Maine. "It's going to be gorgeous," Murphy said about the farm location. "I mean, there's no doubt about it. The setting is beautiful. The weather was great, and it's Martha's rules." Marc's many years as a Chopped judge give him first hand insight on how focusing through the mounting pressure is necessary to avoid disaster (via NorthJersey.com). Of course, what's a cooking competition without adding a few absurd challenges (aside from the threat of choking in front of millions of viewers)? "I don't want to give it away, but she changes it up a bit for the contestants," shared Murphy about the intimidating guest judge. "She throws them all a little curve ball here and there, which was a lot of fun."
Expect New England flavor and surprises for Chopped: Martha Rules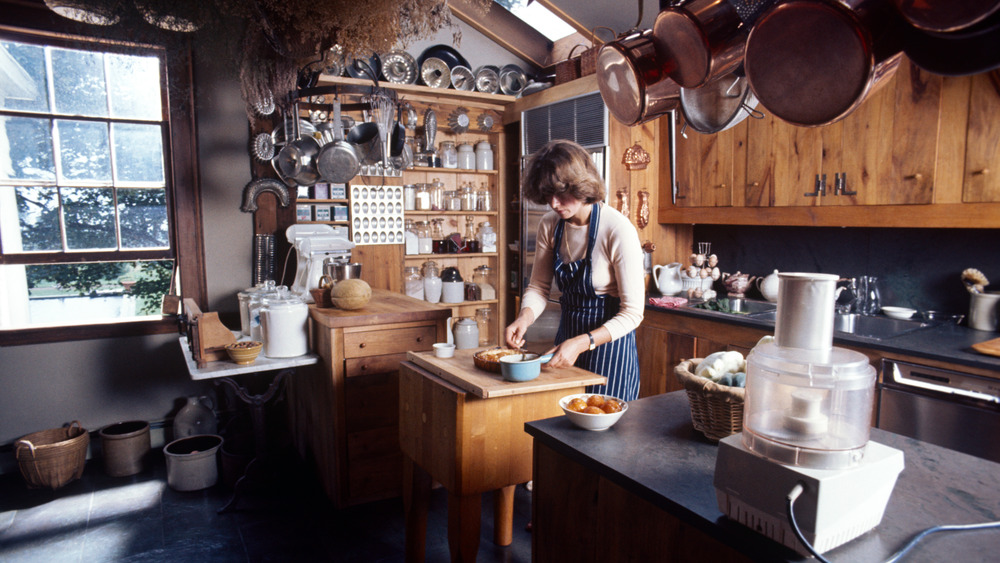 Susan Wood/getty Images/Getty Images
Filmed at one of Stewart's "favorite locations," according to the Food Network press release, the coastal New England theme will extend to the contestant's ingredients — including blueberry pie and clam chowder. Typically on Chopped, four chefs are expected to craft an appetizer, entrée, and dessert from secret ingredients to show their dexterity in the kitchen. As if the element of a mystery ingredient box wasn't enough, Stewart adds surprise contestants, shoes instead of ingredients (How's that going to taste?), and chefs switching stations — and dishes — during the fury of competition.
Knowing how to stay creative is key, as unexpected combinations can help a chef really stand out from more harried competition. When asked about a memorable meal from Murphy's many years on the show, he recalled braised leek and tarragon dish from an earlier season. "I'd never heard of tarragon and leeks going together, but it worked really well," said Murphy. "Sometimes there are... flavor profiles that sort of surprise us even." Let's hope we see one of the new chefs find similar inspiration.
Marc Murphy benefitted on set from Martha Stewart's wealth of knowledge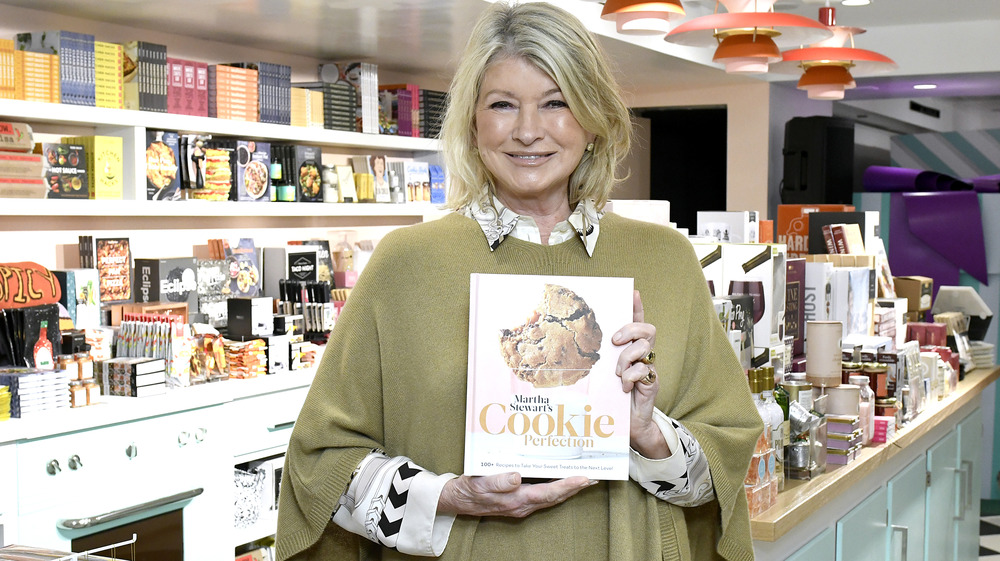 Eugene Gologursky/Getty Images
Chef Murphy filmed the Chopped: Martha Rules special tournament over five days, and said his co-judge Stewart was "absolutely amazing to work with." Unsurprising to her fans, Stewart turned out to be no slouch when it comes to New England coastal knowledge. "The amount of knowledge that is in that woman's head is, you're just jealous," shared Murphy. Stewart flexed her expertise on set when talking about a field of flowers. The pro put chef Murphy on the spot by asking if he could identify a flower — Murphy couldn't. "What do I look like?" Murphy joked, "But she knows everything about every flower."
The chef admitted the icon of domesticity didn't withhold sharing her knowledge about gardening — or anything else. Murphy said Martha Stewart was "very generous with her time, with her information, with what she knows." Stewart might have gotten her start modeling and then worked as a stockbroker on Wall Street, but she decided to switch careers to the culinary world after moving from New York City to Connecticut. NPR credits Stewart for changing the way people approached entertaining with the launch of her first book, Entertaining, almost 40 years ago. "She does everything, obviously, with so much grace and poise, which is beautiful," Murphy shared.
When asked about Stewart as a colleague, chef Murphy explained, "She's a wonderful person and has a big heart for the things that she loves." The Chopped judge added that Stewart "always seems to be trying to help other people along the way as well." Granted, the upcoming Martha Rules contestants might have something to say about Stewart's support as they're switching stations and racing against the clock.
In addition to his work on Chopped, Murphy commits to helping others through a partnership with Braintrust Tutors. As someone who has struggled with dyslexia, he knows first hand how important embracing learning differences to foster creativity and success in the classroom or kitchen really is. To learn more about Braintrust Tutors, the "modern tutoring company" which helps connect children with the best certified teachers for their needs, head over to Braintrusttutors.com; and be sure to watch chef Marc Murphy and Martha Stewart on the upcoming season of Chopped: Martha Rules, airing on the Food Network starting April 13.