Here's How Michael Symon And Bobby Flay Met
Andrew Toth/Getty Images
Food Network co-stars Michael Symon and Bobby Flay don't just share an entertaining rapport onscreen, they're actually great friends outside of their often-intersecting television careers. In an interview with People, Symon recounted the way in which they were introduced over two decades ago and recalled the experience in great detail. He attributed their official meeting to pastry chef Wayne Harley Brachman. Brachman had been working for Flay at Mesa Grill for many years and was brought on to participate in some of Food Network's original programming.
At the time, Symon was filming early episodes of The Melting Pot with Brachman, and apparently, Flay popped into the cooking studio to share some exciting news — he had competed against the revered Japanese chef Masaharu Morimoto on Iron Chef America and emerged victorious! Clearly Flay's win left a lasting impression on Symon, but Flay agreed that he also remembered the day well. The pair now hang out regularly, whether playing golf or just horsing around, and their families spend leisurely vacations together (via People).
Symon spilled the tea about moving in with Flay without his wife of 27 years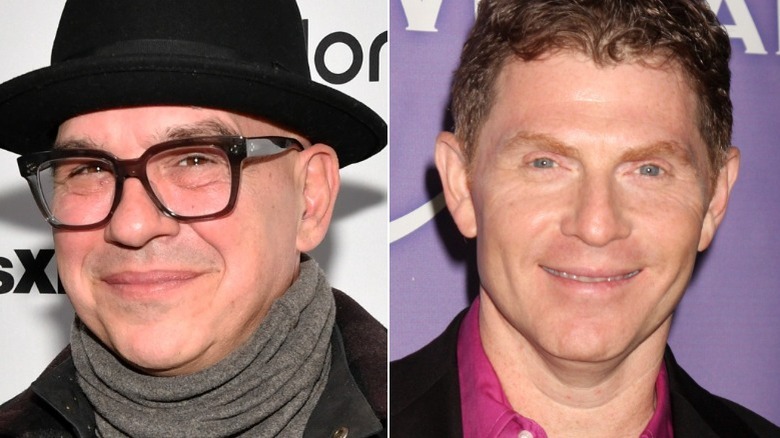 Slaven Vlasic/Getty Images, Shutterstock
In 2017, Symon divulged some very interesting information to his co-hosts on The Chew, Carla Hall and Clinton Kelly (via YouTube). When Kelly remarked on Symon's recently "disheveled" appearance and teased him for showing up to work looking like a quintessential bachelor, Symon explained that he was staying with Flay during filming while he and his wife Liz were waiting to complete closing paperwork on a new apartment.
Symon continued by saying that as much as he appreciates Flay, he does not function well without the comfort of his wife and his English bulldog, Ozzy, and that he was exhibiting some unusual behavior since becoming roomies with his best friend. In the humorous account, Symon described his heightened concern for Flay's well-being, joking that he had developed a tendency to worry about how many hours Flay was working and feeling fussy when Flay didn't text. Hall and Kelly giggled along with Symon when he concluded by telling them he reminded the gingery Flay to wear sunscreen on a hot day. From all accounts, it sounds like the two are lucky to have been introduced on that fateful Food Network stage so long ago.