Here's How To Beat Bobby Flay, According To Aarón Sánchez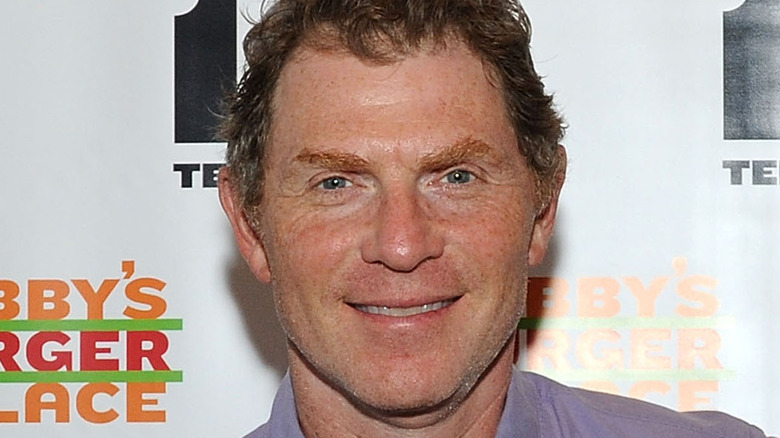 Bobby Bank/Getty Images
They say victory is sweet, and in the culinary world, one of the most delicious wins you can get is to beat Bobby Flay. A seasoned chef who, according to his website, was one of the first graduates of the French Culinary Institute in 1984, the 56-year-old has gone on to open numerous restaurants and write more than a dozen cookbooks. Flay is also an Emmy-winning star on the Food Network, where he has picked up another impressive accolade — becoming the winningest Iron Chef on the channel's hit competition series "Iron Chef America" (via TheRecipe).
The guy is clearly good at what he does — almost annoyingly so — which is why a win over him on his show "Beat Bobby Flay" is a brag-worthy achievement. For those unfamiliar with the long-running Food Network program, each episode sees two competitors cook against each other before one of them gets the opportunity to take Flay on in a head-to-head battle. But despite Flay having to whip up a dish of his opponent's choosing, Showbiz Cheat Sheet reports that he still comes out victorious nearly two-thirds of the time.
Fortunately, some of the other faces of the culinary world, including Aarón Sánchez, want to see that number go down. They have offered Food Network their advice on how to become part of the elite group that can triumphantly say they've beaten Bobby Flay.
Aarón Sánchez suggests these ingredients to beat Bobby Flay
A number of chefs have shared their advice on how to go about beating Bobby Flay. Alex Guarnaschelli, for example, told Food Network that it's important to stay true to who you are as a chef, while Geoffrey Zakarian advises competitors to keep their dishes simple. As for their fellow "Chopped" judge Aarón Sánchez, he said the key to earning a victory over Flay is to "beat him at his own game" by using chiles and other ingredients that are found in Flay's signature southwestern cuisine. "I think that's the way to beat him, 'cause then if you do that better than him, it's so obvious," he told Food Network.
Sánchez certainly seems to be on to something, as his method has proved to be successful several times throughout the history of "Beat Bobby Flay," like when chef Brother Luck earned his victory over Flay in 2016 with southwest pork sliders with chipotle (via KKTV News). "I figured if I was gonna go against Bobby Flay, I had to do pork and I had to do southwestern flavors to beat the best," the Colorado-based chef said. 
The strategy worked in 2019 as well, when chef Rosana Rivera beat Flay by challenging him to make empanadas. As Rivera told the Tampa Bay Times, "It's something we could both make with our eyes closed."